The Lenovo Yoga 900 delivers the best 2-in-1 experience on the market, and the best combination of a full featured laptop and a tablet I've ever used.
Lenovo's Yoga 900 is a 2-in-1 that transitions from work and productivity to entertainment and shopping with the a graceful flip thanks to a beautiful and sturdy hinge.
You've seen this 2-in-1 in the PC Does What commercials on TV this year either in a helicopter or a raft, as Intel pushes these devices that can pull double duty and fill the place of two gadgets.
With a 13-inch screen, good battery life and an attractive design, this laptop and tablet 2-in-1 comes closer than earlier models to filling these roles as good as individual devices. For the value it delivers the Lenovo Yoga 900 earns a Gotta Be Mobile Editor's Choice Award.
With a starting price of $1,049 the Yoga 900 is a premium product, but the price fits what it delivers as both a tablet and a notebook.
Yoga 900 Review Summary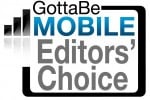 If you are looking for one device that offers an excellent laptop experience and can deliver on tablet features like a beautiful touch screen that you can use in multiple modes, the Yoga 900 fits the bill.
What We Like
Great looking touch screen.
Functions great as a laptop.
Good, if bulky tablet.
Good speakers.
All day battery life.
Great design.
Plenty of ports.
What We Don't Like
Keyboard layout leads to frustrating mistakes.
Lenovo Yoga 900 Design
The Lenovo Yoga brand isn't new, and after years of experimentation and upgrading, the Yoga 900 pulls together a design that works great as a laptop, good as a tablet and manages to both look and feel like a premium device.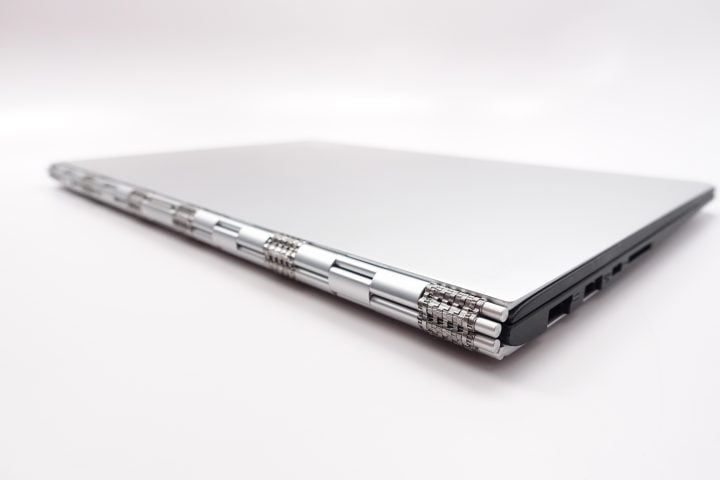 The watch-band like hinge catches eyes and it allows users to put the screen at any angle you can imagine, from bent forward on a cramped airline to all the way flat to share a screen. The hinge is what allows the notebook to fold all the way around to become a tablet or to fold into tent mode to use the touch screen only while watching a movie or playing a game.
A soft touch finish covers the palm rest for comfortable typing sessions and the edges of the screen and base are a textured rubber that makes gripping the lid to open the device easy and offers something to hang onto while carrying the Yoga 900 as a tablet.
The only complaint about the design is that after a month of use there is a small patch of wear on sleek gray outer shell from where it rubbed up against something in a bag.
Lenovo delivers a 2-in-1 that you won't mistake for a standalone tablet at 2.8 pounds, but measuring in at 12.75 x 8.86 x 0.59 inches it is smaller and lighter than many devices in this class.
There is a power button, quick reset button, orientation lock, headphone and USB port on the right side of the notebook. The left side includes a charging port that doubles as a USB 2.0 port, a USB Port that you can use to charge a device even when the notebook is off, USB Type C connection and a full size SD card slot.
The only thing missing is a HDMI or video out port, but you can buy an adapter to do that. We're glad to see the right mix of ports included on a mobile device that will meet the needs of most consumers without buying adapters.
Lenovo Yoga 900 Display
The 13.3-inch Yoga 900 display features a 3200 x 1800 window into your connected world. This is incredibly sharp and the software does a great job of scaling content on the screen so that things are not super small even at this high-resolution.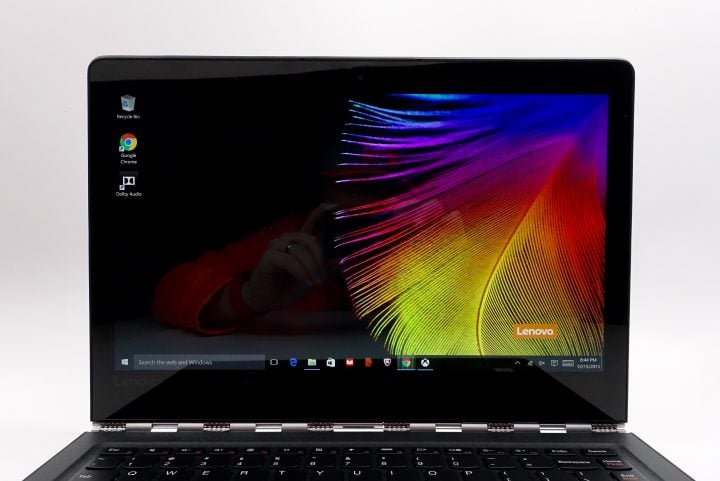 No matter what you use the Yoga 900 to watch or play, the screen shines all around. The blacks are impressively deep and colors pop off the screen while watching the Star Wars: The Force Awakens trailer. With the option to connect to your Xbox One and stream to Windows 10 games looks impressive on the screen as well.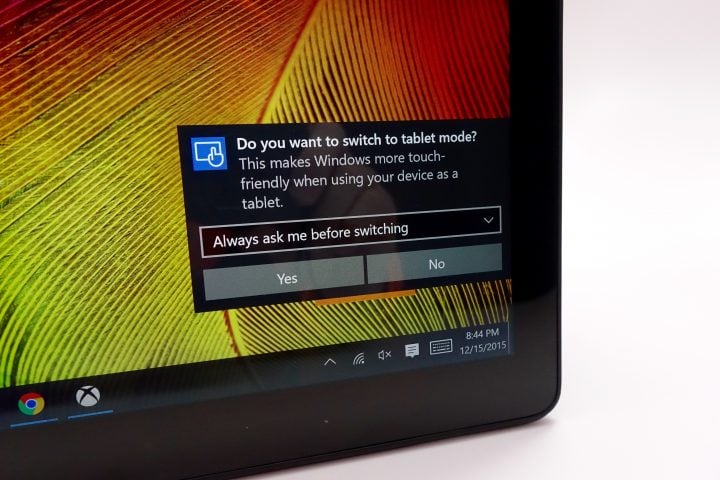 If you want to use the Yoga 900 in tablet mode, the device recognizes the swap, and will make the experience more touch friendly. The touch screen is responsive and suitable for playing touch based games as well as short text entry. The tent mode is great for a Netflix binge in bed.
Yoga 900 Touchpad and Keyboard
The relatively small Yoga 900 touchpad is incredibly smooth and accurate. There are no stuttering or reliability issues that used to plague Windows notebooks. Slide your finger across the svelte surface and place the pointer with ease.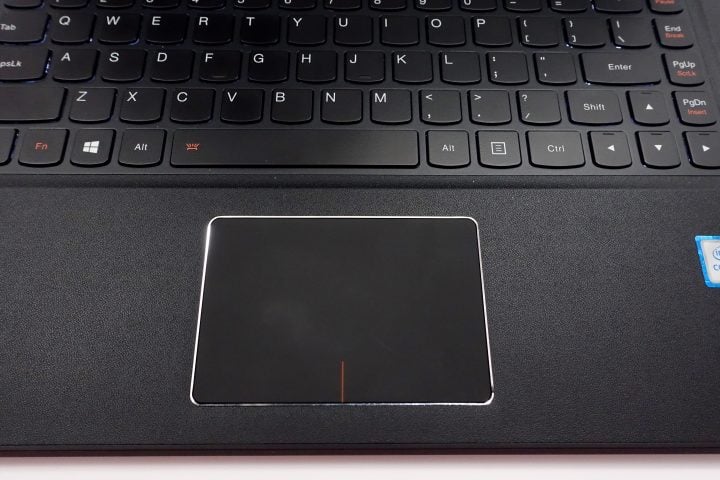 There are dedicated click areas, which is something it took a while to adjust to. Clicking on the upper right o the touchpad delivered a normal click, while clicking lower delivers the desired right-click. Overall this touchpad is great, and the touchscreen complements it for controlling the computer.
The typing experience is good, but odd key placement led to typos and cursor placement issues. The right shift key is very small, and often we pressed the up arrow instead. Another issue is that the enter and backspace keys are not the right-most keys on the laptop. This left us pressing Home and Page Up often, moving the cursor and typing in the wrong space.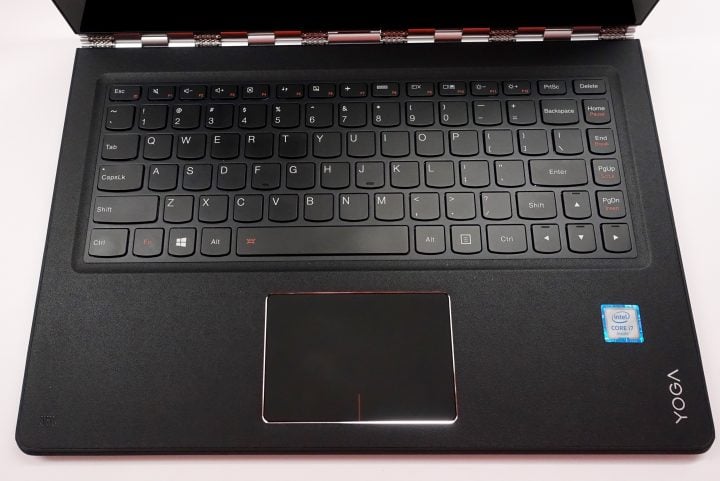 Key travel, the amount of distance the keys travel when you press on them, is shallow, but certainly usable for typing upwards of 1,000 words in one sitting without wearing down our patience or fingertips. There is little to no flex in the keyboard, which helps with faster, more accurate typing. A function key allows users to toggle backlighting on and off as needed.
Yoga 900 Performance
Lenovo packs an Intel Core i7 processor into the Yoga 900 that the delivers more than enough power for most consumers. Even with multiple Chrome windows open, the Xbox app running and other tasks in the background the Yoga 900 did not miss a beat.
I don't plan to play any full-fledged games on this notebook, but entertainment, casual games and work all fly thanks to the well equipped processor Lenovo packs into this 2-in-1. If I want to game on it I use the stream from Xbox One feature built-in to Windows 10 and the new Xbox One Experience. I would not buy this notebook to play high-end games locally, but casual games and touch games are well suited for the Yoga 900. You will occasionally hear fan noise with the Yoga 900, but that is something we'll gladly listen to for better performance.
Windows 10 plays a role in the overall performance and usability of the Yoga 900. This version of Windows is simply easier to use for average users and for more advanced users as well.
Two JBL speakers located on the bottom of the notebook deliver loud and well-balanced sound, but there is not a lot of bass, which is to be expected on a thin notebook. Overall the sound is impressive for this versatile package.
The webcam is capable for video conferencing or for taking a quick photo of yourself. There is no rear facing camera like on some tablets, so don't plan on using this to take photos or record an event like some people do with smaller Android tablets or the iPad.
Yoga 900 Battery Life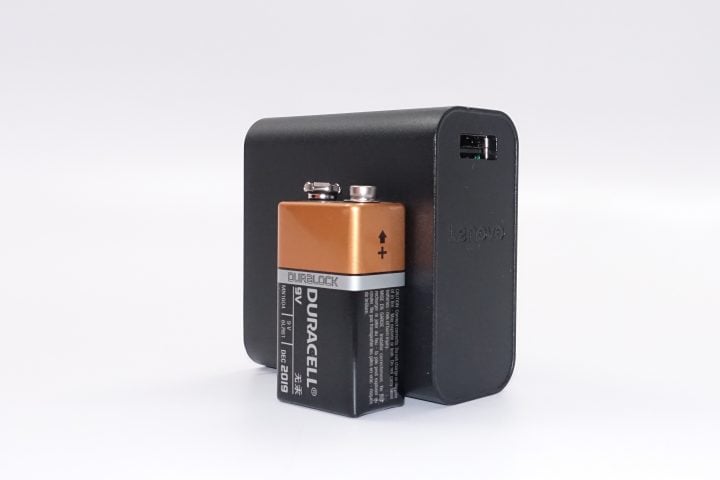 From a full charge the Lenovo Yoga 900 delivers enough power for a full day. The Yoga 900 battery life averaged eight hours in our tests, which is enough to get through a full day of class or work.
The charger is small enough to pack in a bag if you need to power up for a longer day. The Lenovo Yoga 900 charger can also charge your USB devices when you bring your own cord since it uses a USB style charging port.

This article may contain affiliate links. Click here for more details.