We've been told that the tide of Windows 2-in-1s is something that can't be stopped. Notebooks that can be tablets or tablets that can be notebooks are the only category of Windows devices still growing in sales. Everything else, including the classic laptop, is on the decline. The Lenovo Yoga 900S is designed to change what we know about devices made for the modern era.
Everyone talks about Windows 2-in-1s growing, but they never get into the details. Devices where you can remove the keyboard – like Microsoft's Surface – are what's growing. Transformers, notebooks that turn into tablets, don't seem to be capturing the imagination of the buying public. Usually they're big, have wobbly hinges and make really, really crummy tablets for someone looking to watch video in bed, read or take notes.
If the transformer is a Windows 2-in-1 form factor worth saving, it's the Lenovo Yoga 900S that'll do it. It has a watchband hinge that's more stable than what other machines in the category offer. It's ridiculously light, too, at just 2.2 pounds. Buyers get 10 hours of battery life and a chassis that's more beautiful than anything that has ever come out of Lenovo.
Lenovo Yoga 900S Review – Design & Internals
What I've always found interesting is that the transformer has steadfast never balanced the 2-in-1 formula correctly. Most of the machines in the category have lots of power, but are too thick to have ever been consider an alternative to a tablet. Folks that buy tablets want a thin profile that they can hold in one hand. They don't want a lot of heat being expelled into their laps either. Processing power is always appreciated, but not at the expense of being thin and light.
It's not that the Lenovo Yoga 900S solves the fundamental element of compromise with making a Windows 2-in-1; it doesn't do that. It does make the compromises in all the right places.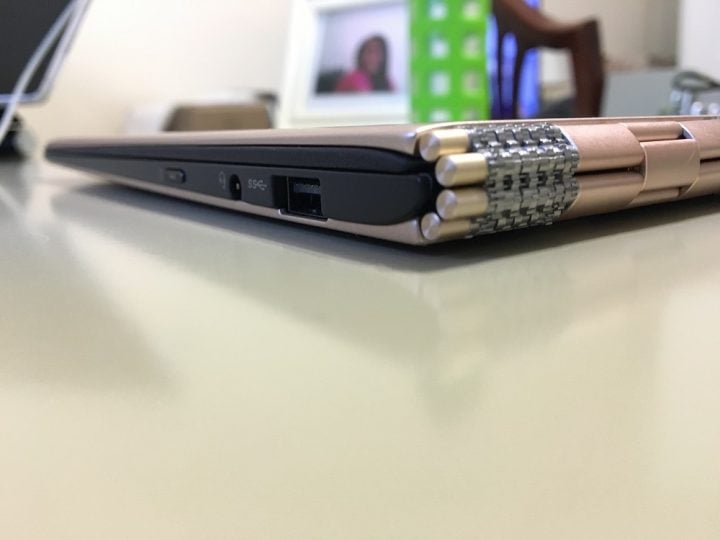 My Yoga 900S review unit came in the most ostentatious color that Lenovo has up its sleeve, a light gold. It covers the entire outer skin of the notebook, from top to bottom. The usual outward facing Lenovo logo is present, but hard to spot because it's embossed in the lid. Tying the touchscreen and keyboard deck of the Yoga 900S together is a metal watchband hinge with silver mechanical accents.
For sure, the watchband hinge wows, but it's functional too. It packs enough resistance that the Yoga 900S doesn't accidentally open in a bag. On the other hand, it's not so tight that opening the notebook is a pain.
The textured keyboard deck and sides host a USB 2.0 port that doubles as the notebook's power port. There's USB 3.0 Type-C for speed transfers, another USB 2.0 port and a headphone jack. The power button is on the notebook's right edge.
The keyboard deck itself is black, but has a texture that I didn't know I needed until I experienced it for the first time. The spacious trackpad and responsive QHD display make up for the seriously shallow keyboard.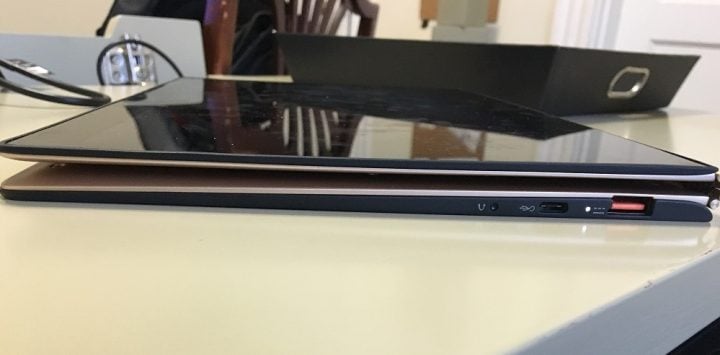 The Yoga 900S is just 0.5-inches from top to bottom. Clearly, compromises are required for a frame that small. The notebook boasts a 12.5-inch QHD display with a resolution of 2560 x 1440 pixels. Because that display has gloss, expect glare. It can be configured with as much as 256GB of solid state storage and 8GB of RAM. There's Wi-Fi, Bluetooth and a 720P web camera.
Where Lenovo choose to compromise was the processor. The Yoga 900S skips Intel's Core I processors. Instead, it uses Intel's 6th Generation Core M processors. Core M processors produce less heat, thus they don't require a fan. That translates into battery gains for sure, with the Yoga 900S able to reach 10 hours of video playback, according Lenovo. Also, if you don't need a fan, Lenovo was able tohit the 0.5-inch thickness.
Lenovo Yoga 900S Review – Experience
The biggest worry anyone should have when purchasing the Yoga 900S is its processor. Compared to an Intel Core I processor, the Core M series is sluggish. I knew what to expect because my personal computer is a Microsoft Surface Pro 4 Core M3 processor that has just 4GB of RAM.
The Core M5 processor in the Yoga 900S is just fine for what I'd describe as basic activities. Creating documents, browsing websites and doing some light coding work weren't any trouble on it. Windows 10 wakes from sleep in seconds. Opening classic programs – like the dreaded iTunes software – isn't painful. Creating and editing media isn't something that you want to do on this machine. Casual games from the Windows Store are fine too, say Minecraft. Killer Instinct and Forza? You can forget about those. This isn't the machine for that.
The Lenovo Yoga 900S as a Notebook
As a notebook, the Yoga 900S gets very, very high-marks.
The unorthodox hinge props up the IPS LED display just fine. Reflections are an issue, but that's now true of most notebooks. Placement of the ports is great, too. All the ports are close to each other, but not too close. The trackpad and material Lenovo used on the keyboard deck are exquisite, absolutely exquisite.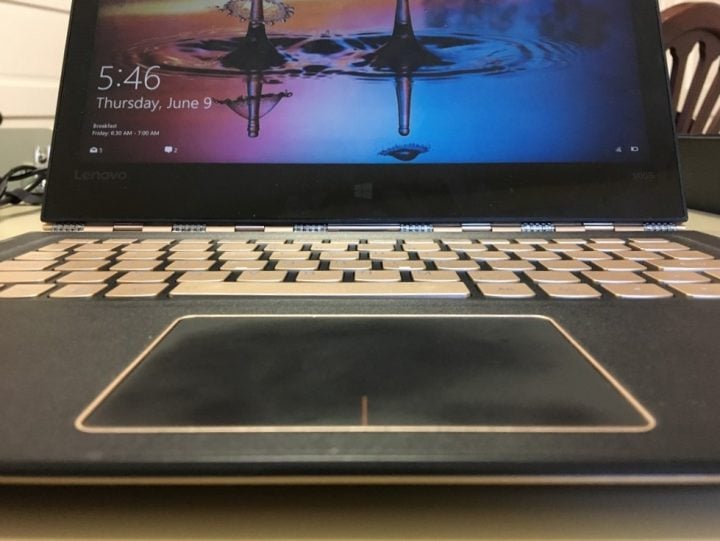 In notebook mode, I had only a single complaint. The keyboard barely has any travel. My fingers tend to move fast. There's some tactile feedback but not much. I adjusted to the lack of key travel, but it still felt unnatural. I'm not saying the keyboard is bad, just acknowledging that it'll take some getting used to. Lenovo did stuff in backlighting for each key, which is essential for any notebook that wants to be taken seriously as a luxury item.
I worry more that the mechanism underneath the keys won't hold up well. Two weeks after unboxing the Yoga 900S my number 8 key had already collapsed on one side. It still functioned, but it was unnerving for sure.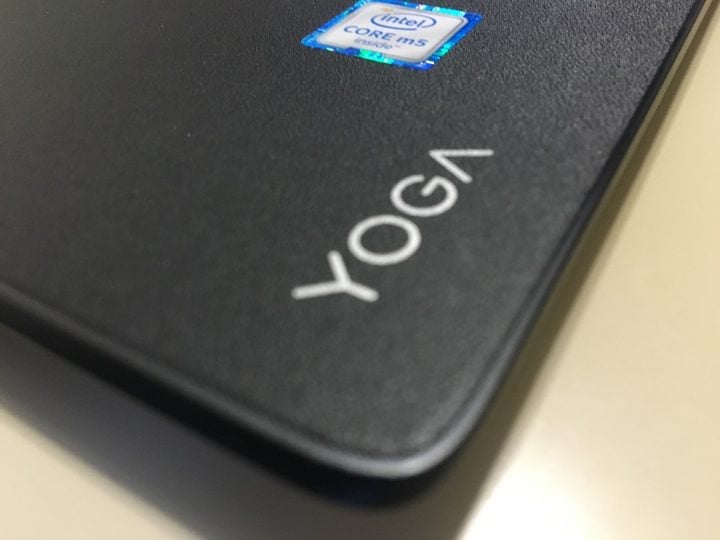 I was impressed by how little the watchband hinge wobbled as I typed, though. If you're pushing the device hard in notebook mode, expect some heat to build up near the keyboard deck's top-center. I never managed to hit the 10 hours of battery life Lenovo quotes while having a comfortably bright display. On average, I got a solid 7 to 8 hours of being productive.
The Lenovo Yoga 900S as a Tablet
As a tablet, the Yoga 900S is terrific. It's responsive to 10 fingers, and doesn't lag.
The watchband hinge lends itself very well to being a tablet replacement. Certainly, the Yoga 900S is more comfortable to hold in portrait mode than other convertibles. When you're holding the device in landscape, there is some flex at the left and right edges of the display. Neither are worrisome, they just ruin the immersion slightly. Lenovo provides a lot of bezel on both sides of the display, giving you a place to grip the notebook in tablet mode without touching something on-screen.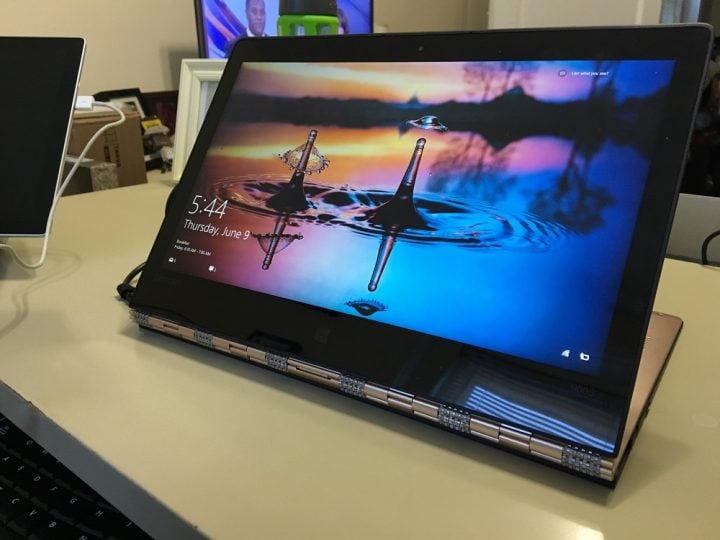 I'm not entirely sure why Lenovo opted to keep the physical Windows button in the Yoga 900S around. Windows 10 includes a digital button that works just fine. I hit it a few times trying to read in portrait mode. It's not incredibly frustrating, just irksome.
Lenovo Yoga 900S Review – Should You Buy
What We Like
Light Frame
Thin Profile & Good Looks
Watchband hinge
USB Type-C & USB Ports
USB as Power Port
Decent Battery life
What We Don't Like
Keyboard lacks enough travel
Bezels too big around screen
Physical Start button is unnecessary and adds to the bezel
Lots of tech reviewers like to compare any good-looking device with Apple's MacBook. I don't think that's a fair comparison, or a necessary one. If you like MacOS X, you're buying a Mac. What the Lenovo Yoga 900S should be compared to is Microsoft's Surface Pro 4.
The Yoga 900S delivers the goods. The key travel on the machine is a small price to pay for what's unquestionably a well-designed machine that nails the transformable form factor. There's pen support but you can't remove the keyboard. Most people won't miss being able to detach the keyboard. And having pen support is definitely a plus. Handwritten notes in Word and OneNote are quickly becoming a way of life for busy professionals and students. The Active Pen is a $39.99 add-on accessory though, not something that you get out of the box.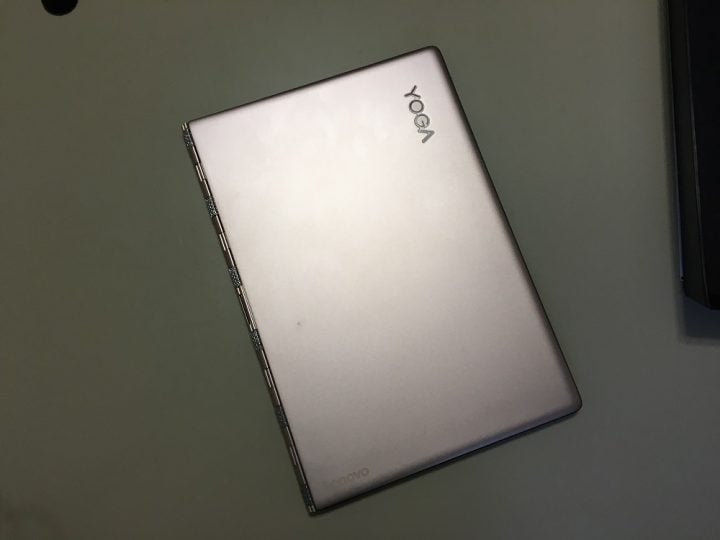 The Yoga 900S has two full-size USB ports, not the single port that the Surface Pro 4 has. Better, USB Type-C offers some expansion options beyond what the Surface does. Solid battery life, a thin profile, and lack of needed accessories makes the Yoga 900S every bit the amazing Windows transformer I thought it might be.
The Lenovo Yoga 900S is a solid device with great design and decent internals at a reasonable price. I'd buy it over a Surface, I really would.
Correction: An earlier version of this review indicated that the Lenovo Yoga 900S doesn't have support for a digital pen. In fact, it does, but it's an accessory that buyers have to purchase separately.