Lenovo Yoga 910 Review: Near Perfection
To let some PC and electronics makers tell it, creating a device that people will really love requires locking away industrial designers and adding some premium materials for better build quality. Throw in some decent internals and a great marketing campaign and you, they say, have a potential hit on your hands. The $1,199 Lenovo Yoga 910 contradicts some of that thinking.
As it is featured on one of Microsoft's still-airing Windows 10 ads, you've probably seen it on television. It's not a new product developed in secret, though. Years ago, Lenovo tasked its engineers to build a Windows notebook that could transform into a tablet without its keyboard completely coming off. Unlike some other companies, Lenovo didn't abandon the design at the first sign of trouble. They worked on it relentlessly. Really, its teams have developed the device in front of our eyes.
The Lenovo Yoga 910 knocks out a few more of the major complaints leveled at the premium line of Windows 2-in-1s. Potential buyers said that Yoga line had such big bezels that they couldn't focus on the display. They said that they wanted a laptop that didn't have any flex. They also said that they wanted a better keyboard and trackpad. Lenovo engineers made all these things happen, while also stuffing in Intel's latest processors and adding support for a few other newer technologies.
Lenovo Yoga 910 Review: Design & Internals
Continuously iterating on a single design means that there aren't a lot of surprises with the Lenovo Yoga 910 form factor. That's ok, though. It leaves you with plenty of time to take in all the details.
The Yoga 910 comes in gold, platinum and black, with users able to choose whichever color they prefer online. You won't appreciate the way the Yoga 910 looks as much as you'll appreciate the sensation you get when you hold it by the spine in your hand when closed.
The entire notebook is made out of machined CNC aluminum, which lends it that important premium feeling that you want when spending $1000 or more on a laptop. As with the Lenovo YogaBook, the Yoga 910S feels like you're carrying a high-end binder rather than a laptop PC. That's due to some gentle tapering on the edges and the watchband hinge. A lip that gently flows over the recessed ports on both sides enhances the feeling that the back and front of the laptop are less casing and more covers for a binder. The keyboard deck has no flex.
From top to bottom, the Lenovo Yoga 910 measures just 0.56-inches. Achieving that kind of thin profile meant that things had to go. The USB charging port that Lenovo uses on other Yoga laptops is gone. It's been replaced by USB Type-C. It's joined on the left edge by another USB Type-C port. On the right edge are a full-size USB 3.0 port, a headphone jack and the power button. There's no media card reader or dedicated HDMI out.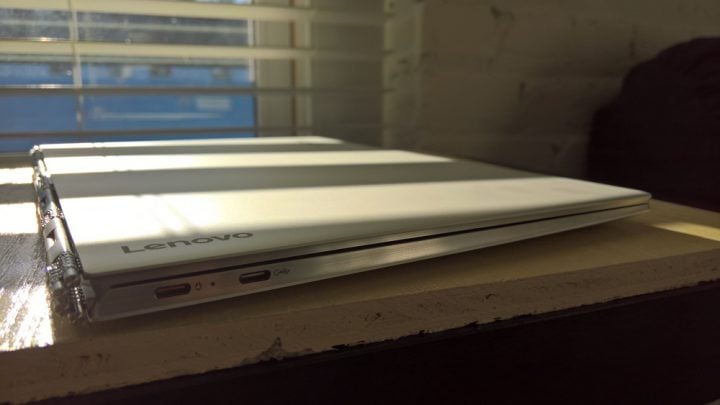 Lenovo is hoping buyers won't mind connecting a dongle to output video to their television or using a USB cable to transfer their pictures. They definitely made the right call; I don't get the sense that media card readers are as essential as they once were. We all just take pictures and video with our phones which work fine with the USB port this notebook has.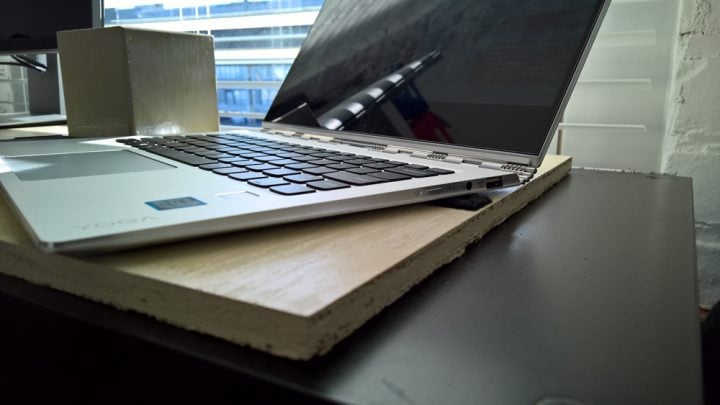 Opening up the notebook reveals a spacious glass trackpad, a fingerprint reader and an embedded keyboard that Lenovo says they've managed to improve with better key caps and travel. Your eyes will immediately be drawn to the 13.9-inch display that hardly has any bezels around it.
The review unit that Lenovo sent Gotta Be Mobile came with 8GB of RAM and a 256GB SSD. It also had Intel's 7th Generation Core i7 processor inside. Its screen used the FHD 1080p screen technology, not the 4K HD screen technology that Lenovo makes available online and at Best Buy for $1,599.99. Lenovo says that the lower resolution screen and Intel HD 620 graphics allow this model to get 15 hours of battery life. The 4K model can go 10 hours before needing a charge.
Lenovo Yoga 910 Review: Experience
I'm happy to say that Lenovo's battery targets are right on. Not once did I ever have to worry about the Lenovo Yoga 910's battery. For three days straight, I grabbed the notebook – without the charger – for all day work sessions. I averaged about 11 hours of screen because I needed the display at 75% brightness to help fight off some of the glare that the glossy screen creates. I suspect others will need to do the same. I started work at 6AM each of those days. I didn't start to worry about finding a wall plug until around 4PM.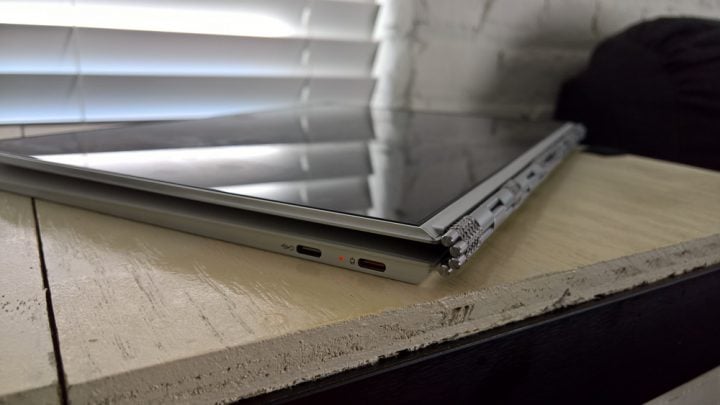 The upgraded Intel hardware, fingerprint reader, nearly border-less display, upgraded keyboard, and larger trackpad are where Lenovo focused most of its engineering efforts. They all pay off.
The keyboard does indeed feel better than the Yoga 900 that it replaces. Every press is more satisfying and each key's texture is just slippery enough that it won't get uncomfortable quickly when the notebook is on. The one-button trackpad is a little loud, but absolutely usable. A light ridge around it lets you know when you've reached its edge.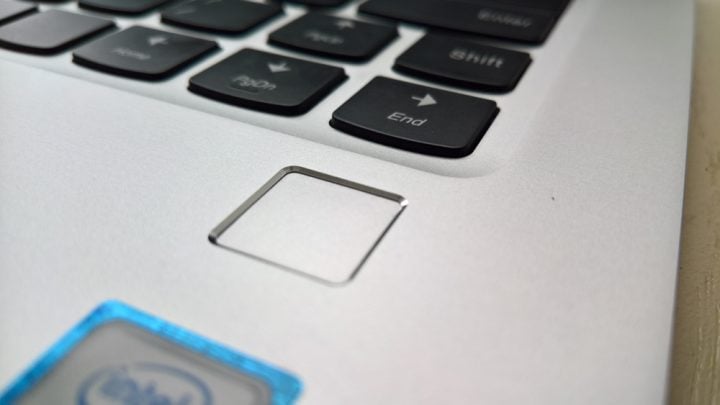 That same ridge technique ensures that you'll know where to place your finger to unlock the device even when its base is folded backwards for Tablet Mode. In this mode the trackpad turns itself off, but the keyboard doesn't recede into the notebook's base. As such, you still feel them pressing against your hand when reading in the same position that you would other tablets.
The Display
I'm one of the many that have complained about Lenovo's bezels in the Yoga line. On one hand, they provided a safe place to hold the notebook in Tablet Mode, without triggering something on screen. Unfortunately, all of that blank space and screen gloss made them distracting in some situations.
Lenovo thinned out the bezel on the left, top and right of the display for the Yoga 910. Now there's just this oversized black bar underneath the display. When you're holding the laptop in portrait mode reading, this area acts as a great area to keep your hand. A lack of space on the other three sides means that the web camera peers back at you from that black abyss too. All of your pictures and video chat sessions will feature more of your chest than your face unless you get the angle just right.
If forced to choose between less distracting video watching and a perfectly positioned web camera, I'll always take the improved video experience. Especially when it comes with solid JBL speakers.
Finally, there's the new 7th Generation Intel Core processors that Yoga 910 offers. As a minor update to the Core line, these processors aim to deliver more battery life and less heat, which they seem to do. I did notice the fan kicking on in the Core i7 model when doing something as simple as opening the camera app. To be frank, the fan was so loud that even my dog noticed halfway across my living room. When trying to read with the notebook closer to your face, this became annoying.
Luckily, every app or program an average user could want works on the Lenovo Yoga 910 just fine.
Lenovo Yoga 910 Review: Specifications
| | |
| --- | --- |
| Processor & Graphics | 2.7GHz 7th Generation Intel Core i7-7500U, Intel HD 620 Graphics |
| Memory & Storage | 8GB of DDR4 RAM or 16GB of DDR4 RAM, 256GB of 512GB SSD |
| Display | 13.9-inch FHD 1920 x 1080p Display or 13.9-inch UHD 3840 x 2160P Display |
| Ports & Extras | 2 USB 3.0 Type C ports, Headset Jack, 1 USB 3.0 Type-A port, 802.11ac Wi-Fi, Bluetooth 4.1, 720p web camera, fingerprint reader |
| Battery Life | 15 hours |
| Dimensions & Weight | 12.72-inches x 8.84-inches x 0.56-inches, 3.04 lbs. |
Lenovo Yoga 910 Review: Should You Buy?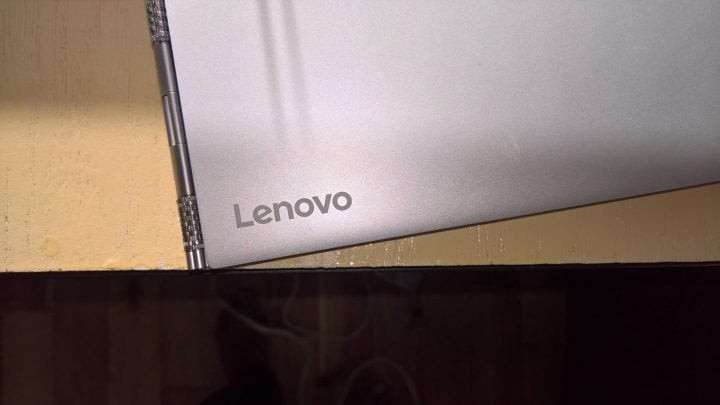 By now, you've noticed a lack of overwhelming negatives in this review. That's what happens when a company continuously improves on a solid design like Lenovo has. The Windows 2-in-1 market is basically divided into two categories: detatchables and transformables. The Microsoft Surface line offers the best detachables. The Lenovo Yoga 910 is the best transformable running Windows 10.
Aside from the web-camera positioning and fan noise, there's nothing wrong with the Yoga 910. In fact, I think the device is so good that even people who don't necessarily want a transformable PC will want to check it out.
Lenovo introduced the first Yoga back in 2012. With this model, buyers are getting a solid screen, keyboard, design and a lot of power in a very thin and good looking package. They've finally perfected the form factor.
If you're in the market for a high-end notebook, it doesn't get much better than the Lenovo Yoga 910.

As an Amazon Associate I earn from qualifying purchases.