Lenovo Yoga Book & Lenovo Yoga 910 Surprise With Pen & Screen Upgrades
One of the world's largest makers of Windows PCs is taking the Windows 2-in-1 category that Microsoft defined and turning it on its head. Two new Lenovo Yoga Book tablets offer pen input and a physical keyboard unlike anything we've seen in the category before. On top of that, the company is refreshing the sleek Yoga 900 design with the Lenovo Yoga 910.
The new Lenovo Yoga Book tablets and Yoga 910 notebook are just three of the devices that the company announced at the IFA trade show this week. The Yoga line-up is all about enabling Windows users to turn their traditional PC or tablet into something different. Yoga notebooks have touchscreens and hinges that allow their displays to flip over, turning them into a tablet in a few moments. Some Lenovo Yoga tablets boast removable keyboards.
The Lenovo Yoga Book with Windows and Yoga Book with Android have keyboards, but you can't take them off. Instead, they both feature a blacklit keyboard deck. When illuminated, keys and a touchpad run the entire length of the flat deck. When not illuminated, the keys almost disappear. It's a new twist on a problem Windows 2-in-1s have suffered from ever since Windows 8 launched in 2012. What do you users do with their 2-in-1s keyboard when they're ready to stop typing?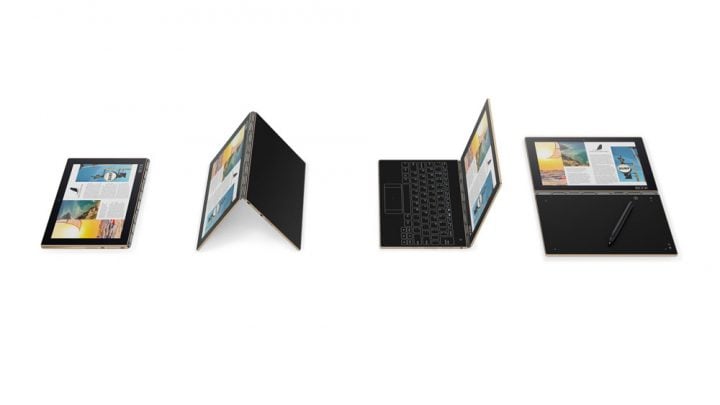 Keen to boost its transformer's profile as a device that's great for all kinds of creatives, Lenovo also added in support for a digitizer stylus they're calling Real Pen. Lenovo is hoping that users will put a real sheet of paper over the keyboard area so that they can digitize their notes while writing. When their keyboard is off, Lenovo Yoga Book users can draw and sketch on the now dark keyboard deck.
Aside from differing operating systems, each of the Yoga Book PCs that Lenovo announced today boast 10.1-inch IPS displays with a resolution of 1920 x 1200 pixels, 64 GB of storage, Intel Atom X5 processors, mobile internet connectivity, Wi-Fi, GPS, ambient light sensors and GPS technology. They each offer cameras too. One is a 2 megapixel front-facing camera. The other is an 8 megapixel rear-facing camera for taking pictures of landscapes, friends and family.
The Yoga Book with Windows and Yoga Book with Android do differ in some ways that matter. The Windows version gets Office Mobile apps for free, but only comes in black and lasts 13 hours on a single charge. The Android version gets two additional hours of battery life and comes pre-loaded with Lenovo's notes, syncing and sharing apps; Google Docs is also included.
The Lenovo Yoga Book with Windows will cost, $549 beginning this October. The Android version of the groundbreaking device will cost $499.
The Yoga 910 doesn't have a completely new form factor, but don't underestimate it.
Its body is still svelte and sharp, with the entire PC closed measuring 0.56-inches from top to bottom. The Watchband hinge that defines Lenovo Yoga line is back.
A lot of the tweaks Lenovo made with the Yoga 910 are inside. It boasts up to a 7th Generation Intel processor. That's the latest processor technology to arrive from Intel, once known by their Kaby Lake designation. A fingerprint reader lets users log into the Yoga 910 using Microsoft's Windows Hello option, a first for the Yoga 900 series notebooks. A single USB Type-C port can pull triple duty as a USB port, HDMI out and Ethernet port, with the right adapter.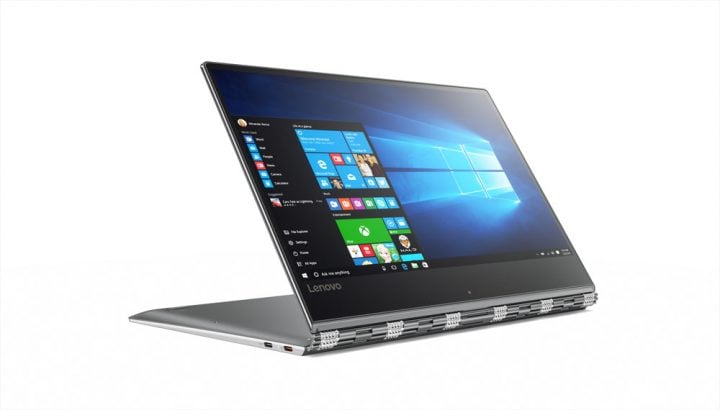 What'll attract the most attention is the Yoga 910s upgraded display. Now Lenovo is using the same nearly bezel-less display technology that Dell uses in its notebooks. What's more, the Lenovo Yoga 910 has an option for a 4K display. That translates to a sharper picture than in any of Lenovo's other Yoga 2-in-1s. 4K displays have four times the amount of pixels of high-definition displays. Netflix and other content makers are all busy creating movies and television shows that support the technology
The Lenovo Yoga 910 will cost $1299.99 when it arrives this October.

As an Amazon Associate I earn from qualifying purchases.