Smartphones, tablets and convertibles all have something in common that computer mice just don't. They're exciting. Technology-related news tends to be about how a new Windows 2-in-1 is more powerful than a previous version, or how Apple plans to improve the iPhone in its next iteration. For as big of an impact the PC mouse has had on technology and those who love it, it's underappreciated to say the least. The Lenovo Yoga Mouse tries to spark some excitement for the primary way that people interact with their PCs.
Users ready the Lenovo Yoga Mouse for travel by twisting a part of its body counterclockwise. In this mode it's as thin as two spiral notebooks. Twisting it clockwise readies the device for use as an ultra-portable mouse. In its flat state, the $69.99 device is a very convenient remote control for presentations, audio and video playback.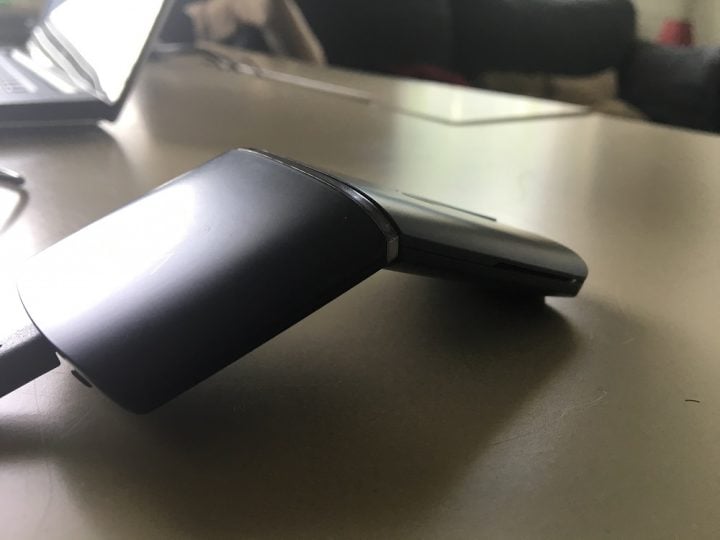 It's no gaming mouse like the Lenovo Y Gaming Precision Mouse, and it's definitely not as high-end as the Apple Magic Mouse. It is functional, though.
Lenovo Yoga Mouse Review: Design
A polished pebble. That's what the Lenovo Yoga Mouse looks like from afar. As an official part of the Yoga family of the devices, there's some shared design flourishes with the line of convertibles of the same name. Colors include gold, black, silver and orange. The Yoga wordmark is stamped on the bottom portion of the accessory. Its edges are rounded so that it feels more comfortable as you grip it. A sliver of silver provides a visual boundary for where one half of the Lenovo Yoga Mouse flips and the other half doesn't.
Fans of ergonomic PC accessories need not consider purchasing the Lenovo Yoga Mouse. It's not badly designed at all, it's just not the same as an ergonomic mouse. Lenovo wants you to stick this mouse in a bag and go without a care in the world.
The part of the Yoga Mouse with the logo on it is a cover for a very nifty feature. Most pointing devices rely on Bluetooth, but Bluetooth can be troublesome. In the event that users have trouble before a presentation, Lenovo gives users the option to also connect to the PC they are presenting from with an included USB receiver that's stored inside the body of the mouse itself.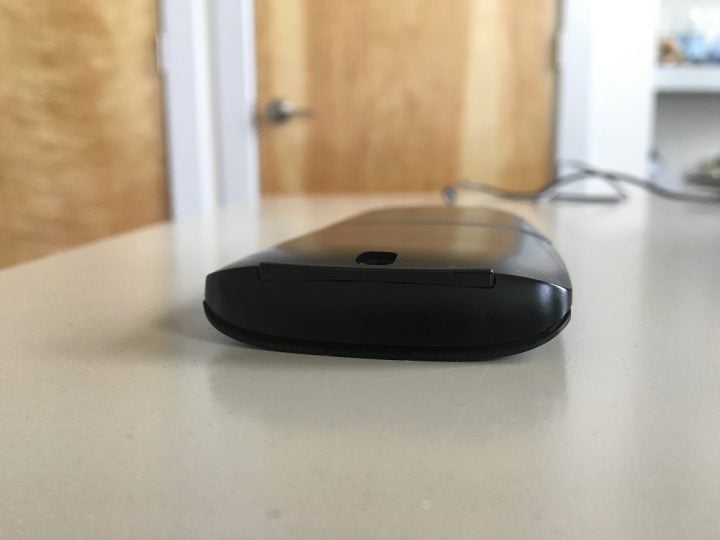 The Lenovo Yoga Mouse's 1600 DPI optical sensor sits just north of the removable cover and metal band in what most users will think is open space. It's not, when connected to a PC through Bluetooth, it holds dedicated laser buttons for media playback. The buttons glow a faint red, making them perfect for low-light situations. Switching between Bluetooth and the USB dongle requires that users flip a switch. Bluetooth pairing is painless thanks to this same switch.
Closed, the Lenovo Yoga Mouse is 2.3-inches thin. You can put it in a pocket and almost forget that it's there.
Lenovo Yoga Mouse Review: As a Remote
As a remote control, the Lenovo Yoga Mouse performs admirably. It maps to the PCs media functions, giving it the ability to work in millions of apps. In Groove Music, the music software included with Windows 10, it allows you to go from your previous song, to your next song. You can pause or play. In Microsoft's PowerPoint, it allows you to head to the next slide or go back to the previous one.
The glow is a bit too faint for my liking, but that's a matter of personal taste. You can see the buttons in a well-lit room easily enough. In the dark, you can't miss them. I wish Lenovo would have added some kind of vibration for these buttons. Tactile feedback would have been a great way to know for sure that your computer received a command. When charging through USB, users can still use the remote buttons.
The actual hinge mechanism for transforming the mouse feels a bit flimsy. So does the cover that hides the receiver storage compartment. Lenovo makes a version of this mouse that includes a laser pointer. However, the version sent to Gotta Be Mobile for review didn't include one.
Lenovo Yoga Mouse Review: As a Mouse
As a mouse, the Lenovo Yoga Mouse is fine, even if it doesn't have the most ergonomic design ever. In mouse mode, the body has an angle so that it fits better in the palm. The optical sensor faces down and users have four buttons at their fingertips.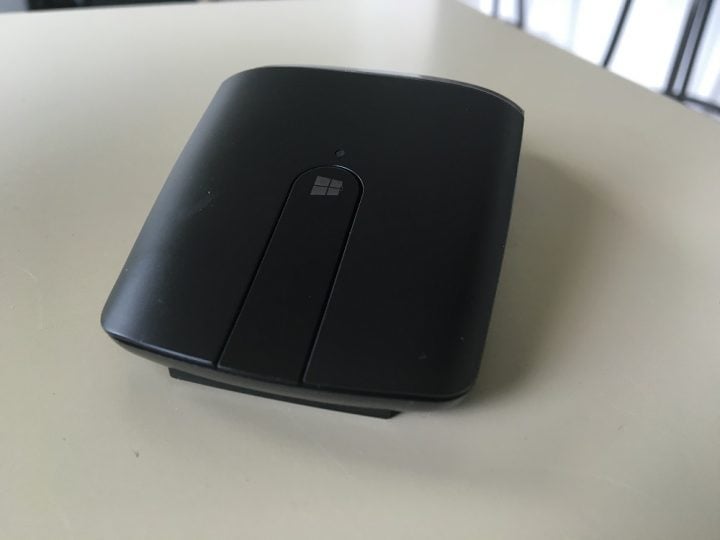 Two buttons, a page-up key and a Windows button for accessing the Start Menu, are built into a touch-sensitive scrolling strip in the center. A click lets you know that you've pressed a button. Moving the mouse around on a flat surface feels fine. There's some friction, but not so much that you feel compelled to change the mouse settings on your PC.
Compare this to the Arc Touch Mouse and the act of actually moving the mouse around is better. That mouse starts to rub against the surface of whatever desk you have it on after a while, ruining the experience. By offering two protruding pads for the Yoga Mouse to rest on in mouse mode, Lenovo has solved that problem on this device.
The plastic body doesn't feel too great in the hand, I do admit. The mouse tends to creak when being transformed. Both aren't issues big enough to dismiss the Yoga Mouse outright, but they're definitely worth noting.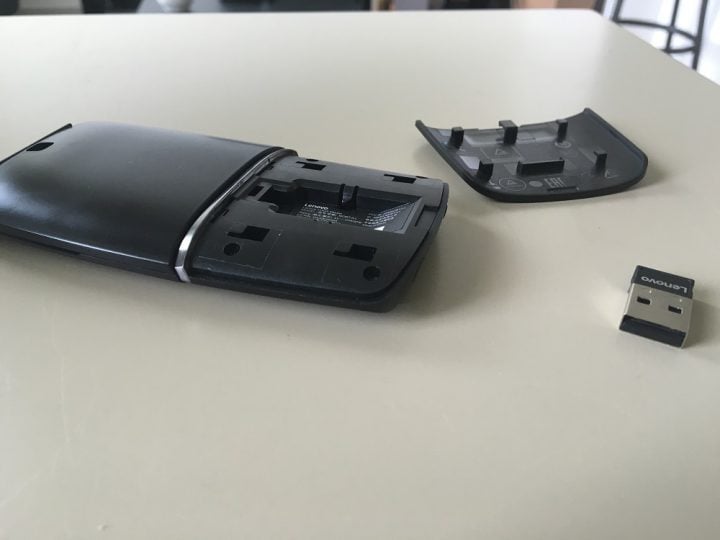 Lenovo says that the Yoga Mouse lasts a month on a full charge, which I can believe. The battery isn't replaceable, though. Instead, users need to plug the accessory into their PC for a charge. That one month of battery is ready after just a single 20 minute charge, which makes up for users not being able to put in their own batteries. Another unfortunate thing to note: you can't charge the mouse and use it at the same time.
Lenovo Yoga Mouse Review: Should You Buy?
Mice can be exciting. There are parts of the Lenovo Yoga Mouse that genuinely had me anxious to try it out. Media playback controls with just the flip of a hinge sound great. A mouse that doesn't depend on Bluetooth working correctly is a very good idea. Bluetooth can be temperamental and the USB backup is reassuring.
For anyone looking at a low-profile mouse, the Lenovo Yoga Mouse is worth considering. Does it feel as high-end as some other mice? Absolutely not. It packs a lot for $69, though. Even better, it works as advertised. Being able to switch between Bluetooth and a dongle is something that you won't appreciate fully until you need it, and media playback controls that you can access from across a room are great.

As an Amazon Associate I earn from qualifying purchases.