Lenovo Yoga Tab 3 Pro Review
Not even on a list of wildest device types would the idea for combining a tablet and a media projector have appeared. It's not that the idea is completely crazy, it just seems like something torn out of the pages of a science fiction film. The $449 Lenovo Yoga Tab 3 Pro seems like a strange idea, an idea borne out of our need to have ever larger displays and share what we're enjoying with everyone else around us.
The Lenovo Yoga Tab 3 Pro is a 10.1-inch Android tablet that ditches the typical Qualcomm innards of such devices, for an Intel processor. It also defies what we know about tablet form factors, keeping a cylindrical body and a kickstand on its left edge.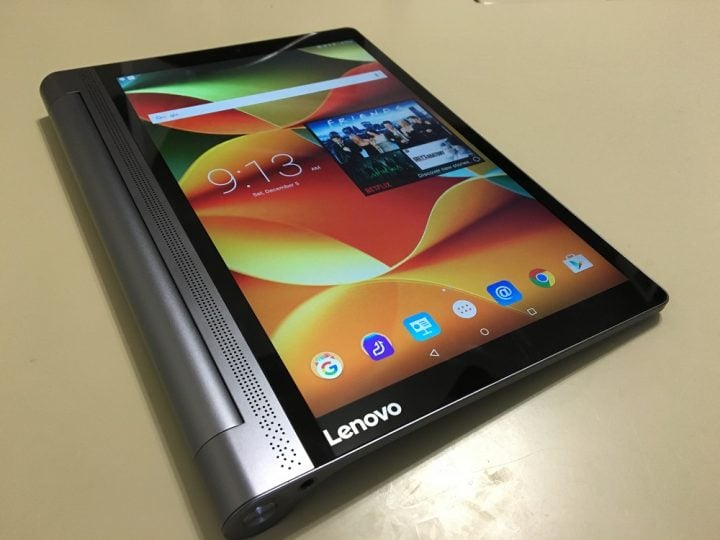 Can a tablet be a great projector and let you conveniently share your movies, television shows and more with everyone? That's what most people are wondering, I bet. I had a different question in mind. Could the Lenovo Yoga Tab 3 Pro include a usable projector without making too many compromises as a tablet?
Lenovo Yoga Tab 3 Pro Review – Design & Internals
Take a paper towel roll and tape a piece of paper to it. That's the way I've heard the design of the Yoga Tab 3 Pro described. I'd say the device is designed more like a book with it's cover closed. The barrel is where Lenovo is hoping people keep their hand when using it in portrait mode. The barrel end gives users something firm to grab on to. Reading an eBook on a tablet has never felt as good as it does on the Yoga Tab 3 Pro. A kickstand from that base also ensures that the tablet sits upright, negating any use for stands when watching video.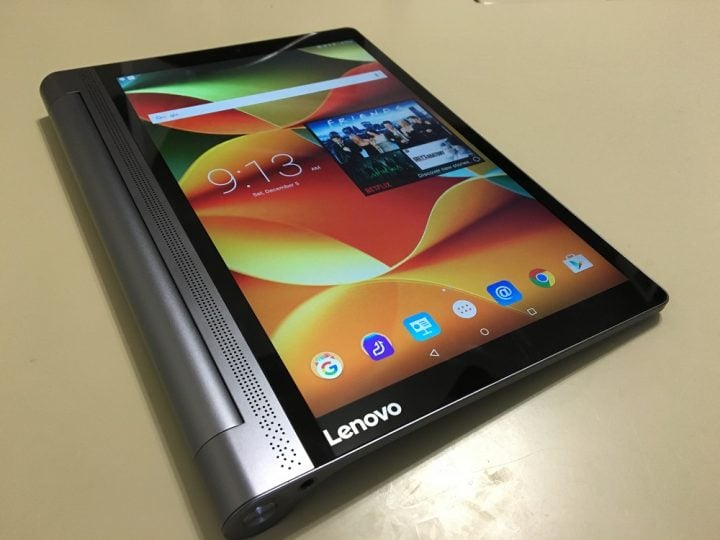 The barrel is the most striking part of the Yoga Tab 3 Pro, but it competes with a 10.1-inch 2560 x 1600 display for attention. Sandwiched between the barrel and the display are four high-performance speakers with Dolby Surround Sound. The lower half (front, side and rear) of the Android tablet are covered in a hardened aluminum that feels great in the hand. This is especially nice since the case curves against your fingers. Lenovo has added a touch of dark leather-like material to the back of the Yoga Tab 3 Pro. The hardened aluminum exterior combined with the barrel make this the best feeling tablet I've ever held.
Buttons and ports are mostly in the same places as on previous Tab devices. The power button is still way too easy to press since it's sitting on the edge of the barrel. Volume sits just north of the barrel. The headphone jack has been moved. It's now just to the right of the barrel's edge. There's a dedicated button for turning on the projector, a stroke of brilliance on Lenovo's part.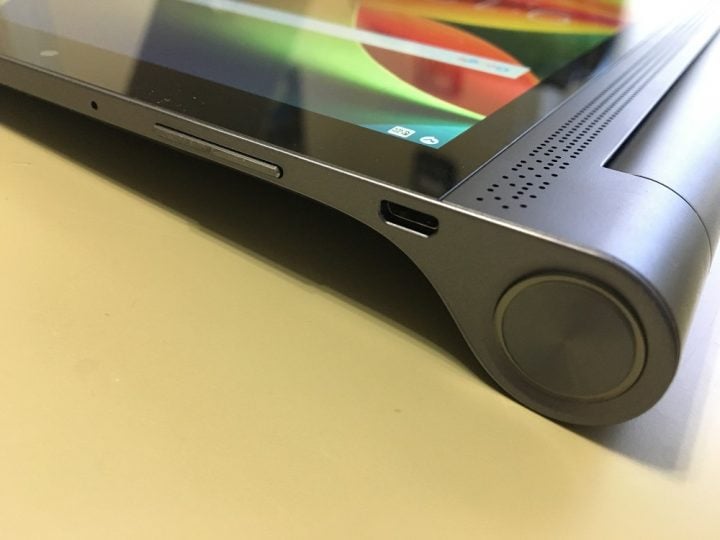 The Yoga Tab 3 Pro has just 16GB of storage inside, but there's a card reader for adding up to 128GB of storage or more. A 13 megapixel front-facing camera without flash lets users take pictures. A front-facing 5 megapixel camera is acceptable for video chatting and taking self-portraits. It connects to PCs using MicroUSB. There's 802.11 AC wireless support too: the very latest in wireless networking for homes and offices. I expected all of those things.
Lenovo Yoga Tab 3 Pro Review – Experience
What I hadn't expected was for the Yoga Tab 3 Pro to have some very smartly implemented extras. These are aimed at keeping you mobile and making the projector the best that it can be.
I was worried about battery life with the Yoga Tab 3 Pro, being that there's a high resolution display inside and a projector. Lenovo rates the device is achieving "up to 18 hours of battery life." I used the device to read, watch video streams through the PBS app on a nearby wall and play music. During my month with the device, I sometimes went three to four days without charging it. Using the projector had an impact on battery life, of course. A quick charger lets you get mobile again faster than the average tablet.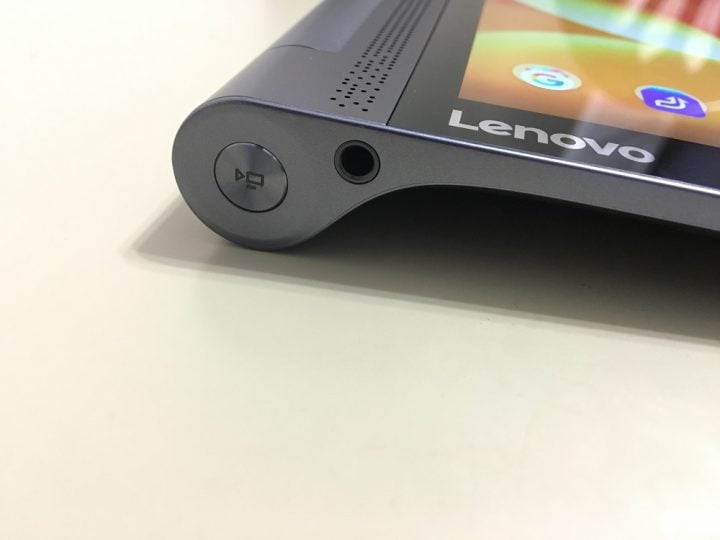 The projector itself is very well done. Tap the button and you can choose to switch to the projector only or duplicate what's on your screen. Taps on the screen register as dots on the projector, making it easy to get an idea of where your last tap was.
The software that runs the projector is great. Automatically, the Yoga Tab 3 Pro adjusts its focus depending on how far away you are from the projection surface. It also adjusts for angles by switching orientation as you move the device into position. The process was painless. Content through the projector looks crisp, even at the full 70-inches the device is capable of producing. However, be forewarned that you need a lot of space to get that full display size. What's more, there's software that allows you to quickly navigate to a specific media type instead of hunting through the default Android 5.1 looking for content.
Projectors emit light and light interference can be a big problem for the Yoga Tab 3 Pro. There's no way to use the Yoga Tab 3 Pro in a room where there's an overhead light. It sometimes struggles with evening sun too. It simply can't emit enough light without you turning off lights and closing blinds. The four built-in speakers easily fill a room with sound, but you'll need to tweak some settings to get a little base. These are some of the best speakers I've heard on a tablet and they compliment the projector very well.
Of the tablet experience, only two things really bothered me. The cameras are generally fine, but the rear-facing camera is still in a very awkward place. It sits just above the device's barrel, where you'd need to hold it to take a picture in landscape mode. I found myself accidentally covering the camera every time I used the device.
Another problem for me was the Intel Atom X5-Z8500 processor inside. The tablet feels a bit sluggish detecting taps and switching between apps.
Lenovo's AnyPen Technology is included in this device. The feature allows you to use anything metal – and Lenovo means anything – as a stylus. I used a pencil on it without scratching it.
Lenovo Yoga Tab 3 Pro Review – Should You Buy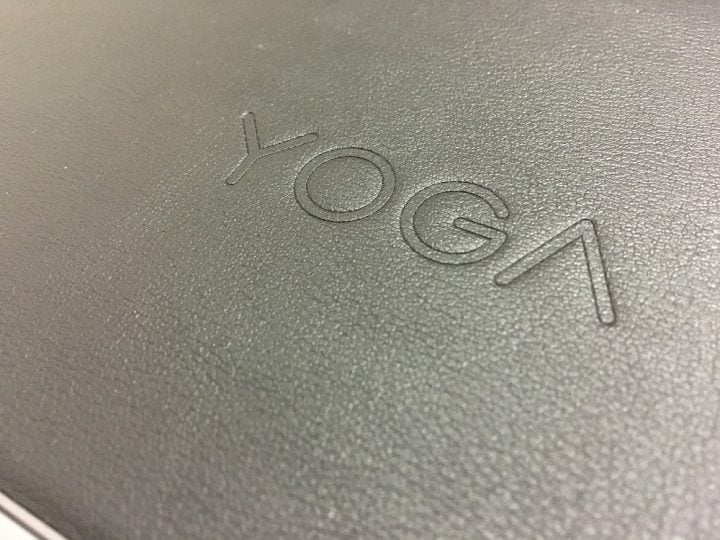 If you're looking for a great media tablet, Lenovo is on to something with the Yoga Tab 3 Pro.
I do wish that the projector was better able to combat stray light during the day, but it's understandable that it wouldn't. I also wish that Lenovo would rethink its placement of the power button. The Yoga Tab 3 Pro is a little sluggish too which surprised me. It's a media tablet, though, so it's not as if people will need to produce documents or edit pictures on it.
Fantastic build quality and an attention to detail make the Lenovo Yoga Tab 3 Pro the Android media tablet to beat. AnyPen, auto-adjustments and a dedicated projector button put it over the top. I don't think anyone who buys one will regret purchasing it.