Lenovo Yoga Tablet 2 with Windows 8-inch Review
Microsoft's Windows 8.1 operating system did wonders for the tablet space. For years, Microsoft had effectively neglected small tablets, even as the iPad started encroaching on the notebook PCs territory. The Lenovo Yoga Tablet 2 with Windows 8-inch is a device that's only possible because of Windows 8.1 and some amazing engineering on Lenovo's part.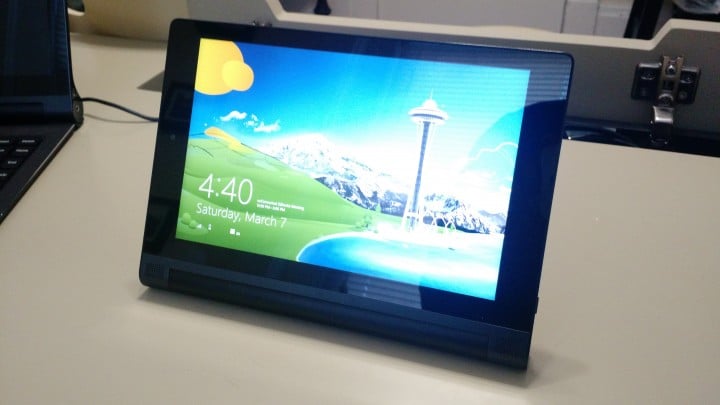 It's another one of the company's curiously shaped tablets. There's a rounded edge on one end holding all of the necessary ports and components. It's a strange device for sure, but one that, in theory, lends itself better to an 8-inch body than some of Lenovo's bigger sizes. Unlike others in the Yoga line, the true test for the Yoga Tablet 2 with Windows 8-inch is how well it lends itself to reading books, watching videos and playing music. Mostly, it delivers.
Yoga Tablet 2 with Windows 8-inch Review – Design & Internals
The Lenovo Yoga Tablet 2 with Windows 8-inch's design isn't like anything we've seen in the Windows entertainment tablet space. It has a very high-end finish and striking looks compared to the basic black slabs most other Windows tablet makers are selling.
On one end of the Yoga Tablet 2 with Windows 8-inch is a cylinder. A rounded power button sits on the left end just below a MicroUSB port and a volume rocker. On the other end sits a headphone jack. An adjustable kickstand with a loop cut out for hanging the device is attached to the back of the cylinder. Gently extending out from the cylinder is a display. Roughly, that description fits every member of the Yoga Tablet 2 line, but there are some noticeable differences from the 10-inch and 13-inch versions.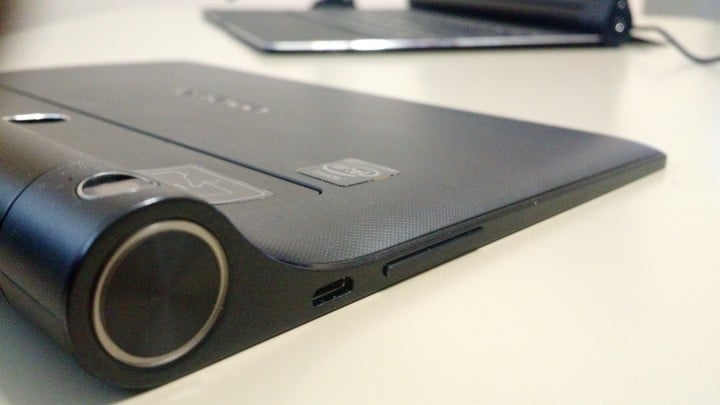 Because it's meant to be an entertainment tablet, Lenovo added a physical Windows button to the left side of this device. There's only a 8-inch 1920 x 1200 IPS display in this model, hence its focus on entertainment. Positioned somewhat awkwardly on the left edge of the display is a front-facing web camera. Another key difference is the 8 megapixel camera that sits just beside where the kickstand extends out from that cylinder.
Inside the Yoga Tablet 2 with Windows 8-inch is an 1.8Ghz Intel Atom processor, 2GB of RAM and 32GB of storage. Windows with Bing means users can install Desktop programs like iTunes alongside Windows Store apps. A MicroSD slot lets users add more storage if they need it. If Lenovo was positioning this as a low-end convertible I'd say they did well with what's included. Because this is an entertainment tablet, I can say that they absolutely nailed it. The essentials are all here. No, you won't be running Photoshop, but email, videos and web browsing are all great on the Yoga Tablet 2 with Windows.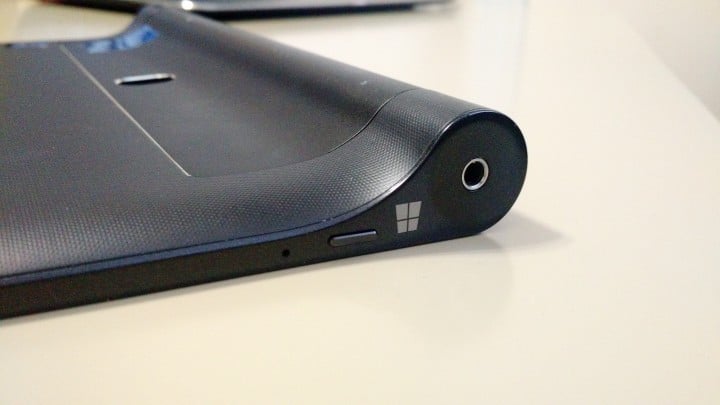 Design-wise, I can confirm that this unorthodox body style lends itself better to an entertainment tablet. The speakers sit up front, filling the area around you with very clear sound. Reading on the device in portrait mode is very comfortable since it's easier to get a firm grip on that cylinder. I should mention that the entire device is covered in black metal that's cold to the touch and resilient to scratches.
I say resilient to scratches because it's not impervious to them. I managed to scratch the side of the device twice trying to fit the included microUSB power cable into its slot. The Yoga Tablet 2 with Widows 8-inch holds on to more design quirks from other versions too. It's easy to hold in portrait mode and even easier to accidentally hit the power button while doing so. Flip the device around in your other hand to avoid striking that power button and you risk hitting the Windows button and returning to the Start Screen over and over again. Also questionable is that rear-facing 8-megapixel camera, which will have you grabbing the Yoga Tablet 2 with Windows 8-inch in awkward places so that you don't cover it up.
Yoga Tablet 2 with Windows 8-inch Review – Experience & Extras
The Yoga Tablet 2 with Windows 8-inch is the first time I've gotten my hands on what Lenovo is calling AnyPen Technology for an extended period. At CES 2015, it intrigued me. In theory, tracking down a stylus is a thing of the past with it. AnyPen devices detect anything with a metal edge and treats it as a stylus. I'd often not need to charge the Yoga Tablet 2 with Windows in between note taking sessions since it actually is capable of hitting around 10 hours of battery life with the display at max brightness.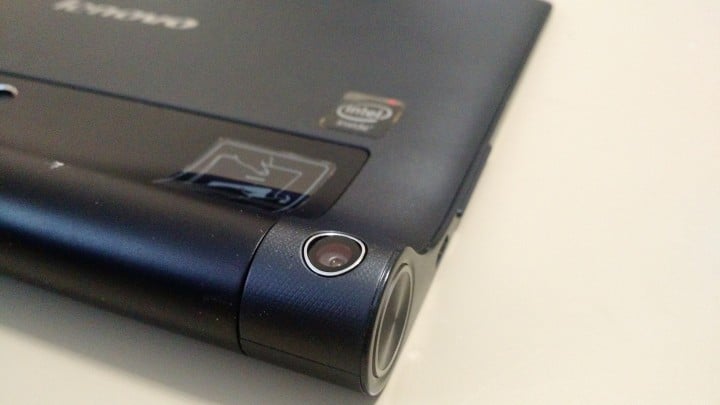 A few weeks with the technology has me singing its praises. Often, I simply reused the Surface Pro 3 stylus I had already to navigate Windows. At least four times I forgot it and grabbed a ballpoint pen out of my pocket. AnyPen recognized them as a stylus effortlessly. Surprisingly, that bulge also lent itself well to note taking too. In landscape it elevates the screen to a more comfortable angle.
I should note that both cameras on the device are fine for what they are. No one will by this device for them, but it's great that they're there.
The Windows Store is growing, but there are some things missing that are available on other tablets in this category, like HBO Go. One thing users don't have to worry about is a subscription to Microsoft's Office 365 Personal service. It's included free with the device for a single year.
Yoga Tablet 2 with Windows 8-inch Review – Conclusion
I recommend the $299 Yoga tablet 2 with Windows 8-inch to anyone looking for a high-end entertainment tablet. The processor, storage and display lend themselves very well to what Lenovo was trying to build: an iPad Mini competitor with a unique design and Windows on-board. I don't even mind that there's a single microUSB port for connecting to devices and charging. Here it just makes sense.
Like others in its family, there are some design issues that keep it from being perfect. Those buttons are in a strange place. It'd have been smarter to use a touch-sensitive Windows button beside the display than add a physical one on the right edge. The giant round power button is still awkward. You will, at some point accidentally turn this thing off trying to read or browse the internet.
The internals and sturdiness outweigh the minuses though.