Windows Lenovo YogaBook Review: Fresh Out of the Future, Marred by the Present
We've all heard varying versions of the same old cliché. "Luck favors the bold." We see it in office artwork trying to inspire us do more. We hear it thrown around by executives and tycoons every morning on business-oriented cable news networks. Lenovo's engineers took it to heart when designing the Lenovo YogaBook.
Selling for $549.99 beginning this week, the Windows Lenovo YogaBook is all about bold moves. At a time when every device comes with a digital stylus, Lenovo is betting on a pen, paper and technology solution. The YogaBook doesn't force you into buying expensive cover accessories in the name of customization and fashion. The panel of sensors doubles as a keyboard deck. At a time when everyone is selling add-on keyboards, the Halo keyboard is pretty risky.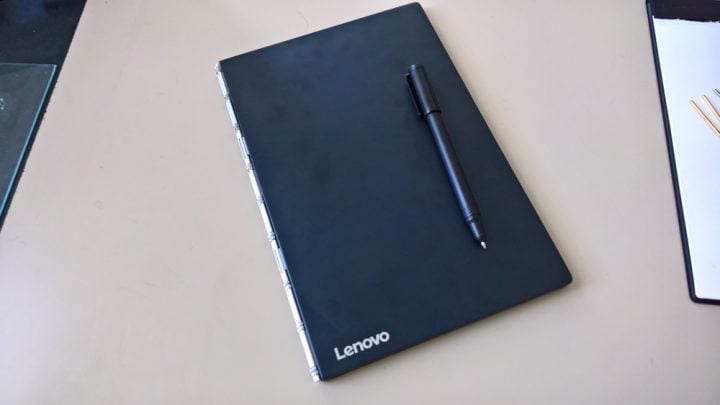 In building on the Real Pen and Halo keyboard concepts, Lenovo is betting that the world is ready for a new kind of tablet for creatives. It's hoping that some futuristic technology can give rise to a new generation of the Windows 2-in-1. Certainly there's a market for a tiny Windows PC that allows users to stay productive and create on the go, but I'm not entirely sure Lenovo's attempt will be what pays off next.
Lenovo YogaBook Review: Design & Internals
For a certain kind of person, drawing tablets and actual notebooks aren't a piece of arcane technology. They have a relationship to their Moleskine that rekindles every time they run their fingers along its spine. Lenovo's designers clearly understand this, because the YogaBook feels like a closed spiral notebook in your hand.
A lot of that feeling comes from the textured aluminum and magnesium covers of the YogaBook's display and sensor panel. When closed, their outer edges lean in just a bit. There's really nothing else to this design, which is, of course, intentional. Who'd want their digital notebook to feel more like a mobile computer? No one.
The same simplistic aesthetic carries over into the inside of the device. Where you'd normally see the keyboard deck is a blank slate. Halo Keyboard looks invisible to the eye in certain lighting situations. A button above the deck switches the device in and out of its writing and keyboard modes. Beside that button is the YogaBook's 8-megapixel rear-facing camera. It only faces out when you've folded the device in half for tablet mode.
Internals
A 2-megapixel camera sits above the 10.1-inch 1920 x 1200 display. Because Lenovo sees YogaBook as a tablet first, it has the things that you'd expect a tablet to have. It charges through a micro-USB port on its left edge. A MicroSD slot allows for up to 128GB of add-on storage. That's on top of the 64GB it has internally. Speakers with Dolby's Atmos technology sit on both the left and the right edges. The power button, audio jack and volume controls sit on the right edge.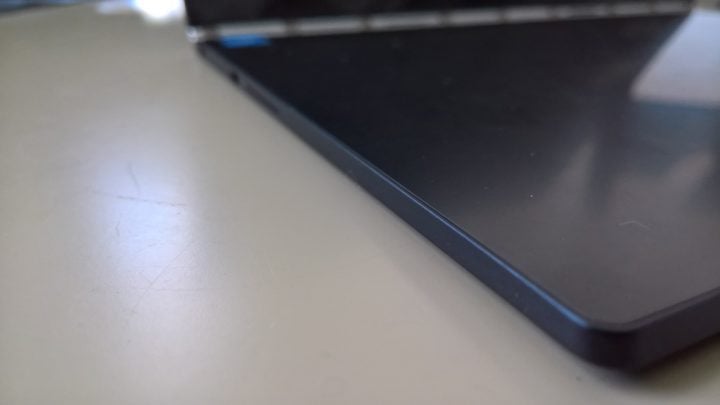 Yeah, it's pretty light on ports, but that's OK. It needed to be as thin as possible. From back cover to front cover it measures 0.38-inches.
Inside are GPS, ambient light sensor, compass and gyrosensor. YogaBook connects to networks with 802.11 ac wireless technology and accessories with Bluetooth 4.0. An Intel Atom processor and 4GB of RAM provide all the processing power. Gotta Be Mobile's review unit came in black and without LTE mobile data support because that's the only design that has Microsoft's Windows operating system loaded on to it. The Android version comes in gold, black and gray for $499.99.
Lenovo YogaBook Review: Experience
The true purpose of any piece of technology is to allow you to get things done. The problem is, Windows PCs hardly ever fade into the background. Sometimes that's due to heft. Other times it's battery life and design failures. Let's talk more about those crazy bets Lenovo made.
CreatePad
Turns out, Lenovo has a name from the sensor deck opposite the display in the YogaBook. They call it the CreatePad. The CreatePad is capable of detecting 2,048 different levels of pressure from the included Real Pen. That's a significant amount more than devices that use other technologies. You can write directly on the CreatePad using the stylus tip.
You can also tear a sheet of paper from the included paper pad and lay it over the CreatePad. If you decide to do this, you'll need to switch to one of the four tips that Lenovo includes with the machine. There's nothing special about the paper, so you can use any piece of paper you want. You'll need to make sure you have the paper aligned in the sensor area of the CreatePad. The alignment process goes a lot easier if you just add refills to the pad that Lenovo gives you. It's got magnets to guide you through the process.
Whatever you write on the CreatePad surfaces in OneNote and other apps on the device's display. A OneNote shortcut surfaces automatically. The volume buttons double as a shortcut to the app, too. You can also write directly on the display. I never had any problems with the CreatePad detecting pen strokes. Forgetting to get the alignment just right when using scraps of paper resulted in some cut-off text a few times.
Real Pen
The biggest problem I have with the CreatePad is not the pad itself, but the pen you use to interact with it. Real Pen feels cheap and pollutes what should be a clean writing experience.
Before switching between the digital and paper writing, you need to switch out the tip of the pen itself. To do this you have to take the Real Pen cap and lock in the refill you want to replace. Then you need to pull on it. The process feels odd. You'd need to do this again for writing on the device's display, but Lenovo smartly included AnyPen technology. This means that you can use the ink tips on the display without worry.
One advantage to Lenovo using Wacom Feel technology for the pen is that there are no batteries to replace every three months. I – and most people who take digital notes – appreciate that. Nothing ruins a creative session like having to run to a few drug stores in search of a battery that no one seems to stock. Lenovo doesn't give you an actual place to store the pen, but that's understandable given how thin the device is.
Halo Keyboard
The Halo Keyboard is Lenovo's biggest gamble. It's also the one that pays off the least. It turns off when you fold it over the backside of the display.
As a steady writer, I stay on the lookout for bad keyboard warning signs. Usually, the biggest warning sign is a lack of key travel. Halo Keyboard is built on a touch panel. There's absolutely no key travel and no way to feel where your fingers should be as you're typing out a word. Lenovo makes the argument that this physical keyboard is preferable to a on-screen keyboard that would have the same issues and not vibrate as you tap. That's a fair point.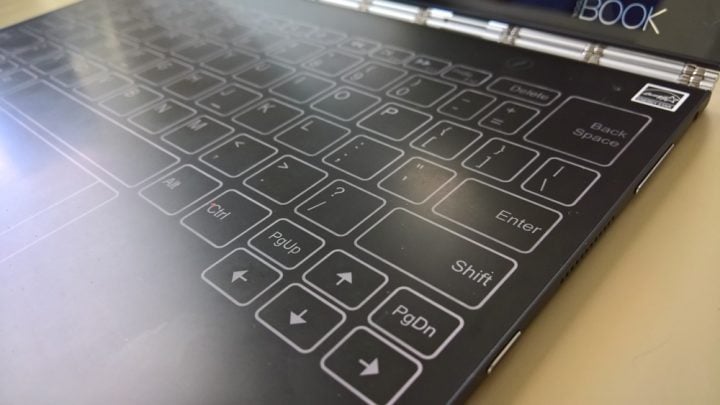 Keyboard spacing is fine, but you're really at the mercy of auto-correct in Windows. Luckily, the operating system has great auto-correct in apps like Word. It took days to get a handle on Halo Keyboard accuracy. Even then, mistakes were common. It's better than no keyboard at all, but I'm not sure most people will be pleased by it.
What I wasn't expecting was for the keyboard's vibration to be so loud or that you wouldn't be able to adjust it. At least on Windows, it's either on or off. Turning it off makes it even harder to type. The texture of the CreatePad is great for writing, but not necessarily amazing for scrolling with the built-in touchpad. The touchpad buttons generate no vibration at all.
The device itself turns the keyboard off when it's folded back, but doesn't tell Windows to switch into Tablet Mode, which is unfortunate.
Performance
Intel Atom processors are perfect for a device like the YogaBook. They don't produce a lot of heat and can handle most tasks well. More important than all of that is their battery proficiency. They're incredibly good at letting you eek out more screen time. With medium settings the YogaBook lasted roughly 11 hours between charges. In fact, battery life was so good that when it actually did die it took me a few minutes to figure out why the device wasn't turning on.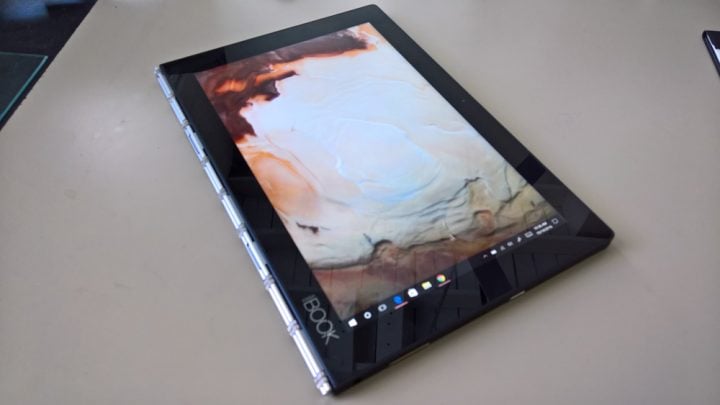 I can say with absolute certainty that you won't want to go editing video with this machine, but productivity apps, video watching and listening to music are just fine. Web browsing has some issues, but that's due to Microsoft's Edge browser being a somewhat temperamental mess. I've encountered the same Edge issues on other devices running Windows 10. Other programs and browsers performed just fine, though there was some noticeable lag in loading them.
The device's cameras are serviceable, but you can't count on them for the best shots possible. That's true of most Android and Windows tablets, though.
Lenovo YogaBook Review: Specifications
| | |
| --- | --- |
| Processor & Graphics | Up to 2.4Ghz Intel ATOM x5-Z8550, Intel HD 400 Graphics |
| Memory & Storage | 4GB of RAM, 64GB of Storage |
| Display | 10.1" FHD IPS 1920 x 1200 display |
| Ports & Extras | MicroSD Card Slot, 8-megapixel rear-facing camera, 2 megapixel front-facing camera, Micro-HDMI, Micro-USB, Headset jack, 802.11 AC wireless, G-Sensor, E-Compass, Hall Sensor, Ambient Light Sensor, GPS and A-GPS |
| Battery Life | 12 hours |
| Dimensions & Weight | 10.1-inches x 6.72-inches x 0.38-inches. 1.52 pounds. |
Lenovo YogaBook Review: Should You Buy?
There's a lot to like about the Lenovo YogaBook. Its size and outer shell are superb. It feels like something a creator would carry around for whenever inspiration strikes them. I only wish that, when it came time to turning that inspiration into something tangible, the YogaBook didn't have so many compromises.
Getting used to the Halo Keyboard is going to take any heavy keyboard user weeks, maybe even months. The Real Pen experience definitely needs some work. I liked it less than I liked the keyboard.
That being said, I don't think this is a device that users shouldn't take a chance on. It's exciting, different and fresh. It feels like a more natural device to express your creativity with than lots of devices I've seen aimed at the same crowd. Artists and those that only do a small amount of typing could grow to love it.
In the future, we'll all create with something like this. Lenovo will have to keep improving on the keyboard and Windows integration before that actually happens, though.

As an Amazon Associate I earn from qualifying purchases.