Lenovo's ThinkPad Most Mileage Contest
Well here's a way to win a ThinkPad if you're up for a little creativity and video producing. Lenovo is running the Most Mileage Contest. You basically film and submit a 2–4 minute video of what you think shows "most mileage" while using a ThinkPad. They leave that definition pretty wide open saying that it could be traveling to far away places, extreme usage, or hours of use. There's info on the contest on Lenovo's Inside The Box Blog, and the official contest rules are here. Note the contest is only open to residents of the US and Canada (excluding Quebec.) They list some pretty extreme examples of the "don't do this at home variety" such as using your Lenovo as a baking sheet.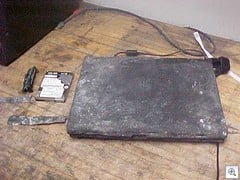 This article may contain affiliate links. Click here for more details.