LG Connect 4G Looks Like a Beefed Up Optimus Black LTE for MetroPCS
From a leaked press shot, it appears that MetroPCS is landing the LG Connect 4G Android phone for its LTE network. There is speculation that the LG Connect 4G will also be coming to Verizon Wireless and Sprint–the latter of which may get a WiMax variant as Sprint does not yet have an LTE network at this time.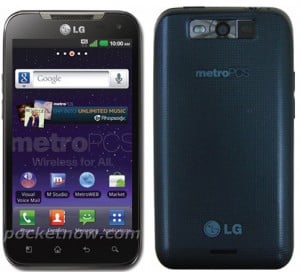 The mid-range device should be relatively affordable on MetroPCS's network, but won't be offered with any subsidy discounts as the regional carrier doesn't require a contract.
The device appears to be a beefed up version of LG's Optimus Black with improved specs. From the Optimus Black, which is available as the LG Marquee on Sprint's 3G network, we have the same WVGA Nova Display, which is brighter than most smartphone's display and will make the screen vibrant and usable even under direct sunlight.
The phone will have 1 GB of RAM, dual-core processing power, rear 5-megapixel camera, front-facing camera, and 4 GB internal storage. The screen measures 4-inch so it will be more compact than some of the larger-screened devices on the market today, including the Samsung Galaxy Nexus.
Perhaps LG will announce the Connect 4G at CES in a week or so.

As an Amazon Associate I earn from qualifying purchases.