LG E960 Photos Emerge, Hints at Optimus Nexus Possibilities
With rumors swirling about a possible Optimus smartphone from LG to enter Google's Nexus product lineup, the newly leaked images of the LG E960 will definitely add fuel to the fire. The device looks to be a variant of LG's recently announced flagship Optimus G, but will come with on-screen software-based Android navigation keys, similar to those found on Samsung's Galaxy Nexus.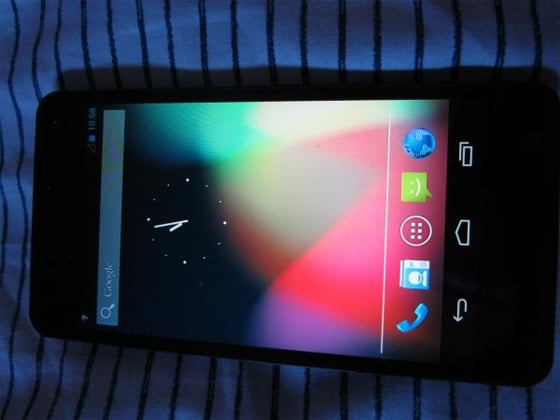 Additionally, given that Google assigns codenames to its Nexus products based on names of fish, the Android build on the device shows as "Full Jellybean on Mako," further suggesting that this device may see life as a Nexus. The build right now is stock Android 4.1.2 without any LG UI or overlay. Images of the device were posted on XDA-Developers. 
The device has a 4.7-inch HD 1280 X 768 display and quad-core Snapdragon S4 Pro CPU. It will have a 13-megapixel rear camera.
Recently, a variant of the LG E960 was seen trying to gain regulatory approval in the U.S. at the desk of the FCC. That device, however, lacked 4G LTE support so it's unclear if Google will release a U.S. variant with 4G LTE support. Thus far, Sprint and Verizon had released their own CDMA Galaxy Nexus with 4G LTE in the U.S. market and the unlocked Galaxy Nexus sold through the Play Store operates on pentaband HSPA+ making it compatible with T-Mobile USA and AT&T, but did not offer LTE support for those GSM carriers. It's unclear if the new Optimus Nexus will follow the same path.
Releasing a Nexus smartphone without 4G LTE support in the U.S. would not be a wise move as the phone would not be 'future-proof' as a Nexus product given the direction of the U.S. mobile industry. After all, Android boasted the first 4G phone in the form of the EVO 4G on Sprint running WiMax and the first LTE smartphone in the form of the HTC Thunderbolt for Verizon Wireless. Google could stand to extend its technological forward lead.
The device may be announced later this month and may compete for attention against the Galaxy Note II from Samsung as well as the Microsoft Windows Phone 8 products.