LG G Pad 8.3 Android 4.4 KitKat Update Arrives
After over a half a year of waiting, the LG G Pad 8.3 Android 4.4 KitKat update is finally available and rolling out to select users. The impressive tablet has been stuck on Android 4.2.2 Jelly Bean since being released in late 2013, and never received an update to Android 4.3 or the initial Android 4.4 KitKat, but now the Verizon LG G Pad is kicking things off.
After arriving with Android 4.2 just before Google released Android 4.4, many expected updates to arrive fairly quick to either Android 4.3 or the new 4.4 KitKat, and now over 9 months later it's finally here. The update first started rolling out in Korea back in March, but now Verizon owners are getting the same treat.
Read: Samsung Galaxy Tab Pro 8.4 vs LG G Pad 8.3
The LG G Pad 8.3 Google Play Edition received Android 4.4.4 KitKat a few weeks after most other Google Play edition devices got the same update, and a while after Nexus users, and now those with a Verizon LG G Pad can head into settings and get the latest and greatest software.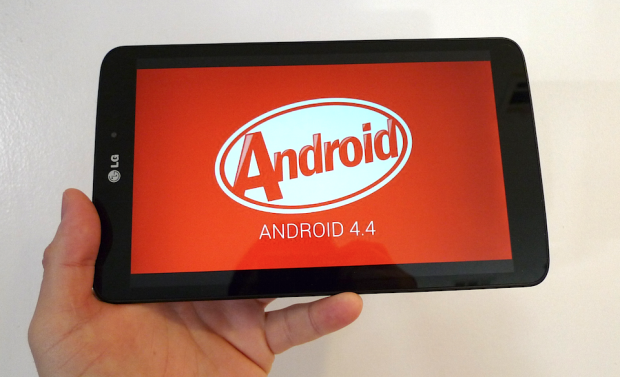 Google released Android 4.4 KitKat back in November, then eventually issued a few stability and security tweaks as the months progressed. In June Android 4.4.3 and Android 4.4.4 both arrived, but sadly neither of those are coming to the G Pad on Verizon.
Today Verizon Wireless confirmed the G Pad 8.3 is getting Android 4.4.2 KitKat. It isn't the latest release, but it's still KitKat which delivers tons of new changes, UI tweaks, features, and performance enhancements.
Read: Android 4.4 KitKat: What's New in Simple Terms
The update to Android 4.4 KitKat for the LG G Pad 8.3 on Verizon Wireless comes with a load of new features, as well as tons of small bug fixes that should improve the experience for users and potential buyers. The white KitKat font will be up top, immersive mode offers full-screen mode in more apps, letting you enjoy that 8.3-inch 1080p HD display, multi-user modes will be available, and much more. Below is a quick summary of what's new, as provided by Verizon Wireless.
LG integrated its popular KnockCODE security enhancement on top of the KnockOn, which is a double tap to wake the screen, a feature many users love. There's also audio improvements and a fix for the muffled sound some users are experiencing. Verizon was quick to mention they've also squashed a few bugs on the tablet. The "cannot connect to server" error was fixed, SIM card issues and errors have been resolved, and overall general stability improvements should also be included.
Android 4.4 KitKat offers a huge jump in general performance over Android 4.2 Jelly Bean, as well as severely improves battery life. This means those with a Verizon LG G Pad 8.3 will likely want to jump on this update to better their tablet experience.
Read: LG G Pad 8.3 Review
So how do updates typically work? Now that Verizon Wireless has confirmed their LG G Pad 8.3 is getting Android 4.4.2 KitKat via the support pages, it's only a matter of time. Usually the software update starts rolling out to all users within 24-48 hours, but can sometimes take upwards of two weeks before it arrives.
Users can head into the LG G Pad 8.3 settings, scroll down to about tablet, and check for updates now, and it should hopefully be available today for download. If not, check back often as it's officially rolling out now, and should arrive sooner rather than later.

This article may contain affiliate links. Click here for more details.