LG G Pad 8.3 Review: An Android iPad Mini Competitor
After a long absence the G Pad 8.3 is the first foray into the Android tablet market in a few years for LG. Following a few failed tablets early on in Android's life on bigger screens, they called it quits until the (you guessed it) 8.3-inch G Pad, and it's one slate worth taking a look at.
With a beautiful and sleek design, thin bezels, and a bright 1080p HD display this tablet is quite impressive given the company's absence from the market, and shows they have good things to come.
Announced and released back in late 2013 the LG G Pad isn't necessarily new, but it still doesn't have much in terms of competition on the Android ecosystem, aside from the Galaxy Tab Pro 8.4. Now that it's making its way to carriers like Verizon, received a price drop, and is still an excellent option we wanted to run it through the usual Gotta Be Mobile review standards.
Read: LG G Pad 8.3 vs iPad Mini Retina: 5 Key Differences
With an 8.3-inch 1080p HD display, quad-core processor, and a beautifully thin aluminum design with stereo speakers this tablet has a lot to offer. Initially it was $349, which was a bit high, but it has been on sale for under $299 consistently, and is available for that same low price right from Verizon, contract free.
Below we have plenty of pictures, video, as well as some pro and cons of this device you should probably know before picking one up. It compares quite nicely to the iPad Mini Retina, too, so we'll talk about that.
Pros

Crisp 1080p HD display
Blazing fast and smooth with a quad-core
Micro-SD storage expansion
Comfortable design

Cons

Outdated Android 4.2 Jelly Bean OS
Screen brightness is lacking
Uneven performance at times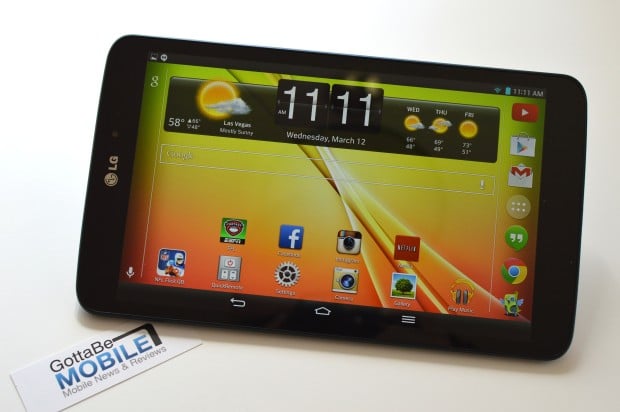 LG G Pad 8.3 | $349 (or less) | Verizon

LG G Pad Review Guide

Related LG G Pad Review Articles

Buy the LG G Pad 8.3

The latest LG phones and tablets both are trying hard to penetrate the US market, and Google's done a lot by offering the Nexus 4 and Nexus 5 to LG. That said, we still don't have the latest version of Android, and the UI still seems to be something similar to Samsung's TouchWiz, and just as poorly done.
Hands On/Video Review
The first few minutes with the LG G Pad 8.3 will have you rather surprised by the overall feel, design, and general comfort while holding this slate. It's 8.3-inches but you'd never tell holding it in your hand. The device is thin and lightweight, the bezels are small and keep the size to a minimum, and the aluminum shell gives it a premium iPad Mini-like feel.
There isn't much to the box, as the key focus here is the tablet itself. Our first impressions on day one were that the tablet was extremely smooth, fluid, and fast, but as time went on we'd have the occasional lag with LG's software changes. Overall though, it's an extremely quick and capable tablet, and rarely did it stutter or have a problem with the most power intensive and best looking games for Android devices.
Design
The LG G Pad 8.3 design shows that a tablet doesn't need to be cheap or plastic, and that Android manufacturers can keep up with Apple in terms of look and feel. While the black model we have here was a fingerprint magnet, the aluminum shell was a nice change of pace.
The 8.3-inch screen has thin bezels, and the entire device feels thin, portable, and lightweight. However, the Nexus 7 is a bit lighter, but you'll barely tell the difference. When it comes to the Android competition none have this level of build quality, but the new Galaxy Tab PRO line comes close.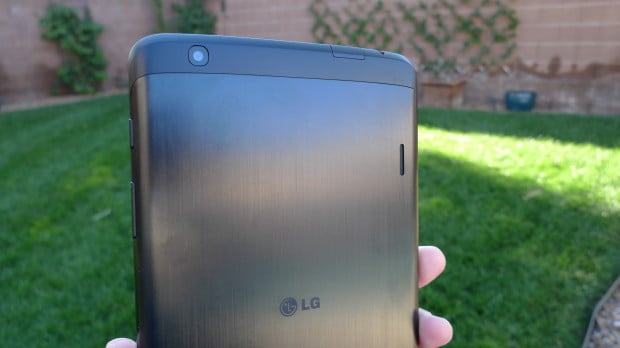 Apple's iPad Mini Retina has a similar aluminum shell, but LG did it right. There's a soft-touch plastic on the top and bottom, as well as on both sides as the metal wraps around to meet the front fascia. This makes it easier to hold in landscape or portrait mode, and you're not constantly worried about it slipping from your grip.
The camera is on the rear joined by two stereo speakers that work quite nicely, and everything else is on the sides and top. We have the volume up/down and power button on the right top edge. An infrared port for the remote control feature is up top along with the 3.5mm headphone jack and a micro-SD slot. Yes, this has user expandable storage up to 128GB with micro-SD, which adds to the 16GB internal memory. The left edge is clean and the bottom wraps up with a microphone and the micro-USB port for charging and syncing. That aside, it's very clean and minimalistic, and there's an off-center 1.3 MP front facing camera too.
Read: LG G Pad 8.3 vs Samsung Galaxy Tab PRO 8.4
LG G Pad Display
The 8.3-inch display offers a 1920 x 1200 full 1080p HD resolution, and it's one of the best parts of this tablet. It's right up there with the new 2013 Nexus 7, and Apple's Mini with Retina. Having a bigger screen then both the pixels per inch aren't as high, but it still looks gorgeous while viewing a movie or watching Netflix.
I've watched a lot of House of Cards season 2 on this little tablet, and after multiple episodes I have one complaint. Brightness. The LG G Pad gets plenty bright and crisp overall, but for some reason it just can't compete with the Nexus 7. Overall the display looks very nice, but LG needs to opt for a brighter display in their next Android tablet. I found myself turning it to 100% for the dark scenes in House of  Cards, but overall this is a minor nit-picking more than anything. We want perfection for $349, and this is close.
We've heard reports of edge of screen light bleeding through, or some reports of a yellow undertone, but have experienced no such things with two of our own G Pad 8.3 slates. We have no major complaints on the display, but wouldn't mind if their next tablet had a slightly better and brighter display.
LG G Pad Performance
Powered by last years popular 1.7 GHz Snapdragon 600 quad-core processor and 2GB of RAM, this tablet just flies. There are no games or apps it can't handle, and browsing the web is as fast as ever. We dare say it's possibly faster and smoother than Google's own Nexus 7. Most of the time.
What we mean by that is general apps and games fly. Flipping through the homescreen is buttery smooth, and using Google Chrome to search the web is excellent. The downside though, is Android 4.2.2 Jelly Bean is two years old, and LG's user interface changes slow things down. When you're using anything LG's added specifically it isn't as smooth, which takes away from that seamless experience we look for.
That all said, LG's Android skin or "experience" is relatively smooth for daily use, but there was the occasional dip that made us notice the drop in speed or slight lag. Not enough to pass on the device, as it's an excellent tablet, but we need an update to the latest version of KitKat to smooth things over.
LG G Pad Battery Life
LG added a large 4,600 mAh battery under the hood of the G Pad 8.3, and it's one of the best parts of this slate. The Snapdragon 600 is efficient, but not as power hungry as some other options, and the slightly dim screen could also be playing a factor here. As a result we have excellent battery life, sometimes exceeding the usage LG claims this device can get.
Watching four hours of video on a flight, checking flight status with Southwest in-flight info, and doing some light web browsing left me with around 66% remaining. Meaning casual users will get well over 24 hour or more, and a hardcore non-stop user will see 8-9 hours of continuous usage. That's all day, hard, with a single charge.
For the light user that picks up their tablet on occasion for news, reading, or browsing the web, this could be your weekend warrior on the couch and last the entire weekend on a single charge with light usage.
LG G Pad Audio Quality
LG made sure to put quality speakers in this device, but sadly they're like most tablets and located on the back. We have dual stereo speakers, and they're actually stereo sound. While you'll still notice this is coming from a small device, with that slight tin-can sound, overall the LG G Pad beats out most of the competition.
Audio is loud and crisp for viewing movies or playing a game, and putting on headphones you'll enjoy the same quality. The sound was clear, crisp, and didn't seem to distort even on full blast. Feel free to bump Google Play Music or play the latest NFL Madden game with ease, even at full blast.
LG G Pad Cameras
LG added two cameras to the G Pad 8.3 slate. There's an average 5 megapixel shooter on the rear with no LED flash, and the usual terrible 1.3 front camera. While we'd hate to be "that guy" snapping photos with our tablet, we did shoot a few quick indoor and outdoor photos for some samples. It's certainly nothing to write home about, but will get the job done for Facebook if you're in a pinch.
Software and Apps
One of the biggest downsides to the LG G Pad is the company's lack of software updates. It launched a month before Google announced Android 4.4 KitKat, but didn't even have Android 4.3 on board. Instead, the G Pad shipped with (and still has) Android 4.2.2 Jelly Bean announced in 2012. Yes, the software is extremely outdated, and is one of the only reasons we'd take the Nexus 7 over the G Pad.
Google eventually straightened LG out and offers a stock Android G Pad 8.3 Google Play Edition running 4.4.2 KitKat, but for everyone else, this tablet is in need of an update badly. Android 4.3 and 4.4 bring huge performance increases, multi-user support, and an array of other features, patches and improvements.
Even with the older software LG added a few noteworthy features worth talking about. KnockON, for some odd reason, is arguably one of my favorite features. It's so simple, but effective. Simply double tap the display and it'll turn on. No picking it up or searching for a power button. It's also easy for the parents (or kids) to learn. A double tap turns it off, too, which is neat and amusing to me.
We also have LG Slide Aside which slides apps to the left edge for multi-tasking. It's a nice look, but long press home and Google's stock multi-tasking does just fine, so this isn't really all that needed. LG also has an awesome remote control app built-in, to take advantage of the InfraRed Blaster, and you'll want to use it. I've set it up and control my living room with it daily, and it works with the TV, DVD player (yes I still use one on occasion) and even the set-top box.
Everything about the LG G Pad is pretty good, aside from the software changes and additions from LG. I've replaced the launcher with NOVA for a smoother and closer to stock Android experience, and rarely use any of the added LG apps. Sticking to Google apps, Chrome Browser, Netflix, and the usual popular apps this is an excellent tablet. We can't help but feel like LG is trying too hard at times to compete with Samsung, and needs to just focus on an excellent experience for buyers.
Give us an update to Android 4.4 KitKat, which has been on one version of the G Pad for months, and most users will be happy. This tablet is in need of an update from LG, and once that arrives, most of these complaints will clear up and this tablet will be even better.
Is the G Pad Worth It?
Absolutely. The LG G Pad 8.3 is arguably one of the best Android tablets available to date. It beats the Nexus 7 in most categories, has a beautiful and sleek design with a large 8.3-inch display while still being portable. It sounds good, looks great, and works wonderfully for almost all daily tablet tasks. There's no S-Pen stylus like Samsung's Note devices offer, but many buyers don't need one.
While the initial $349 asking price was a bit high, which probably hurt initial sales and the tablets popularity in the long run, you can find it for much less today. Verizon's 4G LTE and WiFi model is $299 without a contract and most retails have it for under $300 often. The Nexus 7 is still cheaper while also having the latest version of Android, but this is a toss up.
It's as close as any Android device has got to looking and feeling like an iPad Mini, if that's what you want, but still runs Android for those invested in one OS over the other. Even for $329, the LG G Pad should make owners happy for years, as long as we get an update to Android 4.4 KitKat. Sadly, we don't expect too many further updates, so that's one more thing worth considering.
There's also reports of an LG Nexus 8 coming in July, so some may want to hold off and wait to see what the future brings.
LG G Pad Gallery
LG G Pad Specs
8.3-inch 1920 x 1200 display
1.7 GHz Quad-core Snapdragon 600 with 2GB RAM
16GB storage (Micro-SD for expansion)
Android 4.2.2 Jelly Bean
5 Megapixel rear & 1.3 front Camera
4,600 mAh battery
Infrared Blaster for remote
Dual stereo speakers on back
8.54 x 4.98 x 0.33 inches