LG G Pad 8.3 vs Galaxy Tab PRO 8.4: 5 Key Differences
With the 7-inch Android tablet market getting more and more competitive, we've started to see a shift to larger devices that are still extremely portable. As a result, consumers now have multiple compelling options in the 8-inch form factor.
There's even reports that Google will abandon the 7-inch size that made the first two Nexus 7 famous, and launch a new Nexus 8 later this year. Many feel it's the perfect size. Two worth talking about that are arguably the better options available today are the LG G Pad 8.3 and the new Samsung Galaxy Tab PRO 8.4. Now that the Tab PRO 8.4 is on shelves, and the G Pad 8.3 is launching on Verizon, below we'll talk about and compare the two Android tablets.
Earlier this year Samsung announced an entire lineup of impressive new tablets, and the one we're talking about today is the all-new 8.4-inch Galaxy Tab Pro. Offering top-tier specs across the board, a stunningly sleek and impressive design, and one of the best displays we've seen on a tablet to date. With a higher resolution than the iPad Mini Retina, the new Galaxy Tab Pro 8.4 has a lot going for it.
Read: Samsung Galaxy Tab Pro Series Hands-On
That being said, LG has a pretty excellent and compelling option that's been available since last year with the G Pad 8.3 slate, which is now headed to Verizon with 4G LTE for only $299 contract free, or $99 with a new 2-year agreement. It's much cheaper, but nearly as impressive. Read on to see how the two compare.
Read: LG G Pad 8.3 Unboxing & Hands-On
Design
The LG G Pad is actually one of the better designed Android tablets, in our opinion, and has excellent build quality considering what we've seen in previous years from LG. Quality nearing that of Samsung and the iPad Mini. The 8.3-inch display is wrapped with small bezels to keep the design small and portable, and there's a lightweight aluminum shell around back and on the edges. However, LG added plastic to the sides and both the top and bottom. This makes it comfortable to hold, and easier to grip. You won't be worried that it'll slip out of your hands like with the iPad and other aluminum devices.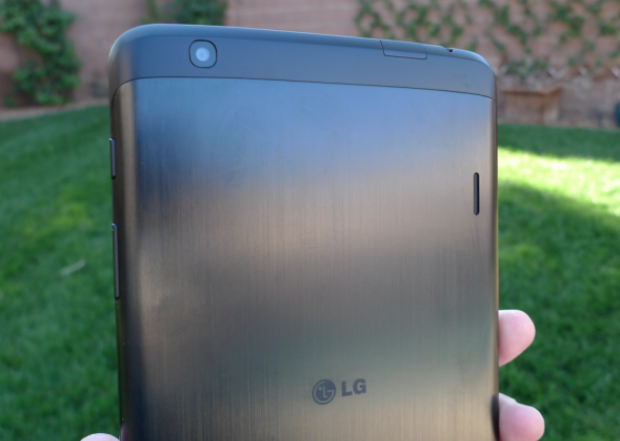 Samsung though, is no slouch with designs either. While it's covered in more plastic, as expected, Samsung adopted the faux leather design on the back from the Galaxy Note 3. Meaning the new Tab Pro 8.4 looks like it has a white or black leather on back, and it even feels soft and comfortable, but it's still a durable plastic material.
The design is quite similar with both devices having a camera on the left rear, front facing camera, and power/volume buttons off to the top right side of the device. A quick look at specs you'll notice they're nearly the same size, but Samsung's top and bottom are slightly larger. Both of these are extremely durable, well designed, and feel excellent in the hand while still being rather portable for the user.
Display
One key feature on a tablet is the display, and these are two of the better Android options available today. While the LG G Pad 8.3 has a beautiful 1920 x 1200 HD panel, Samsung took things up a notch by offering a 8.4-inch 2560 x 1600 HD LCD display on the Tab Pro. That's slightly higher than the iPad Mini Retina, and is stunningly gorgeous and crisp on this small of a device.
The Tab Pro 8.4 has the best screen on a tablet we've seen to date, and will be impressive for any user. That said, the G Pad 8.3 is still a 1080p screen, is vibrant and crisp, and is better than most 720p slates from other manufacturers. The G Pad has 274 pixels per inch vs a pixel density of 359 per inch with the Tab Pro.
Both tablets are very similar in looks with the extremely thin side bezels, they both have stunning displays that are crisp and vibrant for viewing Netflix or playing an HD game from the Play Store, and should leave any user quite satisfied. In the end though, the Samsung Galaxy Tab Pro 8.4 just looks better, is more crisp, and colors pop along with inky blacks. It's the best screen on a tablet we've seen, and has no competition in the Android space.
Specs
Whether you're an average user, or a die-hard gamer or enthusiast, specs matter. As long as the device works most will be happy, but having top-tier internals ensures a device will run efficiently for years, and be powerful enough to handle future Android updates. Both of these tablets are near the top of the chart, but the Galaxy Tab Pro slightly wins this battle.
Galaxy Tab PRO 8.4
8.4-inch 2560 x 1600 HD display
2.3 GHz Quad-core Snapdragon 800 processor with 2GB RAM
16/32GB storage with a micro-SD for user expansion
Android 4.4 KitKat (with heavy UI changes)
8 Megapixel rear & 2 MP front cameras
4,800 mAh battery
Infrared Blaster for Remote Control
Faux Leather design
Dual Stereo speakers on bottom
8.62 x 5.06 x 0.28 in
LG G Pad 8.3
8.3-inch 1920 x 1200 display
1.7 GHz Quad-core Snapdragon 600 with 2GB RAM
16GB storage (Micro-SD for expansion)
Android 4.2.2 Jelly Bean
5 Megapixel rear & 1.3 front Camera
4,600 mAh battery
Infrared Blaster for remote
Dual stereo speakers on back
8.54 x 4.98 x 0.33 inches
The Samsung Galaxy Tab Pro 8.4 is slightly taller, wider, yet thinner overall, but both of these tablets are extremely lightweight and portable. The Tab Pro also edges the G Pad out in specs across the board, not to mention already has the latest version of Google's Android operating system, which brings us to our next point.
Software
For Android users software, or updates, plays a huge role in a purchase decision. Google issues one or two major platform updates a year, and most want the latest features. Sadly LG has never been the best with software updates, not to mention they focus on smartphones first. Samsung does this too, but have a much better history overall updating devices, especially tablets.
The LG G Pad 8.3 was released late last year in October just before Android 4.4 KitKat was announced by Google, yet it didn't even have Android 4.3 on board. Instead, the over a year old Android 4.2.2 Jelly Bean is the OS LG chose, and it's still on the same outdated version. While we expect an update to arrive at some point, hopefully before the end of March, there's no solid details to confirm such an update is coming.
The Samsung Galaxy Tab Pro already has the latest Android 4.4 KitKat right from Google, but has heavy customization from Samsung. We're usually not a fan of Samsung's TouchWiz, or LG's knockoff of TouchWiz on the G Pad, but this time Samsung got it right. The new Tab Pro line has an all-new Magazine User Experience. One which makes more sense for a large 8.4-inch device, or a tablet built to multi-task. Take a quick look at what we mean below.
Compare that to the Android 4.2 Jelly Bean software on LG's tablet, you'll instantly notice that there's more options and opportunity to multi-task, create content, and consume content on Samsung's slate. That isn't to say the G Pad isn't good, it just doesn't have the same level of polish on the user interface as Samsung.
The LG G Pad is actually my daily device, but I'd be lying it I didn't say the Galaxy Tab Pro 8.4 gives it serious competition, and is probably the better choice. In our opinion at least. That being said, another extremely important factor is the price, and LG is the clear winner here.
Price
With a super HD 2560 x 1600 display, 8 megapixel camera, and the fastest quad-core Snapdragon 800 processor around the Tab Pro spared no expenses to be the best. As a result it's also extremely expensive, and priced at $399 for the 16GB model, just like the iPad Mini Retina. Compare that to the $349 price of the LG G Pad, and users may take the cheaper alternative.
At the same time, today Verizon is officially carrying the LG G Pad 8.3 with 4G LTE for only $299 without a contract. Meaning the WiFi model should be receiving a price drop, and if not, the LTE model is always a better option in case you need connectivity. This makes the 4G LTE-capable LG G Pad $100 less than the Galaxy Tab Pro, and that's just the WiFi variant.
When it comes to pricing you'll be saving more money going with LG, but as a result will get a slightly inferior display, a slower (but extremely capable) quad-core processor, and a slightly outdated version of Android. Both of these tablets are excellent, but manufacturer and price will likely be the deciding factor for most consumers.
Final Thoughts
To end we'd have to go ahead and say this is a clear win for Samsung with the Galaxy Tab Pro 8.4. Simply because it's an all around better tablet, has the latest version of Android, and will likely receive better update treatment from the manufacturer.
The LG G Pad is one of the best Android tablets around, topping Google's own Nexus 7, but we're concerned it will never receive the proper support and updates it needs to continue to be relevant in the Android ecosystem.
Deep down the $100 price difference may have many choose the G Pad over Samsung, which is an excellent choice, but if you can spring the extra for Samsung's 8.4-inch Tab Pro, that may be the best option moving forward.