LG G Pad 8.3 vs iPad Mini Retina: 5 Key Differences
When Apple announced the all-new iPad Mini Retina with the same stunning 2048 x 1536 resolution as the larger iPad only in the smaller Mini, quite a few tablet users got excited.
Since then only a few Android tablets have hit the shelves offering something as impressive, and other than Google's own Nexus 7, one that immediately comes to mind is the 8.3-inch LG G Pad. Both of these tablets have been available since last year but with Verizon set to offer the G Pad 8.3 with 4G LTE starting this weekend, we've received more than a few questions about what it offers, and how it compares to the iPad Mini Retina.
Below we'll run through a few specifics and key differences between the LG G Pad 8.3 and Apple's iPad Mini Retina, how much they cost, and what users can expect if they're considering one or the other.
The LG G Pad 8.3 is one of the most underrated Android tablets as of late, as it offers top-tier specs across the board and a stunning design. The bezels around the gorgeous display are thin like the iPad Mini, and the aluminum rear design is comfortable and feels like a quality product.
Without getting too much into the Android vs iOS debate with software and apps, we'll mainly be focusing on hardware, features, and price of these two slates.
Design
The LG G Pad offers many of the same design ideas as the iPad Mini. From tiny bezels on the sides and top, to an all aluminum shell on back. Well, aside from the tiny bits of plastic on the top and bottom, but more on that below. Apple's notorious for excellent build quality and stunning products, and the iPad Mini Retina is no exception. It screams of quality, and no one will argue that.
Read: LG G Pad 8.3 Hands-on and Impressions Video
That being said, LG really stepped it up with the G Pad 8.3, and it feels like one of the better built Android tablets we've used as of late. They really are quite similar, both feel excellent in the hand, and are well designed. However, the plastic sides and bottom of the G Pad actually gives it a better feel in the hand, it's more comfortable, and you don't feel like it could slip from your grip at any moment.
The overall designs are pretty similar across the board. They both have front and rear cameras in nearly the same spots, and both have most of the controls on the top right. LG's G Pad has both the power and volume controls on the top right, while the iPad Mini Retina offers the power button up top, with the volume controls to the right side. If you've ever used an iPad, you'll feel right at home with both of these devices.
The only other major difference should be plenty obvious. And that is the dedicated Apple home key vs the on-screen buttons from Google's Android.
Display
One of the most important aspects of a tablet is the display, and both of these are at the top of their game. As we stated above, the Mini Retina comes in with a 7.9-inch display offering 324 PPI and a stunning 2048 x 1536 resolution. Of course you'll still have the odd 4:3 aspect ratio Apple's content with offering.
LG on the other hand offers a slightly larger screen coming in at 8.3-inches with a 1920 x 1200 full HD resolution as well. The lower resolution and bigger screen means a 273ppi pixel density, but it still looks stunning while viewing HD movies, playing games, or launching apps.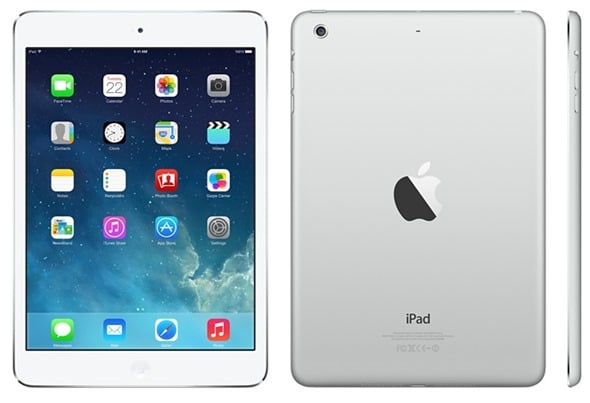 The actual size of the display makes LG's tablet noticeably taller, and less wide. This makes it easier to hold and use, in our opinion, but Apple's Mini certainly is easy to enjoy as well. Holding either device in landscape or portrait mode is simple, and again the plastic edges makes the G Pad feel safer in your hands.
Overall we'd have to give the display section up to Apple, simply because the iPad Mini Retina is just gorgeous from day to day usage. The G Pad comes in at a close second or third, with the Nexus 7 also being in the same echelon. That being said, using either of these devices will leave the user plenty satisfied. The screens are bright, vivid, extremely crisp and accurate with colors, and you'll likely have no complaints.
Specs
For those enthusiasts or gamers, specs are an important aspect of any device. Both the iPad Mini Retina and the LG G Pad 8.3 have some of the best on the market, and should be excellent for any and all tasks. That said, here's the info by the numbers.
iPad Mini Retina
7.9-inch 2048 x 1536 display
Apple A7 1.3 GHz dual-core with 1GB RAM
16GB storage (up to 64 available)
iOS 7
5 Megapixel rear & 1.2 front Camera
24.3Whr dual-cell battery
7.87 x 5.30 x 0.30 inches
LG G Pad 8.3
8.3-inch 1920 x 1200 display
Snapdragon 600 1.7 GHz quad-core with 2GB RAM
16GB storage (Micro-SD for expansion)
Android 4.2.2 Jelly Bean
5 Megapixel rear & 1.3 front Camera
4,600 mAh battery
Infrared Blaster for remote
Dual stereo speakers
8.54 x 4.98 x 0.33 inches
Read: iPad Mini with Retina Review
Software
To each his own when it comes to software or preference, but we had to mention it. The iPad Mini obviously runs iOS 7.x and will receive quick and timely updates directly from Apple, while LG's tablet runs the Android competition. Sadly the LG G Pad still has Android 4.2 Jelly Bean, while most tablets and phones are getting updated past Android 4.3 to the new Android 4.4 KitKat.
We won't argue over iOS or Android, but one thing is certain, and that is the iPad Mini Retina will receive timely updates and more updates than the G Pad. LG isn't the best Android manufacturer when it comes to updates, even on its phones, and tablets aren't quite a priority for them sadly. That said, the G Pad Google Play edition has stock Android 4.4 KitKat, so that ensures the update should at least be arriving sometime soon.
Price
The biggest factor here for many will be the screen size, OS, and of course the price. Apple's devices always have a certain "premium" if you know what we mean, and thus the iPad Mini with Retina with 16GB comes in at $399 for the WiFi model, $529 for 4G LTE,  and only goes up from there. All the way to $699 for the 128GB WiFi variant.
The LG G Pad is a much cheaper alternative. Initially launching at $349 for the 16GB model, we've seen it on sale for $279 for weeks, and starting this weekend Verizon will offer the 4G LTE LG G Pad 8.3 for only $299. Making it almost half the price of the iPad Mini with Retina. Don't forget the G Pad offers micro-SD for expanding storage. Meaning a 64GB micro-SD will cost much less than the $200 premium Apple asks for the 64GB Mini Retina.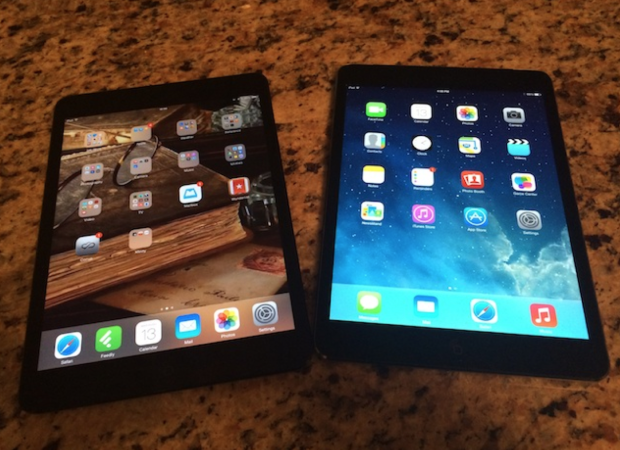 Alternatively you can get the stock Google Play Edition G Pad 8.3 from Google Play for $349. Then don't forget carrier pricing for LTE-enabled tablets usually comes with a discount for those singing a new contract. Verizon will have the G Pad for $99 on March 6th.
Final Thoughts
When it comes down to it the two deciding factors between both of these excellent tablets will be the price, and whether someone is already an iOS or Android user. Both have strengths and weaknesses, and both are quality devices that could still use some improvement.
Apple's Mini with Retina still wins the battle when it comes to quality apps and games, not to mention most family and friends would probably suggest it over the LG slate if asked, simply because it's an iPad.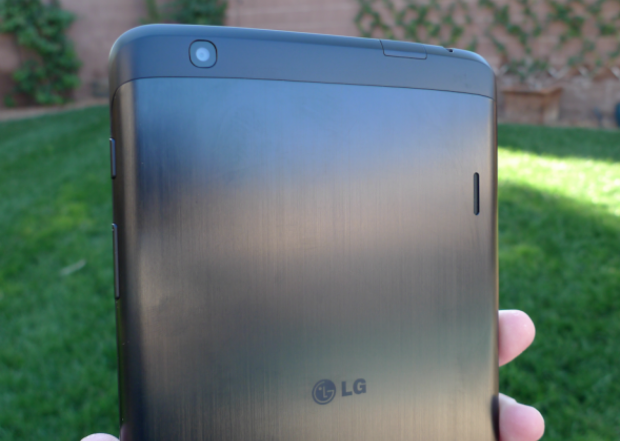 Being nearly half the cost the LG G Pad 8.3 with Verizon 4G LTE is the best deal, for obvious reasons, but the lack of Android updates and quality cases (or accessories) could sway potential customers to the Apple side. It's never easy comparing Android vs Apple devices, simply because so many users tend to sway towards one user experience over the other. That being said, these tablets show that the gap between iPad and Android tablet quality is closing, and both should make users plenty happy.