LG G Pad 8.3 vs Nexus 7 (2013)
The Google Nexus 7 is arguably one of the best Android tablets available today, and is a staple in the Android tablet market, but today Google announced some serious competition. Instead of a new Nexus 10 2, or a Nexus 8, we have an LG G Pad 8.3 Google Play Edition.
After a few reports and rumors this morning Google and LG launched the first Google Play edition Android tablet ever. Offering a completely stock Android experience on LG's impressive 8.3-inch tablet. A tablet that can compete with the Nexus 7, and the iPad mini with Retina Display. Now that the G Pad Google Edition is official, and we realize many don't know anything about it, we figured we'd tell you. Read on to see how it differs from Google's flagship Nexus 7.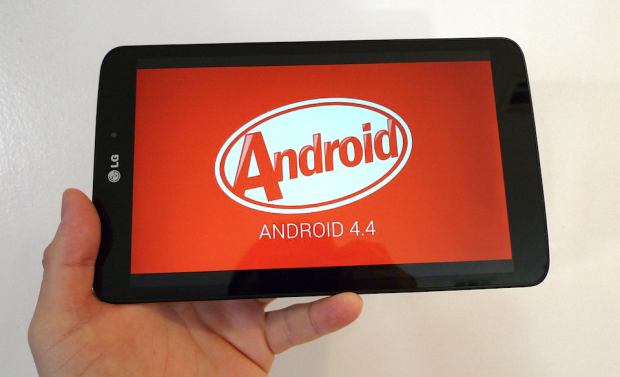 This is the first tablet to be branded as a Google Play edition device, and we're assuming more will be coming soon. Meaning this won't have LG's terrible changes to the user interface, or an outdated version of Android. It comes out of the box with Android 4.4 KitKat, and is promised timely updates, just like a Nexus. So with that, we wanted to quickly compare what the $349 price tag of the new LG G Pad GPe will get you over the $229 or $269 Nexus 7. If you thought the Nexus 7 was too small, but an iPad or Nexus 10 was too big, the G Pad 8.3 is a perfect fit right in the middle, and now has the latest version of Android.
Read: LG G Pad 8.3 Hands-on and Impressions Video
The G Pad is a great tablet that many consumers and Android lovers don't know about, and now that it's a Google Edition device, it just may be my favorite Android tablet available. And below I'll explain why.
Display
One of the most important aspects of a tablet is obviously the display, and both of these tablets are best-in-class when it comes to the displays. Google's Nexus 7 comes with a 7-inch screen offering a 1920 x 1200 full HD resolution and 323 PPI, which is extremely crisp and vibrant. Again, for many with a 5+ sized smartphone a 7-inch tablet may be too small, so that's where the G Pad comes in.
The LG G Pad offers an 8.3-inch 1920 x 1200 full 1080p HD display with 273 PPI, only it's 1.3-inches bigger. It isn't a huge difference, but add in the bigger screen with slim 7.3mm bezels, and you get a device with more screen real estate without making the tablet much bigger. They're nearly the same size, and the G Pad is extremely lightweight.
LG's G Pad has a stunning 1080p HD panel, but sadly the brightness isn't quite up to par. My only complaint with the tab was the screen could be brighter at times, but then again, that will kill the battery. However at 50% it's much more dim than the Nexus 7. This isn't a huge issue, but the Nexus 7 screen is probably slightly better, although the size is the important factor here.
Specs
Now when it comes to what's under the hood, and what all the tablet offers, the LG G Pad is outright a better tablet than the Nexus 7. Yes, I said it. Everything is slightly better under the hood, and I mean everything. The processor is faster, camera is better, it offers true stereo sound with dual speakers on the rear, and most importantly it has a micro-SD slot for expanding storage. Something no Nexus offers. Instead of paying $269 for the 32GB Nexus 7, you can get the G Pad and throw a 64GB Micro-SD inside for as much storage as you'll ever need. Here's the rundown:
LG G Pad 8.3 Google Play Edition
– 8.3-inch 1920 x 1200 Full HD Display
– 1.7 GHz quad-core Snapdragon 600 with 2GB RAM
– 16GB Storage with micro-SD for expansion
– Android 4.4 KitKat
– 5 megapixel rear and 1.3 front camera
– InfraRed Port for Remote Control
– 4,600 mAh battery
– 216.8 x 126.5 x 8.3 mm and 338g
Nexus 7 (2013)
– 7-inch 1920 x 1200 Full HD Display
– 1.5 GHz quad-core Snapdragon S4 Pro with 2GB RAM
– 16 or 32GB of Storage
– Android 4.4 KitKat
– 5 megapixel rear and 1.2 front camera
– Dual-band WiFi and NFC
– 3,950 mAh battery
– 200 x 114 x 8.65 mm and 290g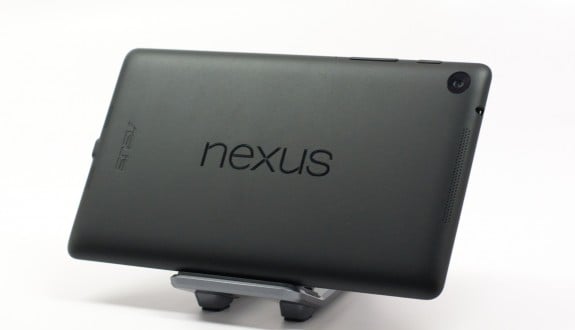 Read: Nexus 7 (2013) Review
On paper the LG G Pad 8.3 is a better tablet overall. It's slightly thinner, weights only a tiny bit more, but packs more of a punch. It's also worth noting the LG G Pad feels excellent in the hands with an aluminum design, wrapped in soft-touch matte plastic on the top and bottom, and is overall a joy to use. Add in micro-SD support, infrared port, and a bigger battery and the Nexus 7 has some serious competition.
Software
The only downside to LG's G Pad 8.3 before it launched on the Google Play Store was the software. LG had Android 4.2 Jelly Bean on board, while everything else these days is getting 4.3 or even 4.4 KitKat. So the retail model won't be up to date, as you can see below, but the new G Pad Google Play Edition will have the exact same software as the Nexus 7. That being Android 4.4.2 KitKat out of the box.
Our only complaint was the messy software on an otherwise excellent device with the G Pad, and now that won't be an issue. The Nexus 7 will probably get updates a few weeks before the G Pad, since the Nexus lineup takes priority, but a Google Edition device ensures updates will come in a timely manor. Usually within two weeks. Since we don't have the G Pad with 4.4 KitKat on hand to compare we can't give our thoughts on it, but if it's anything like the current model it will be an amazing experience throughout.
Price
The biggest factor here will be the screen size, and the price. One of the most important aspects of Google's Nexus 7 is the price. Offering an excellent and up to date tablet experience for just $229. This has been the best aspect of the Nexus 7, aside from being first to Android updates, and it will continue to be the biggest factor for potential customers.
The 16GB Nexus 7 is available now for $229, and an increase to $269 gets you a 32GB model. Or users can opt for a 4G LTE enabled tablet for $349.
LG's G Pad 8.3 Google Edition is also available today for $349, but is only the 16GB option. You'll be paying more for less storage, but it's everything mentioned above that makes the price increase worth it. You can add a 64GB micro-SD card and have all the storage you need, not to mention the biggest screen and better overall specs. The only downside is the G Pad doesn't have a 4G LTE option.
Final Thoughts
This is the first tablet Google has released to the Play Store that isn't a Nexus, so it will be extremely interesting to see how things progress. Being a Google Edition device we're promised quick updates, but LG's never been the best with software updates. This should be huge for the LG G Pad GPe, and regular G Pad owners like myself.
Google's Nexus 7 still wins the overall battle when family or friends ask for a tablet recommendation, simply because it's an awesome all around device for $229, but the LG G Pad 8.3 offers so much more that if you have the extra $100 or so, it's worth it. Once I have stock Android 4.4 KitKat on my G Pad it will likely be my favorite Android tablet available today.
This is a big move by Google, and we're excited for what it means, and what else is potentially coming soon. On the flip side this could potentially kill any possibility of a Nexus 10 2.

As an Amazon Associate I earn from qualifying purchases.