LG G Pro 2 Revealed, Will Take on Galaxy Note 4
Whether it's to get extra attention early, or to get in the minds of eager customers ahead of Samsung's Galaxy S5 and Note 4, today LG announced its brand new 5.9-inch smartphone the LG G Pro 2.
After a few rumors and leaked photos appeared last month LG confirmed the name and a few small key details. Today though they've fully unveiled the new smartphone ahead of the annual Mobile World Congress trade show taking place at the end of February.
Initially LG was rather quite but was nice enough to share a few tidbits to get customers excited. Talks of a 13 megapixel camera with optical image stabilization, which only a few phones currently offer. Bringing the latest "OIS+" camera technology, according to LG, to the G Pro 2. This will deliver some of the best photos from a mobile device, and the smartphone will even record in full 4k UHD resolutions.
With the LG G Pro 2 comes a full 1080p HD 5.9-inch display, the same quad-core processor in Samsung's Galaxy Note 3. Delivering fast performance on Android 4.4.2 KitKat with 3GB of RAM, the 13 megapixel camera detailed above, and 32GB of internal storage.
Read: LG G Flex Hands-On
LG's added a large 3,200 mAh removable battery, as well as removable storage with a micro-SD slot. While all of this sounds quite nice there's two main things that should be extremely welcomed by consumers. LG promises a brand new audio experience with 30% louder and clearer sound from previous models, which should be best in the industry for speakers, and they claim it will also sport improved bass output.
Secondly, LG's press release talks about the company is "going back to the basics with Android" which could mean users may see an improved user interface and experience that's closer to stock Android. Instead of having a bloated and tweaked UI that looks similar to something delivered by Samsung. The Optimus UI could be thrown out in favor of a closer to stock UI, but we'll have to wait until February 25th in Mobile World Congress to truly find out.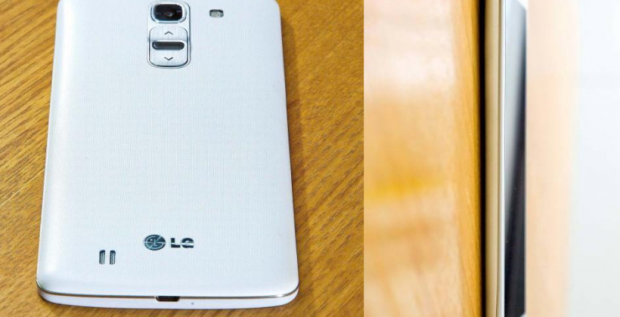 We're hearing the phone will be available in red, white, black and tan. After initially launching in Korea consumers can expect the smartphone to arrive in the US, most likely on AT&T first, considering the original Optimus G was launched exclusively by AT&T in the US. That being said, LG had yet to reveal any initial launch dates.
Samsung's Galaxy Note 4 won't be here until Q3 of 2014, following its usual yearly release cycle, but with LG already dropping its phablet for 2014 Samsung could be in for some tough competition.

As an Amazon Associate I earn from qualifying purchases.