LG G Pro 2 Tipped With 6-inch Screen as Note 3 Competitor
The Samsung Galaxy Note series doesn't have much in the way of competition, even though a few large devices launched last year aiming to take it on. To kick off 2014 we're hearing LG has another stellar smartphone in the pipes the company hopes to announce next month at Mobile World Congress, the annual mobile event in Spain.
Following a mildly successful LG Optimus G Pro that launched in February last year, new reports courtesy of Korean media ETNews suggests the company has a flagship smartphone coming to take on the Samsung Galaxy Note 3, and potentially the Galaxy Note 4. The 6-inch quad-core smartphone has top tier specs, but competing with the Note-taking stylus of the Note series takes more than that. Below you'll find more details on what LG has in store.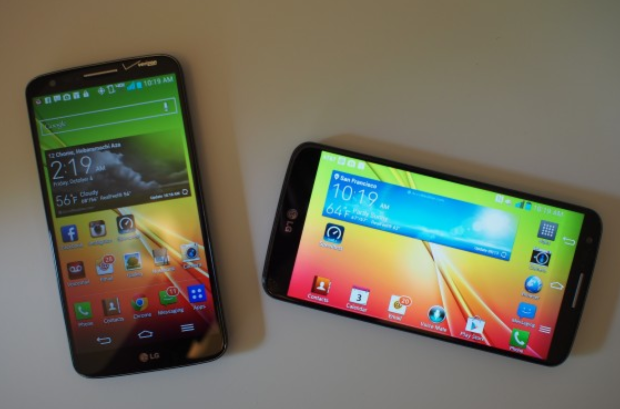 If all reports and rumors are accurate LG will be prepared to battle the competition with an LG G3 and the G Pro 2 with announcements coming near the end of February. Stating the G Pro 2 will sport a 6-inch 1080p HD display, 3GB of RAM, Android 4.4 KitKat, and a powerful 2.3 GHz quad-core Snapdragon 800 processor.
All the specs are solid improvements over last years model, but it's not much different than the Note 3, which has already been available for more than a few months. LG will need some stunning features to differentiate it from the others, and multi-tasking and using that 6-inch screen real estate to the fullest could be in the cards.
Read: Samsung Galaxy S5 Release Pressures LG
The LG G2 focused on multi-tasking and multi-window support to take advantage of the 5.2-inch screen on the phone, and the company could be looking to expand on that as its smartphone screen sizes continue to increase to 6-inches on the G Pro 2.
Samsung's Galaxy Note 4 most likely won't arrive til late 2014, following previous years, so LG could have a leg up by releasing this large phablet sized device so soon, but we'll have to wait and see what they have in store before making any judgements.
Smartphones keep on getting bigger and bigger, and LG will look to push that trend by announcing the LG G Pro 2 at Mobile World Congress later this month.