LG G Watch Emerges in Video Leak
The brand new LG G3 smartphone was announced yesterday live in London, but one device some thought would make an appearance during the event (but didn't) was the upcoming and highly anticipated LG G Watch running Google's Android Wear operating system.
The event came and went without any details on the smartwatch, as the company wanted to highlight and show off its impressive new smartphone that will take on the Galaxy S5 and iPhone 6 in 2014. However, the G Watch was quickly shown off in a press slide, but that was it. Thankfully someone had the G Watch, and we've received a full hands-on video courtesy of the German site AppDated.
Read: 10 Moto 360 Smartwatch App Concepts You Need to See
Google announced its new Android-based mobile operating system for wearable devices called Android Wear earlier this year, and two products immediately were announced the same day. Those being the LG G Watch revealed below, and the equally exciting Moto 360. The details have been rather light since that initial announcement and we're expecting more to be revealed at the end of June at Google I/O, but below is a quick video giving us our first real look at the G Watch and Android Wear.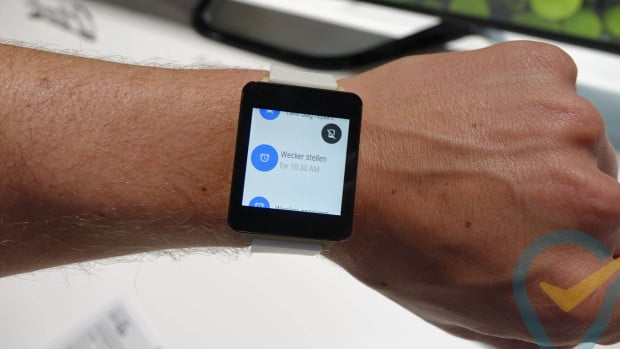 Google has been extremely silent and cautious to share more details surrounding Android Wear, and we've yet to see any real pictures or video of it in action until today. Both Motorola and LG have quietly been working on the new watches, but for consumers who want a better idea of what to expect take a peek at the clip below.
This is our best look at Android Wear and the LG G Watch yet, even though there's no phone connected (Google Search symbol replaced with a no phone icon in video) so the device was rather limited. The video is in German, which YouTube struggles to translate, but there's enough details and visual evidence to get consumers excited about the incoming Moto 360 and LG G Watch.
Google revealed a few small images of how notifications will work today, but rather than see a few selected images enjoy the full video below that emerged from the LG G3 launch event this week. This is the LG G Watch running Android Wear.
Android Wear is Google's new operating system based on Android but designed exclusively for wearable technology, and we're hearing the video above is giving us an extremely early look at some aging beta software. Meaning that the Android Wear project and software is much further along than shown above, probably runs even better, and isn't nearly as limited. Of course having no phone (or connection) limited some of the Google Search or Google Now features, and the leakster wasn't able to demo notifications or most of the functions we'd like to see.
Swiping from the top of the display shows some relevant information such as battery life or the date, and appears to be a shortcut to quickly launch into Google Search, change the homescreen back to a watch face, or other things, but it's hard to tell from the limited video above.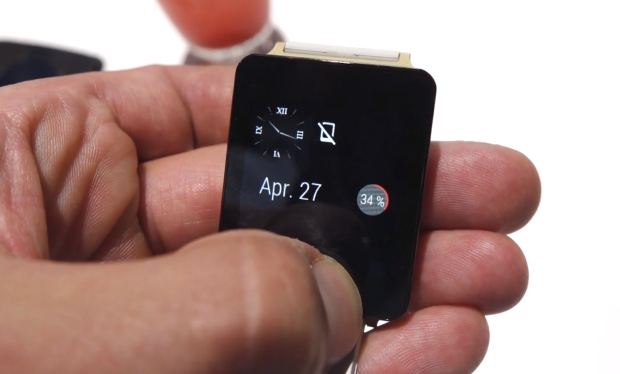 The top right where the crossed out phone icon is located is where the blue hovering Google Search button is on all other pictures and screenshots we've seen thus far. Suggesting that will always be present putting Google Search just a tap and a voice command away. Although clearly with no phone connected we see the symbol shown in the video.
The three-tone white, black & gold option shown above has been highlighted by LG themselves in some promo videos and images, but we're expecting an array of color options and choices on release. The LG G Watch appears to have a durable aluminum frame surrounding the internals, with a plastic housing on top for the small display.
For now this is sadly all we have to go on, but hopefully additional details and leaks surface in the coming days or weeks. Many believe Android Wear will debut at Google I/O at the end of June, Google's annual developer event, and rumors have the G Watch and Moto 360 both launching this summer.
A lot of attention has been on the rumored iWatch as of late, but Android Wear by Google is looking pretty impressive. Not to mention should be in consumers hands before the end of the summer.

As an Amazon Associate I earn from qualifying purchases.