LG G Watch R (Round) Image Aims at Moto 360
Back in June LG announced and released the first watch running Google's new mobile operating system built from the ground up for wearable devices, called Android Wear. The LG G Watch and Samsung Gear Live both were confirmed at Google I/O, and instantly went up for sale on the Google Play Store.
However, a different smartwatch running Google's OS has been getting most of the attention from prospective buyers, and that is the new Moto 360. Offering a sleek round design built of durable metal, and rumored to offer multiple different watch straps including plastic, metal, and an array of leather options. The Moto 360 is mostly popular for the watch-like round design, and LG is looking to counter its release with one of their own.
Read: Moto 360 Release Date and Rumor Breakdown
Since being announced the LG G Watch has been up for sale on the Google Play Store, but we're hearing most buyers are waiting for the Moto 360. Since it has received its share of delays this week LG started teasing a brand new LG G Watch R to take on Moto's 360. The LG G Watch Round looks even more like a traditional watch, according to the image below, and could arrive in time to crash Motorola's launch party.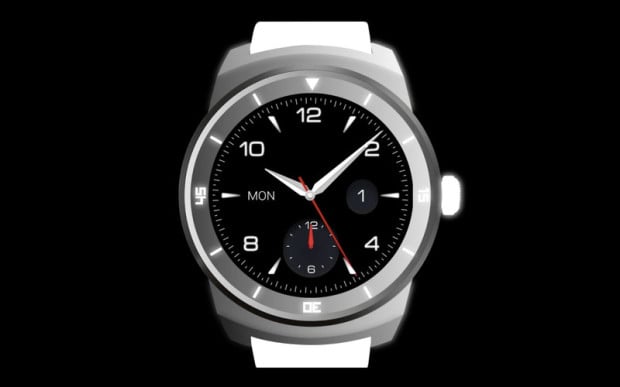 The new Moto 360 release date is quickly approaching. The company is expected to announce four new devices on September 4th in Chicago, one of them being the Moto 360. Along with the Moto X+1, Moto G2 smartphones, and an accessory of some type.
With the September 4th reveal and rumored September 10th release date near, LG, Samsung, and even ASUS have been busy trying to steal consumers attention by releasing teaser videos of more smartwatches. The plan, we assume, is that buyers may pass on the Moto 360 in favor of waiting to see what the competition has planned.
Earlier this week LG released the first LG G Watch R teaser video, but the new image below gives us our best look at the new smartwatch yet. Showing a potential Moto 360 killer, but we can't be sure until it gets revealed in September at IFA. It's a bit dark, but after lightening things up we can see a rather simple and elegant design that looks more like a regular watch than a smartwatch, which is something many buyers reportedly want.
The teaser image simply states that "Smart comes full circle" and that the new LG G Watch Round will be revealed in Berlin, Germany, at the annual IFA tradeshow from September 5-10. Most likely LG will announce it sooner rather than later, considering the Moto 360 will be confirmed on the 4th.
One thing is clear, and that is the fact that the Moto 360 is putting pressure on the competition. And not just LG. The Moto 360 also has Samsung, HTC, ASUS, and possibly others reeling to release a round smartwatch running Android Wear.
Read: Samsung Gear Live: Hands-on with Android Wear
At this point it's worth mentioning that Android Wear as an operating system for wearable technology is still in its infancy. Google's initial release was back in June and we've yet to see any changes on that front. All smartwatches running Android Wear will receive updates to Android L in the fall, or possibly in 2015, so it's only a matter of time before these wearable gadgets truly become impressive.
For those interested in the LG G Watch Round, know that we're hearing a round Samsung smartwatch could be announced at IFA early next month, along with a smartwatch from ASUS. Meaning at least three more options aside from the new LG G Watch R could be coming soon. Leaving consumers with a tough choice when it comes to buying a watch for their wrist. We'll be on the lookout for additional details and information, and report back once we see more from LG, or the competition.

This article may contain affiliate links. Click here for more details.