LG G2 Android 4.4 KitKat Update Continues
The LG G2 Android 4.4 KitKat update in the United States and elsewhere hasn't been very smooth or timely, but today we're happy to confirm the software update is rolling out to more and more users this week.
After most comments from LG had users expecting a late March arrival of Android 4.4.2 KitKat for the LG G2, it quickly arrived near the tail end of February for those on AT&T. Over the course of the last month the update to KitKat has continued to arrive for all major US carriers, except for Verizon. While we don't have good news for those on Big Red today, it looks like the update is ready for Canadian owners.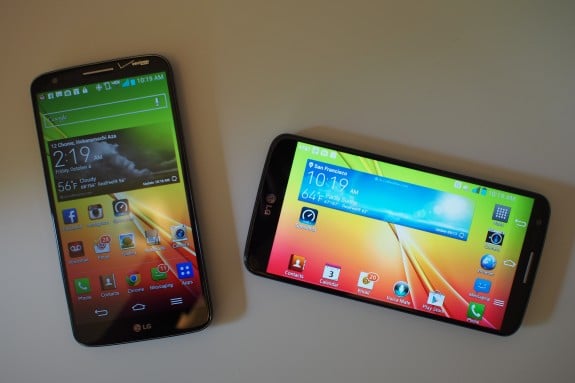 According to reports and images from MobileSyrup the LG G2 Android 4.4.2 KitKat update has arrived in Canada for both Bell and Rogers customers who own the impressive smartphone. All along LG has said the end of March for an update timeline, and now it's finally arriving just before April arrives.
We're hearing the software has arrived for multiple users and is rolling out to all customers in the form of a large 635MB software upgrade. Meaning you'll probably want to download and install this over a WiFi connection, rather than use up a precious data plan from Bell or Rogers Canada.
Read: LG G2 Android 4.4 KitKat Update: What to Expect
This marks another important region for LG regarding software updates, and now most users are happily getting the latest and greatest version of Android. We've seen it arrive for AT&T, T-Mobile, and Sprint in the US, while those on Verizon are still left waiting for more details. That said, LG has been teasing the software upgrade for months, and the video below is the performance increase they promise it will deliver.
The update to Android 4.4.2 KitKat obviously changes a few settings, the font to white, improves performance, adds cloud printing, and even an immersive mode where the G2 will use the full 5.2-inch display in fullscreen mode. There's plenty to like, and expect it to arrive any day now.
As usual, owners can head into settings > about phone > and head to the update area and check for updates. Otherwise, expect this to arrive in the notification bar over the course of the next few days, or by early next week.
For those on Verizon in the United States, we'll keep our eyes open for more details and update the moment we know more regarding your LG G2 Android 4.4 KitKat update.

As an Amazon Associate I earn from qualifying purchases.