LG G2 Android 4.4 KitKat Update Spreads to More U.S. Users
A new LG G2 Android 4.4.2 KitKat update has been spotted in the United States as carriers look to meet the Q1 deadline confirmed by LG earlier this year.
Last week AT&T announced the LG G2 was set to receive the latest and greatest Android 4.4.2 KitKat software upgrade, and now we're hearing other carriers could soon follow, with T-Mobile offering the update as well. LG has been slow to update its smartphones, and we've heard "coming this March" in regards to the G2 KitKat update on multiple occasions.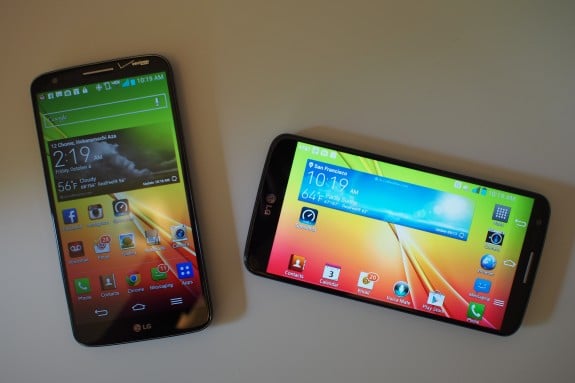 There's still no word on the Verizon update, but today T-Mobile is rolling out KitKat to some G2 users, but not all. For now the update is confined to just these two carriers, and T-Mobile's isn't even rolling out over the air. Instead, users will need to use the LG PC Software Utility program to flash the latest Android 4.4 KitKat to their T-Mobile G2 smartphone.
Many users over at the popular XDA Developers site have confirmed this indeed works great, and were nice enough to also include the download files. It's a full ROM coming in at over 1.5 GB, rather than a smaller sized over the air update, but if you want it now, this is the quickest solution.
We still expect T-Mobile to issue the usual software update over-the-air of Android 4.4.2 KitKat for the LG G2, likely soon given this has been released, but no official details have been revealed. If you're an average user who'd rather not flash software on your PC, expect the usual software notification on your device in the coming days or by early next week.
At this point we've yet to hear from Verizon, as they usually have an intense certification process on software updates, but it should also be available soon. LG promised a release before the end of Q1, which is the end of March, so either way the wait is only a few more weeks for all US carriers.
While we can't say for sure that Verizon's G2 will hit the March deadline, all other US carriers will and T-Mobile owners should be up next to receive the KitKat treat on their G2.