LG G2 Android 4.4 KitKat Update Continues in the US, Verizon MIA
The LG G2 Android 4.4.2 KitKat update in the United States is continuing forward today, with a 3rd carrier finally confirming the latest version of Android is headed to the popular handset.
While most the attention lately has been on the upcoming LG G3, the company hasn't forgot its flagship smartphone from last year and is busy delivering the latest version of Android 4.4.2 KitKat to all users. After initially setting a late March release date LG quickly beat expectations and first delivered the LG G2 KitKat update to AT&T customers back in February, and has been pushing it to all users this month, except for Sprint and Verizon.
Read: LG G2 Android 4.4 KitKat Update: What to Expect
Today Sprint is pushing out Android 4.4.2 KitKat to the LG G2, leaving Verizon as the only major US carrier that has yet to receive the latest and greatest. More details on the update, timeline, and what to expect below.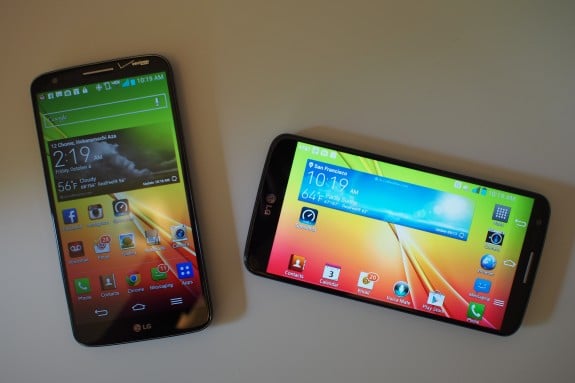 After first arriving on AT&T and quickly T-Mobile, Sprint confirmed that as of today the LG G2 Android 4.4 KitKat update should be arriving for all users. No other details were mentioned, nor a changelog of what to expect, but the software and features are identical as other carriers, such as AT&T.
Sprint confirmed that starting this afternoon LG G2 owners can be on the lookout for Android 4.4.2 KitKat, but that it will be released in stages and may take several days to be delivered to your handset. Here's a quick video provided by LG of the improved performance all users can expect to enjoy after the update to KitKat.
Last week the LG G2 Android 4.4 KitKat update rolled out in Canada for three major carriers, beating both Sprint and Verizon in the United States. While the news arriving today is good for those on Sprint, we're still left with zero details for those on Verizon Wireless.
As usual owners can head to Settings > About Phone > Updates and check now to try and receive the latest right away. Otherwise expect Android 4.4 KitKat to arrive on your LG G2 over the course of the next 3-5 days, or by the end of the week.
Read: LG G3: 6 Things We Know So Far
At this point the LG G2 KitKat update has arrived for AT&T, T-Mobile, Sprint, multiple Canadian carriers, and around the globe, so once again Verizon looks to be one of the last. We've yet to hear from LG or Verizon regarding the LG G2 KitKat arrival, but will update with the details the moment we know more.