LG G2 Android 4.4 KitKat Update: What to Expect
The LG G2 Android 4.4 KitKat update for the United States is finally here, beating initial plans of a late March release, but many users are still waiting for it to arrive. Most notably those on Verizon Wireless.
After LG released the phone last year in September, Google quickly launched the latest Android 4.4 KitKat on October 31st and throughout the first few weeks of November. However, the LG G2 launched with an again Android 4.2 Jelly Bean, not even 4.3, and was so new that users have now waited 6 months for a major update.
Last week we saw the first LG G2 KitKat update arrive, and more this week, but many users are still impatiently waiting for the latest software from LG and Google. Here we go over what to expect, what's new, and when carriers should be done delivering Android 4.4 KitKat to the LG G2.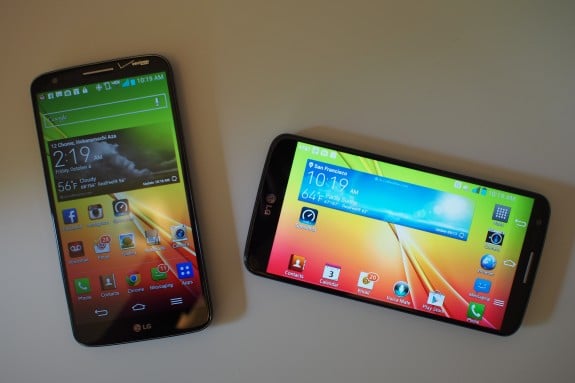 Lately LG G2 owners have seen users of the Galaxy S4 and S3, Galaxy Note 2, HTC One, and many other phones like the Moto X all receive Android 4.4 KitKat, while they sit on Android 4.2 Jelly Bean. Thankfully even though it's rather late, the past few weeks LG is finally starting to deliver on the March KitKat update promise.
Countless LG reps have said over and over again a late Q1 arrived, which lines up with the end of March, and that's exactly what we're seeing. The LG G2 Android 4.4 KitKat update arrived in their hometown of South Korea last year, and now AT&T and T-Mobile have both started sending it out to its users.
Read: LG G2 Review
Out of the blue last week AT&T issued a blog post confirming the LG G2 Android 4.4 KitKat update was officially here, and would be rolling out to users all weekend long. This was a month earlier than expected but here's what users can expect.
Android 4.4 Update on T-Mobile and Verizon
AT&T was first to Android 4.4 KitKat on the LG G2, and now this week we're seeing signs that T-Mobile is rolling out the latest software as well. Initially it arrived via a ROM users could flash on a PC, but that wasn't ideal, and yesterday T-Mobile officially outed the LG G2 KitKat update.
So far we've only seen a few limited number of users confirm the over-the-air update of Android 4.4.2 KitKat has arrived on their T-Mobile units, but we're expecting this to gain steam throughout the week, and continue arriving for more and more users.
Verizon
LG G2 owners on Verizon Wireless will end up being last to receive the update, sadly, which was somewhat expected. Verizon doesn't have a great track record of being first, or even fast to updates, and the LG G2 Android 4.4 KitKat update is no exception. We've heard zero reports from LG or Verizon, but users need not worry.
LG's continued claims of a Q1 release ensures that Verizon LG G2 owners should receive Android 4.4 KitKat before the end of March. Considering T-Mobile and AT&T have started the OTA update, Verizon is ideally up next. With March already under way, users should expect to see the latest and greatest within the next 2-3 weeks, if not sooner.
Sprint Update
Like Verizon, Sprint is usually another carrier that doesn't reveal details until the day the update actually arrives. That being said, we've yet to hear or see any concrete details regarding the LG G2 KitKat update for Sprint users. If all goes according to plan we should see a late March arrival, and will update once we know more.
In the past Sprint has rushed to beat other carriers with software updates, but that doesn't appear to be the case with the G2. Expect more details to arrive in the coming weeks.
Staggered Release Dates
Just as expected, the release dates are staggered. US carriers tend to update on their own terms, at times that differ from other carriers. It started with AT&T, then eventually T-Mobile, and Verizon will probably fire up once the two week slow rollout on T-Mobile completes.
These staggered or staged rollouts also happen for a reason. Which is to not overload the servers, meaning everyone won't receive it at once. This is why we've heard multiple reports of T-Mobile users still waiting on the update, even though it's been announced. T-Mobile usually takes two weeks to push updates to all users, and we're expecting the same thing with the G2 KitKat release.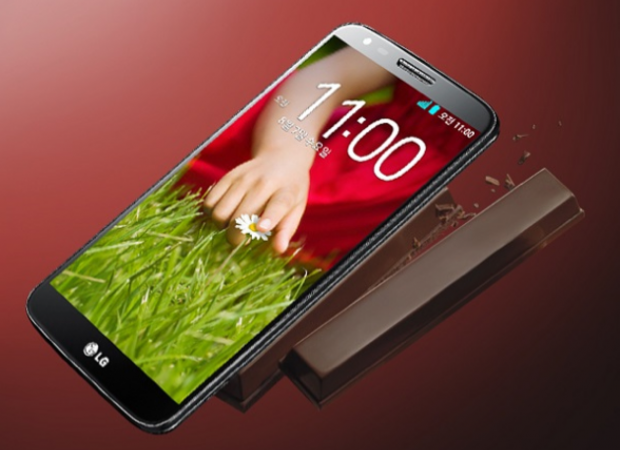 Users can head into settings > about phone > software > and check for updates to see if the update is ready, otherwise you'll be notified in the pulldown bar once it arrives.
What to Expect
Coming from the dated and aging Android 4.2 Jelly Bean, the LG G2 update to Android 4.4 KitKat should usher in some serious improvements across the board. While the update changelogs from carriers is rather small, there's tons of behind the scenes changes, software tweaks, security patches, and much more.
Read: Android 4.4 KitKat: What's New in Simple Terms
Android 4.4 KitKat brings a faster and more fluid experience, white font and notification clock details, and a new immersive mode allowing apps and screens to use the entire display. Meaning it hides the notification bar and on-screen keys, which will enable the LG G2 to go fullscreen with the entire 5.2-inch 1080p HD display.
Thankfully LG released a quick video showing off just how much prettier, faster, smoother, and overall better the experience will be once users update the LG G2 to Android 4.4 KitKat.
Not too bad right? Obviously we'll still have the LG software skin over stock Android, which isn't our favorite, but many users love the Knock-ON double tap to wake the screen, Slide aside multi-tasking, and other features mentioned in the video above.
Overall expect a better and faster experience, a smooth and more polished user interface, and all carriers thus far have mentioned improved battery life in the update details.
Introduce Other Issues
Sadly many software updates often cause or add other issues. Albeit mostly minor ones, there's usually a few users that don't have things go 100% according to plan. Improving battery life and performance is always a key improvement, one which LG states they've done here, so hopefully the user response is rather positive.
Occasionally updates add new issues, cause connectivity problems, or sometimes even worse battery life than before. However with LG taking this long to deliver, not to mention releasing the confident video above, we're expecting a smooth transition from Android 4.2 to Android 4.4.2 KitKat on the LG G2.
It's always a good idea to reboot your smartphone after an update, even though the update process does this as well, but it's a good practice to have a clean slate. Usually there will always be a few negative comments regarding an update on Twitter or in forums, but overall we've heard rather good feedback on the LG G2 Android 4.4 KitKat update.
If we do see issues arise, carriers and manufacturers are usually extremely quick to issue a bug-fixing update. A few of those have arrived on AT&T and Verizon for the G2, and after KitKat users can expect one or two to shortly follow. Well, if there's issues that are pressing of course.
That all said, expect a smooth transition to Android 4.4.2 KitKat on the LG G2 from AT&T, T-Mobile and Verizon Wireless here in the US.
Carrier Information
Finally, we want to talk about carrier details, or lack-thereof. AT&T issued a blog post confirming the LG G2 KitKat update was ready, but we've heard nothing from T-Mobile or Verizon Wireless. Yes, T-Mobile did update the support page in the forums, a place where many users don't frequent, but at least it's something.
Users can expect complete silence from Verizon until the update is actually ready to go, in which they'll silently update its page as well, and we'll surely inform users the moment that happens. Verizon posts detailed changelogs, but doesn't notify users, so we'll be on the lookout.
Verizon doesn't want to raise or set user expectations if a delay occurs, so expect no solid details until a day or two before it KitKat actually arrived on your device. We'll be following all channels to confirm the updates, delays, or problems if any arise. In the end, expect all US versions of the LG G2 to receive Android 4.4 KitKat before the end of March.