LG G2 Sign Up Page Goes Live on Verizon
Verizon Wireless customers interested in the recently announced flagship LG G2 smartphone will be happy to know that they can register their email address to receive more information on a dedicated sign up page. The smartphone features a 13-megapixel camera with optical image stabilization, Snapdragon 800 processor, and a novel design where the phone's hardware buttons are positioned in the rear of the camera just below the camera pod for better ergonomic and handling.
"The G2's Snapdragon 800 quad-core processor offers the power to run multiple applications simultaneously, while the extended battery life and exclusive Wireless Charging, keeps you connected to all of the things that matter on the Verizon 4G LTE network," the sign up page reads.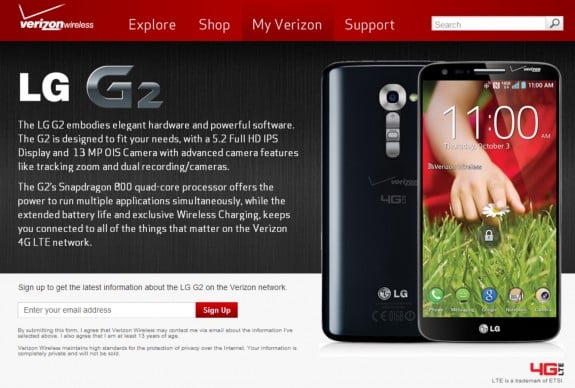 The sign up page doesn't yet reveal exact launch date and pricing information at this time. Verizon will likely notify its customers who sign up of that information at a later time via email.
LG is also highlighting its proprietary user interface and unique software enhancements and major selling points for the LG G2, which will compete in the same market segment as rival Samsung's Galaxy S4 flagship. The LG G2 features a faster processor than the Snapdragon 600 CPU on the U.S. variants of Samsung's powerhouse.
The sign up page comes just as Verizon has just offered its customers an opportunity to sign up for the HTC One smartphone. Though the One has been available for some time now on AT&T Mobility, Sprint Corp, and T-Mobile USA, Verizon still hasn't divulged an exact availability date.
The phone was unveiled just earlier this month and LG had promised that its new flagship will be hitting all major carriers in the U.S. market.
The LG G2 will launch at a busy time for Verizon as the network is preparing for the launches of Motorola's recently announced Droid Ultra, Droid Maxx, and Droid Mini along with the Moto X. Apple will also be introducing an iPhone 5C and iPhone 5S flagship this fall as well, and Samsung is rumored to be introducing its Galaxy Note 3 phablet that would compete against the larger LG G2 display.

As an Amazon Associate I earn from qualifying purchases.