LG G2 Update Arrives as Users Wait for Lollipop
Lately all the talk has been about Android 5.0 Lollipop for devices like the LG G3, but those with the older LG G2 haven't been forgotten. Today a new LG G2 Android update has started rolling out for those on Verizon, but sadly this isn't Lollipop quite yet.
The LG G2 was LG's first smartphone with buttons on the back, and it was rather popular when it arrived in late 2013 to take on the Galaxy S4 and other smartphones in its class. And while we've been busy talking about the LG G3, or even the lightly rumored LG G4, there are still millions of LG G2 owners waiting for updates.
Read: Android 5.0 vs Android 4.4 KitKat: What's New in Lollipop
Back in August LG confirmed the G2 would see Android 5.0 Lollipop, but when it will actually arrive is anyones guess at this point. We've seen LG G3 Android 5.0 updates arrive, although outside of the US, but surely once the G3 is updated those with an LG G2 can look forward to it arriving for their devices next.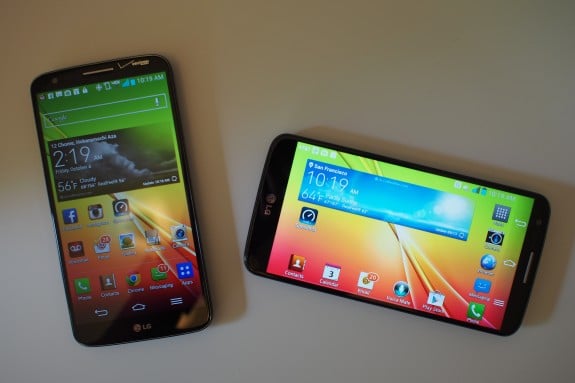 Before we get into Android 5.0 Lollipop, today Verizon is pushing out an over the air software update for the LG G2. No, this isn't Android 5.0, but it's one update users will want to be on the lookout for, and accept once it arrives. It's full of bug fixes and improvements, something surely everyone is looking forward to after the Android 4.4 KitKat update mess.
According to the Verizon changelog, the LG G2 update rolling out today will take users to build version VS98027A with plenty of changes. While many are bug fixes behind the scenes or bloatware, there are still some good features includes. Things like improved roaming, global 4G LTE roaming with select partners, updated Google Mobile services app, ISIS Wallet (now Softcard) improved visual voicemail, and a new data usage counter for video calls. Just to name a few.
The update will allow users to opt in for the Advanced Calling 1.0 service, which brings better calling options to Verizon customers, as well as improve the stability of HD voice calling.
Read: LG G Flex 2 vs LG G3: What Buyers Can Expect
Overall the update today for the Verizon LG G2 is rather small. Aiming at adding some Verizon bloatware, fixing some bugs, and improving some features while also removing the ISIS wallet app in favor of a more friendly name. There isn't anything too excited, but users will still want to head into settings > about phone > check for updates to get the latest software.
As for Android 5.0 Lollipop updates for the LG G2, there's been no new details. LG has been testing Lollipop in Poland, the UK and a few other regions for the flagship LG G3, and we've been hearing that should hit the United States in the next few weeks. Most likely once the LG G3 is updated, they'll proceed to deliver the same new software and tons of neat new features for all LG G2 owners. We'll keep an eye out for more LG G2 Android 5.0 update details, and report back once we know more.