LG G3 Android 5.0 Problems Frustrate Owners
The LG G3 Android 5.0 Lollipop update is finally here and delivering tons of new features and changes to LG's flagship smartphone, but the Android 5.0 Lollipop update is also causing problems for many. The update initially started outside of the US, and then this week the AT&T LG G3 finally received Android 5.0 Lollipop, and we're hearing Sprint is up next.
Back in December of last year LG started pushing out the highly anticipated software update for the LG G3 in Korea, Poland, parts of Europe and more, and now it's finally arriving in the United States. However, the update for all regions is causing a few small problems for owners, a few which we'll mention below as well as some potential fixes.
Read: LG G3 Android 5.0 Update: What U.S. Owners Need to Know
The LG G3 Android 5.0 Lollipop update is LG's first major update to the flagship smartphone since being released last year with Android 4.4 KitKat. And while it delivers a bold new look, fresh neat animations, and improved performance, some users are experiencing problems on their LG G3 after the Android 5.0 Lollipop update.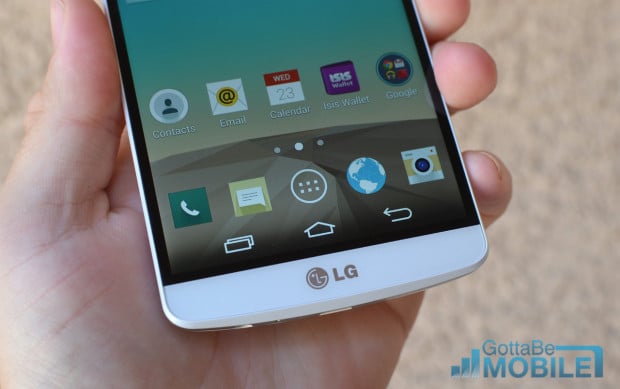 Not listed in the long LG G3 Lollipop update's change logs are the numerous LG G3 Lollipop problems that are plaguing some owners of the device. Over the past few months, and now after the update's arrival in the United States, we've seen numerous complaints about the LG G3 Android 5.0 update, and more are surfacing now that it's rolling out on AT&T.
Read: Android 5.0 vs Android 4.4 KitKat: What's New in Lollipop
With Android 5.0 Lollipop on the LG G3 users will notice a few changes immediately. The lockscreen has been completely tweaked and redesigned, as have the notifications in the pulldown drawer. These are better than ever and expandable, but the lockscreen actually lost features with the Android 5.0 update, something many owners aren't too happy about. It only shows two notifications at a time, and the double tap to open notifications on the lockscreen announced by Google doesn't work on the G3, you'll still have to swipe to open.
Numerous threads over at Reddit and other forums have mentioned problems, lack of features, and more after the Android 5.0 Lollipop update for the G3, and these problems are frustrating many owners. And no, you can't get the old on-screen buttons back, the new look is designed for Android 5.0 Lollipop, and while colors can still be changed there's no going back to the old look.
LG G3 Android 5.0 Problems
As we mentioned above, the lockscreen has changed completely and is missing features it had prior, which isn't really a bug, but a problem that owners aren't too happy about. However, the biggest complaint we've been seeing is that LG G3 owners on AT&T are being forced to update. Multiple users have stated they did not accept the update, hit dismiss as they wanted to wait and make sure there were no major bugs or problems, yet the device updated anyways.
We've heard talks of AT&T making many software updates mandatory, and that appears to be an issue here with the LG G3 Android 5.0 update. Owners were surprised when the device updated on its own, without them accepting the update. This is a problem for those who've rooted, installed Xposed modules, or have done certain tweaks to their devices and didn't want to upgrade.
This is on top of complaints about battery life being worse than before, even though we've also heard the LG G3 Android 5.0 update has increased battery life and performance. Usage varies from each user, but we're hearing horror stories of devices getting extremely hot, running slow, apps crashing, and even device reboots.
It's no secret that Android 5.0.1 Lollipop has a few problems that Google has been working hard to address. They recently released Android 5.0.2 Lollipop, and now even an Android 5.1 Lollipop update is coming in the near future. These could all address some of the battery drain and app crashing, but for now users are stuck waiting for those to arrive.
Before doing a factory data reset we're hearing clearing out the cache on your device can help fix many of these problems. Advanced users can do this by heading into recovery mode by holding volume down and power at the same time while booting up the phone, going to recovery, and wiping the cache (not device, or you'll erase everything) but beginners can do something similar by downloading an app called Clean Master. This will clear all update and random files that are not only taking up space, but fragmenting your device storage and slowing down performance.
However, it's always a good idea to reboot your device once or twice following a major update, and in the case of Lollipop, we're hearing a factory data reset will curb many problems for owners. The problem with that though, is it will completely erase all user data. This means you'll likely want to save all your important stuff by backing up your device, then performing a factory data reset in settings > general > factory data reset.
For now we're not seeing any major problems that should concern users enough to not accept the update, but even if you don't want it, it looks like AT&T is forcing the update to complete anyways. Battery life problems have only surfaced for some users, while others have nothing but good things to say about the LG G3 Android 5.0 update. Drop us a comment below with your experience, problems, or concerns.

As an Amazon Associate I earn from qualifying purchases.