LG G3 Android 5.1 Lollipop Update: What to Expect
Back in April the new LG G4 was announced with the latest Android 5.1 Lollipop software, and owners of the older LG G3 are anxiously awaiting the same Android 5.1 Lollipop software update. Over the past few months millions of owners and carriers around the globe have pushed Android 5.0.2 to the LG G3, but now Android 5.1 is next and hopefully coming soon.
Android 5.0 Lollipop was announced on October 15th and released in November of last year. Within a few weeks LG pushed the update out to the G3 in select regions, and over the past two months all US carriers have done the same.
Read: LG G4 Review
However, the LG G3 Android 5.0 Lollipop update introduced lots of small issues and bugs that have plagued users, and an update to Android 5.1 Lollipop should fix most of them. Below are a few details regarding what owners can expect from an LG G3 Android 5.1 Lollipop update.
Android 5.0 Lollipop brought an entirely new look and feel to the Android operating system full of colors, animations, visual effects and more, but it also caused problems for millions of owners. Not just for the LG G2 or LG G3, but Samsung, HTC and others have all experienced problems.
Read: Android 5.0 vs Android 4.4 KitKat: What's New in Lollipop
In Android 5.0 Google tweaked the animations and effects, improved the notification pulldown bar and lockscreen notifications, introduced a new material design interface guideline and more. There was a lot of changes, multiple small updates that followed, and all of this is making the update for the G3 arrive slower than expected.
LG G3 Android 5.0 Problems
Google quickly released Android 5.0.1, 5.0.2, 5.1, and now the latest Android 5.1.1 Lollipop was released in mid May. However, the LG G3 is still stuck on Android 5.0.2 and plagued with tons of problems. While some owners are enjoying the new interface, better battery life, and smooth performance, some are reporting tons of problems. Hopefully those will be addressed in Android 5.1 Lollipop updates.
We've heard battery life has gone down the drain, devices are rebooting often, WiFi issues, text message keyboard problems and more. And while some of these may be LG-related, others are problems inside of Android 5.0 that Google has since fixed with 5.1.1 Lollipop. The memory leak issue causes apps to slow or crash, not to mention device reboots, which are among the biggest complaints as of late.
Read: LG G3 Android 5.0 Problems & Fixes
Above we've put together a list of some potential problems and fixes for the LG G3 Android 5.0 update, but it's worth noting not all users have reported issues. If you indeed are experiencing anything, give the link above a try.
LG G3 Android 5.1 Lollipop Update
For now we have no details regarding when the LG G3 will be updated to Android 5.1 (or Android 5.1.1) Lollipop that Google released in March and then again in April, but hopefully it's coming soon. LG's newest G4 smartphone runs Android 5.1 out of the box with a new LG UX 4.0 interface that's vastly improved from previous years. The LG G4 software is LG's best release yet, and should be coming soon to the LG G3.
This week LG released Android 5.1.1 Lollipop for the G Flex 2, which was announced back in January and was running Android 5.0.2, which is extremely good news for LG G3 owners. This means both the LG G4 and G Flex 2 are on the latest Android 5.1, and the next device in line should be the LG G3.
Read: Android 5.1 vs Android 5.0 Lollipop: What's New
We've reached out to LG regarding the Android 5.1 update, and when users can expect it to arrive, and will update once additional details arrive. LG Mobile was one of the fastest manufacturers to release Android 5.0 initially, and hopefully the same can be said about Android 5.1 Lollipop.
The LG G3 Android 5.1 or 5.1.1 Lollipop update should improve battery life, fix some of the app crashes and general instability, introduce some new features to lockscreen controls, which we've seen already arrive for the international LG G3, and more. Google's reportedly fixed tons of Lollipop problems, including the memory leak issue, and this should curb most issues for the LG G3. We'd still recommend doing a factory data reset to start with a clean slate, but we'll have to wait and see once the update indeed arrives.
U.S. Carriers
Carriers in the United States were last to push Android 5.0.2 Lollipop to the LG G3. While some regions saw it arrive in December and January, it took until March and April for all US carriers to push the latest software to owners. We've been hearing a Q2 release for the LG G3 Android 5.1 update, but with no announcements from LG or its partner carriers, it's hard to say.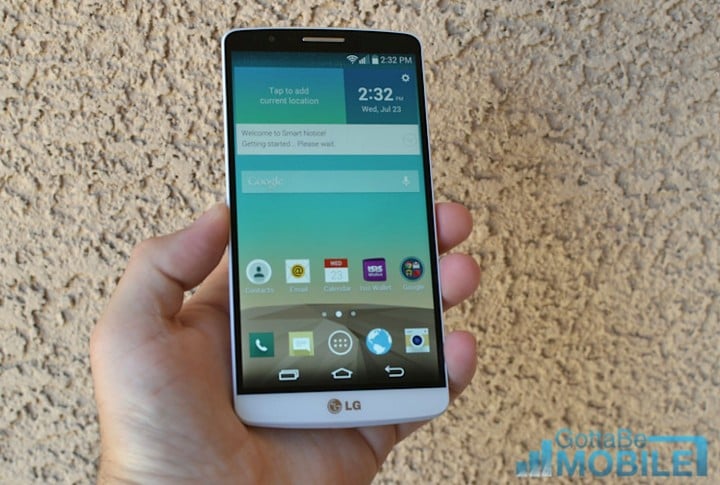 As we said above, both the LG G4 and the G Flex 2 are running Android 5.1, so the next device in line is the LG G3, and hopefully it arrives sometime this month. We've heard reports that Samsung is working to deliver Android 5.1 in June, and LG is likely aiming for the same time frame. That said, US carriers may cause a few delays, and push the update into July, which could be Q3.
Delays
Of course, delays are always a possibility, and we've seen plenty of them from LG in the past few years. Lately they've done a better job regarding software updates for many smartphones and tablets, but the possibility of delays is still very real. LG was likely working hard on Android 5.1 Lollipop after it was released in March, but then last month Google released Android 5.1.1 with more fixes and improvements, which could have pushed back the release even further.
Most likely many of the Android 5.1 and 5.1.1 changes have been integrated into LG's latest software for the LG G3, and are being tested by carriers before being pushed to owners. LG will be adding the new LG G4 UX 4.0 interface changes to the G3, which could also cause the update to take longer than initial expectations.
As it stands right now we're expecting to start seeing international variants of the LG G3 to see Android 5.1 or Android 5.1.1 in the month of June, and then US carriers will be up next. It's hard to say with both LG and carriers being silent, but expect an update with new features, better stability with improved performance and more all within the next few months.

As an Amazon Associate I earn from qualifying purchases.