LG G3 Android 6.0 Marshmallow Update Continues
After months and months of waiting the LG G3 Android 6.0 Marshmallow update is finally rolling out to more owners in the United States as April comes to a close. The LG G4 was one of the first smartphones on the planet that wasn't a Nexus to receive Marshmallow, and now the older LG G3 is getting the same. It's likely the last major update, and below is what owners need to know.
On September 29th Google announced and confirmed Android 6.0 Marshmallow, previously known as Android M, and released it to the public on October 5th. It only took LG three weeks to push an update out to the G4, but the LG G3 didn't received the same fast updates. The Verizon LG G3 started receiving Marshmallow first, back in January, and now both AT&T and T-Mobile are finally doing the same.
Read: LG Android 6.0 Marshmallow Update Breakdown
We've heard from multiple sources and even LG themselves that testing was under way for the LG G3 Android 6.0 Marshmallow release, the company even released the source code showing an update was in the final phases. Then both Sprint and US Cellular in the US received the LG G4 Android 6.0 update, giving us reason to believe the LG G3 would be up next. However, it has now been over three months with no word, but it's arriving today.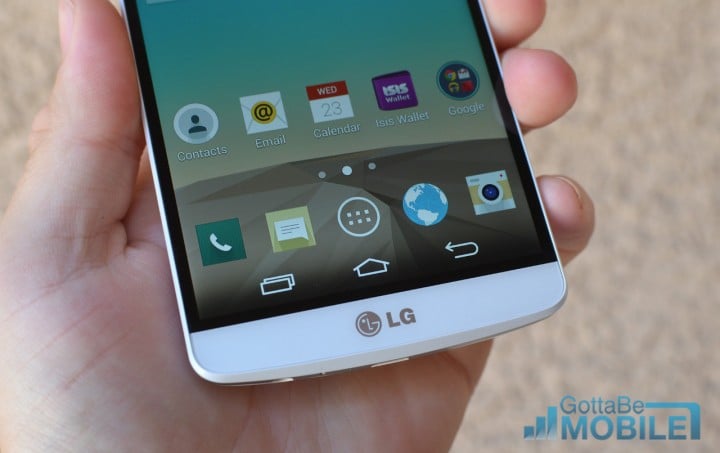 With the new LG G5 available now, the G4 already on Marshmallow, and a few US carriers already pushing out Android 6.0 for the LG G3, the company has been busy. However, the LG G3 update has been moving extremely slow, but we finally have good news.
Update: Today, April 28th 2016, both AT&T and T-Mobile have started sending out the Android 6.0 Marshmallow update for the LG G3. We've received multiple tips of AT&T, and two unconfirmed reports for T-Mobile. Below is a screenshot of the AT&T model, although AT&T's update support pages have yet to confirm the release.
Way back in January we saw this arrive for the LG G3 on Verizon, which was surprisingly fast. That carrier is usually last to the party, but that hasn't been the case lately. Many devices from LG and Samsung have been updated on every carrier but AT&T, which is a bad sign they've been dropping the ball as of late. Below is the Verizon G3 Marshmallow update, and above is the new AT&T file.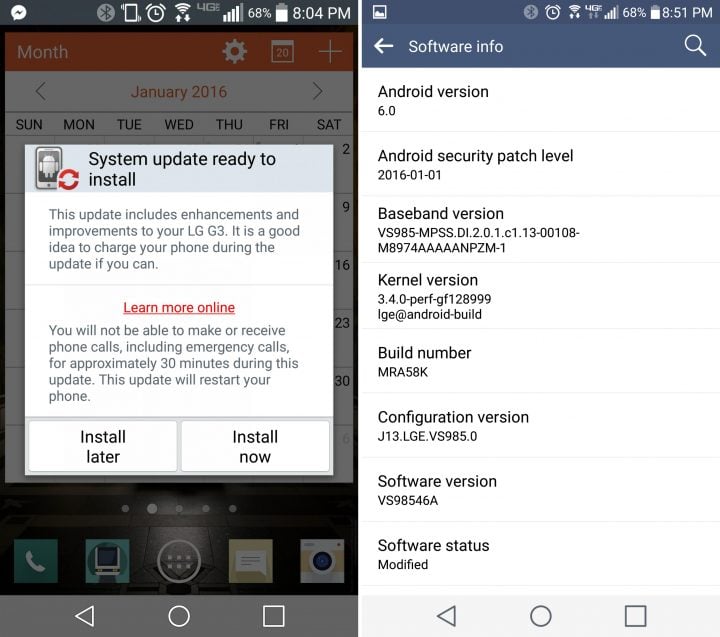 This software update will take users from the frustrating and bug-filled Android Lollipop release, to Google's new Android 6.0 Marshmallow software full of new features, security enhancements, bug fixes and more. We'd recommend updating over WiFi because it's almost 1GB in size, and having more than 50% battery life remaining.
Read: Android 6.0 vs Android 5.1 Lollipop: What's New in Marshmallow
And while we don't know exactly what's changed, looking at the screenshots above we can see a few visual tweaks to the notification bar, text and other things. That said, the link above will detail exactly what owners can expect from Android 6.0 Marshmallow.
It delivers improved battery life with Android Doze, Google Now on Tap (long press home button) along with better security, improved performance, revamped volume controls with a new do-not-disturb mode, support for Android Pay with NFC and much much more. Owners on AT&T and T-Mobile can head into settings > about phone > check for updates and get it now. That said, you may want to backup your Android phone first, just in case. Not to mention wait a few hours before checking on AT&T, as it only lets you check for updates once every 24 hours. I'd recommend waiting until later tonight then trying if you're on AT&T.
This is certainly good news for those with the aging but still capable LG G3 smartphone. With most owners enjoying Android 6.0 Marshmallow on the LG G3, those on AT&T and T-Mobile should be happy to learn it's rolling out starting today. Stay tuned for more details.

As an Amazon Associate I earn from qualifying purchases.