LG G3 Deal Delivers $100 Best Buy Gift Card
If you're in the market for a new smartphone, Best Buy has one of the best deals we've seen yet for the all-new LG G3 released earlier this month in the United States. While we've seen various deals arrive since launch, this will get buyers a $100 gift card absolutely free.
The new flagship LG G3 was announced back in May and eventually launched around the globe before the end of June, but sadly buyers in the United States had to wait an additional 2-3 weeks before Verizon, AT&T, T-Mobile and Sprint started offering the new handset.
Read: 10 Best LG G3 Cases
Now that the LG G3 is readily available for those interested, more and more deals offering huge savings have appeared. We've seen Verizon lower the 2-year contract price to just $99, and that's being matched by Best Buy and Amazon. However, if you'd like to upgrade early using Sprint Easy Pay, Verizon Edge, or AT&T Next and get a free $100 gift card, read on for more details.
Last week Best Buy launched a big promotion for the new LG G3 offering a pretty good incentive for buyers to head into their retail stores, rather than going to a carrier store instead. Best Buy Mobile offers smartphones from all carriers, of all shapes and sizes, and the LG G3 now comes with a good deal attached to it.
Prospective LG G3 buyers will want to check out Best Buy before heading into their carriers store and buying the new LG G3 with a 2-year contract, as Best Buy has a great deal that gets you the phone for $0 down, and comes with a bonus $100 gift card.
The new thing in smartphone sales here in the United States isn't to lock buyers into a 2-year contract with the carrier, and instead offer smartphones for $0 and have the customer sign up for a payment plan. Allowing users to spend no money up front, but make $25-29 monthly payments for 2-years until the smartphone is paid off in full. This is still a contract, but only for the phone instead of a contract with your carrier. Essentially like a car payment plan, but for your smartphone.
Read: How to Take a Screenshot on the LG G3
T-Mobile was first to offer these type of payment plans, but since they've been followed by awesome options from Sprint, AT&T, and Verizon. The deal today excludes T-Mobile, for whatever reason, but if you're using any of the other three major carriers you'll want to take notice.
Those signing up for service with Sprint Easy Pay, AT&T Next, or the Verizon Edge payment plan offerings can do so at Best Buy and get a $100 gift card. This can be used for anything from cases, screen protectors, to even a new Xbox game and more. Perfect for back to school shopping or some new headphones to go with that shiny new LG G3 smartphone.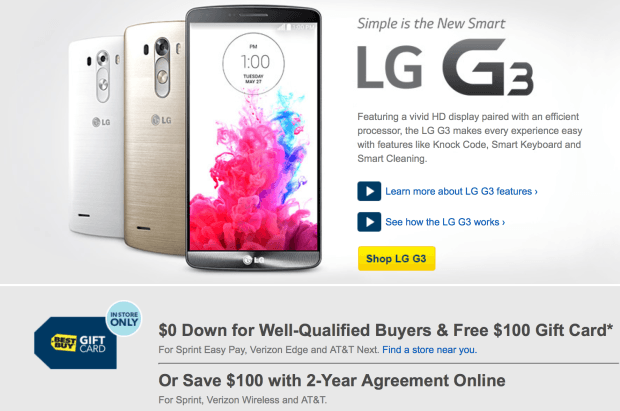 As you can see from the screengrab above, this deal is only available in-store, as well as for "well-qualified buyers" only. The $0 down option is usually pretty easy to get from all carriers, but Best Buy may require users with slightly higher credit before handing out a $100 gift card.
So what does this deal get you? You'll walk into a Best Buy store and walk out with a brand new impressive LG G3 smartphone while spending $0 dollars (unless you buy other things) and to put a cherry on top customers will get a $100 gift card. This essentially makes the LG G3 $100 less, and gives you a little spending cash.
The LG G3 is the most impressive smartphone thus far in 2014, and has tons of top-tier features that sets it apart from the competition. If you're considering making the plunge this deal may help push you over the fence, otherwise check out our full LG G3 Review for more details.