LG G3 Deal Offers Dirt Cheap Tablet Bundle
Even though the new LG G3 has only been available for less than a month from most carriers in the United States, the deals continue to arrive. This morning, AT&T announced a new LG G3 deal that delivers its latest 7-inch tablet in a bundle for only $0.99 out the door.
Earlier this year LG revealed a trio of new budget-friendly tablets to join the popular LG G Pad 8.3 that was released last year. The new LG G Pad 7, 8, and 10 are now available in the United States. However, the 7-inch 4G LTE option from AT&T will arrive early next week with a good incentive in tow.
Read: LG G3 Deal Delivers $100 Best Buy Gift Card
Starting August 8th AT&T will be the first carrier to offer a 4G LTE version of LG's latest tablet, the LG G Pad 7. While the trio was announced earlier this year, they've yet to arrive on carrier shelves and are currently only available online from Amazon, Best Buy, and a few other retailers. Read on for more details regarding the LG G3, and LG's latest tablet lineup.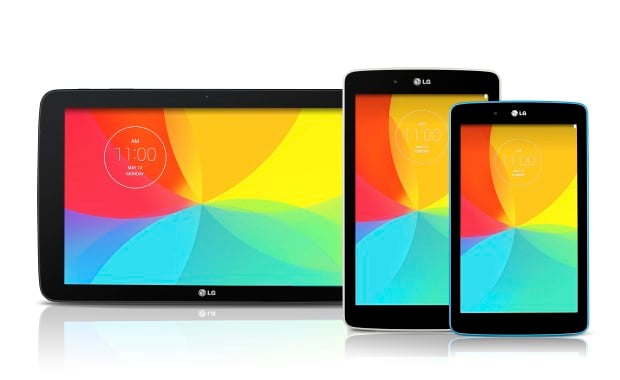 The LG G3 took the mobile world by storm back in May when the company announced its successor to the LG G2. Offering a large 5.5-inch Quad-HD 2560 x 1440 display, a powerful quad-core processor with 3GB of RAM and 32GB of internal storage, as well as a slew of other impressive specs.
LG's new G3 comes with a first of its kind laser auto focus to improve its 13 megapixel optical image stabilization camera, Android 4.4 KitKat, and a large (removable) 3,000 mAh battery. Add in a micro-SD up to 128GB of storage, and this is one of the best smartphones yet to be announced in 2014. More details can be found in our full LG G3 Review.
However, the news today isn't about the LG G3, but the new LG G Pad that prospective buyers can snag for less than a dollar if bundled with some of LG's most popular phones on AT&T. Today AT&T confirmed the August 8th release date for the LG G Pad 7 4G LTE, as well as a $249 price tag.
Read: Best Cheap Android Tablets
That being said, those looking to snag a new smartphone and a tablet at the same time, possibly during back to school shopping this is the perfect deal. Those buying the all-new LG G3, the LG G Flex, or last years popular LG G2 from AT&T can get the just announced LG G Pad 7 with 4G LTE for only $0.99. Making this tablet essentially free when you're paying less than a dollar.
The LG G Pad 7 4G LTE comes with a 7-inch 1280 x 720p IPS HD display, Qualcomm Snapdragon 400 quad-core processor with 1GB of RAM, 8GB of internal storage and a micro-SD slot, as well as a 5 megapixel rear and 1.3 front camera setup. The LG G Pad runs the latest Android 4.4 KitKat operating system, and comes bundled with an array of new software improvements from LG.
LG's entire interface over stock Android has been completely revamped in 2014 with the LG G3, and those same stunning improvements and sleek interface is making its tablet debut with the G Pad 7 here on AT&T. KnockOn, KnockCODE, as well as LG's new virtual assistant software are all included. Making this a pretty well-rounded budget tablet to take on the Samsung Galaxy Tab 4 lineup.
Again, the new LG G Pad 7 with 4G LTE will be available from AT&T on August 8th for $249, or for just $0.99 when bundled with the three phones mentioned above. Alternatively, A&T will also offer customers the choice of paying $12.50 per month for the tablet for 20 months with AT&T Next, or $149 with a new 2-year contract.

This article may contain affiliate links. Click here for more details.