LG G3 Deal Offers Huge Savings
With 2015 now underway many new smartphones are on the way from major manufacturers, and that means deals are starting to surface for last years smartphones. This week, an impressive LG G3 deal has arrived offering huge savings for potential buyers. While we've seen various deals arrive since launch, this will get buyers an LG G3 at the lowest price we've seen yet, costing only $350.
The flagship LG G3 was announced back in May and eventually launched around the globe before the end of June, but sadly buyers in the United States had to wait an additional 2-3 weeks before Verizon, AT&T, T-Mobile and Sprint started offering the new handset.
Read: 10 Best LG G3 Cases
Now that the LG G3 has been available for over 6 months, more and more deals offering big savings have appeared. We've seen Verizon lower the 2-year contract price to just $99, and that's being matched by Best Buy and Amazon. However, if you'd rather not sign a contract the electronic retail giant Fry's is offering a steep discount on a carrier unlocked White LG G3 this week only.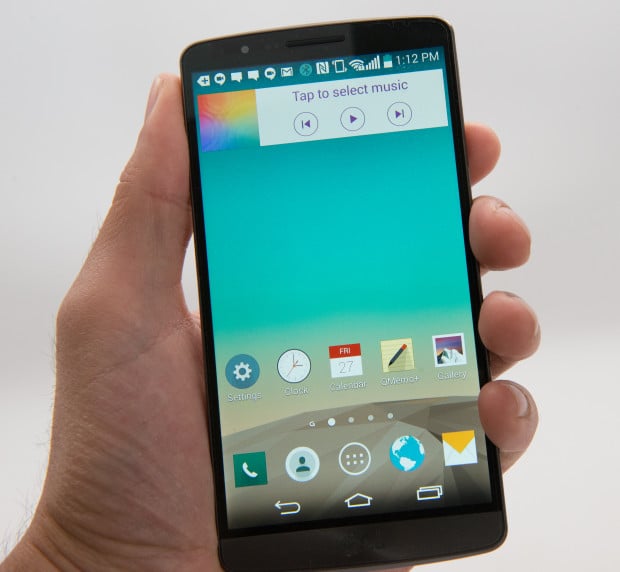 With a new and improved LG G4 being rumored over the past few months, set to possibly be announced and released in April of this year, we're now starting to see an increase of LG G3 deals in order to clear inventory. Below is what you need to know to get a brand new LG G3 for only $350.
Last year Best Buy had pretty good deal on the LG G3 offering buyers a $100 gift card after singing a new 2-year contract, but not everyone wants sign a contract these days. Even if most carriers offer early upgrades such as Verizon Edge, AT&T Next, and T-Mobile no longer has contracts.
That all said, this is about the impressive deal that was launched this week by Fry's Electronics for the LG G3. Sadly this deal is only available in stores, and the deal page has been removed from their online site. Fry's Electronics isn't in all states, but those who do have the retail giant nearby can get a brand new, unlocked LG G3 for $250 off the regular price, costing only $350. This isn't refurbished and is a brand new smartphone. Verizon and other carriers are asking $599-$649 for the G3 new. Meaning this is an excellent deal you won't want to miss. Here's a clip from the Fry's Weekly Ad.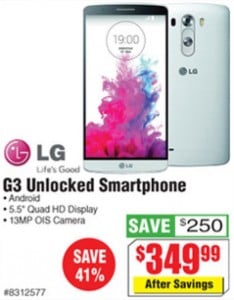 The LG G3 has an impressive 5.5-inch 2560 x 1440 Quad-HD display, a powerful quad-core processor with 3GB of RAM, and a stunning 13 megapixel camera with optical image stabilization. It's currently running Android 4.4 KitKat, and is getting the latest Android 5.0 Lollipop outside the US as we speak. We're expecting the LG G3 Android 5.0 update in the United States within the next few weeks.
This device being sold at Fry's Electronics stores (in-store only) is unlocked and should work with 4G LTE on AT&T and T-Mobile both, but will not be compatible with Verizon or Sprint. This is for the White model, but we're hearing stock isn't lasting long so you'd better hurry and grab one before they're all gone.
Fry's ads and deals only last a week, and if you'd like to snag a brand new unlocked white LG G3 for only $350, this deal ends on January 31st.