LG G3 Finally Arrives in the US with G Watch Deal in Tow
The brand new and highly anticipated LG G3 release date is finally here. After over a month of waiting, tons of rumors and speculation, it is now available from AT&T. The smartphone officially arrived for US buyers this morning first with AT&T, and other carriers will be offering the device in-stores by the end of next week.
The LG G3 was first announced back in May and immediately went up for sale in Korea, while users in the United States had to patiently await more launch details. All four major carriers in the United States were silent on a release date, until last week, and now we have all the official launch dates, and AT&T kicked things off this morning.
Read: LG G3 vs Galaxy S5: Flagship Phones Compared
With the Samsung Galaxy S5 and HTC One M8 both readily available around the globe, prospective buyers have been waiting to see what the LG G3 is all about, and it is now finally here. The LG G3 will be in stores by the end of next week, and we've now learned AT&T has a lucrative 50% off deal on accessories like the new Android Wear powered LG G Watch along with a G3 purchase.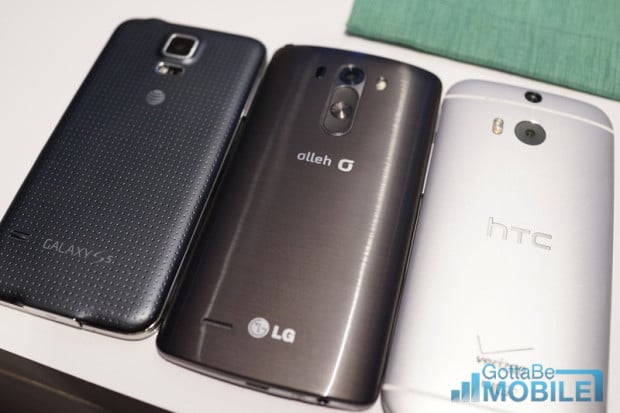 Since the first leaks started to appear earlier this year, the LG G3 has been a heavily anticipated device that is expected to compete with and aim directly at the Galaxy S5. With a stunning 5.5-inch 2560 x 1440 Quad HD display, the first of its kind for buyers in the United States, and an impressive 13 megapixel camera the G3 release date has been a hot topic.
The all-new LG G3 sports a 5.5-inch 2k display with such slim bezels the device isn't much bigger than the smaller 5.1-inch Galaxy S5. The 13 megapixel camera on the back supports optical image stabilization and a new laser auto-focus usually reserved for high end DSLR cameras. Buyers will enjoy a 2.5 GHz quad-core processor with 2GB of RAM, 16GB of storage, a micro-SD slot for storage expansion, and a large 3,000 mAh battery.
Running on Android 4.4 KitKat and a completely redesigned for ease-of-use software, the LG G3 looks pretty impressive. More details can be found from our full review below.
Read: LG G3 Review: The Best Android Phone
So when and where can you get one, and what is this LG G Watch deal we mentioned above? The LG G3 release date was a mystery for over a month, but then last week T-Mobile was first to announce that it would offer the smartphone on July 16th. However, those looking to get the phone today will need to be an AT&T customer, and the 50% off LG G Watch deal is also only available from AT&T.
Earlier this week AT&T announced they'll be the first US carrier to offer the LG G3, with the smartphone hitting store shelves on July 11th. However, those wanting it right now can get it online for $199 with a new 2-year contract, or the usual AT&T Next plans. AT&T Next gets you the LG G3 for $29 a month for the next 20 months, with no carrier contract required.
As you can see above, AT&T is also offering select LG accessories for 50% when users buy the new LG G3. Obviously the QuickCircle case is a popular choice, but the brand new LG G Watch for 50% off is a screaming deal. The new Android Wear-powered smartwatch just went on sale yesterday for $229, but can be yours for just $115 through AT&T. It appears as if this deal will last through September, or as long as supplies last. The LG G3 from AT&T is $579.99 off contract
The LG G3 release date on T-Mobile is July 16th, rumor has it the 17th is the official date for Verizon but they've yet to make an announcement, and the Sprint option arrives July 18th. We've yet to hear if any other carriers will be offering deals or discounts on the LG G Watch too, but expect more information to arrive in the coming days.

This article may contain affiliate links. Click here for more details.