LG G3 Hands-On & First Impressions
The brand new LG G3 was finally announced and revealed today packed so full of advanced features that would make most laptop or DSLR camera owners happy, although all those features are actually packed into a 5.5-inch flagship smartphone. Yes, the LG G3 is that advanced. We're talking about Quad-HD 2k resolution displays and a laser auto-focus camera.
Following up various leaks and rumors for months and months, today LG officially took the wraps off its latest smartphone, and it's looking extremely impressive. They've managed to deliver a redesigned user interface to make using your smartphone extremely simple, while adding more and more advanced features into the device at the same time. It's more advanced, yet promises to be easier to use.
Read: 5 Reasons to Wait for the LG G3
Now that the LG G3 has finally been announced and rumors silenced, we're live in SF for the launch event getting our hands all over the brand new smartphone. For those curious if the "metallic skin" plastic design feels premium, or if that large 5.5-inch Quad HD display is pretty or not, read on for our full thoughts and plenty of pictures.
With the LG G3 now official and all the headline-grabbing specs and features officially confirmed, the important bits for prospective buyers are in the small details. LG has pushed hardware to brand new heights when it comes to the display, they've added DSLR-quality lasers to the camera (a smartphone first) and tons of other advancements they hope will take this device to the next level.
The G3 is all about simplicity, and the company made sure to mention that over and over again during the livestream. They aren't just adding advanced features that will be difficult to use. Instead they've focused on technology that will enhance and simplify our lives. And to make things even better, all the software has simplicity in mind so that stunning camera or new feature will actually be easy to use. Below is a quick rundown on the hardware, software, specs, and tons of photos for those curious.
First up is the overall design. Just like the LG G2 this smartphone has thin bezels, a huge screen, and unique or "innovative" buttons on the rear. However, the all-new LG G3's main focus appears to be the screen.
Nearly 77% of the device's front face is occupied by its 5.5-inch IPS display. One that offers an eye-blistering 2560 x 1440 resolution. Having extremely thin bezels allows for an aggressive design and huge screen, but without the large device compromise. LG's new phone is just as tall as the 5-inch HTC One M8, around the same width as the Galaxy S5, yet manages to be lighter than both.
For average users we're not sure how useful a Quad HD resolution will be for the moment, but after a few minutes of browsing the web, playing the HD videos on the sample devices, and looking at photos or wallpapers pre-loaded, it's easy to see the G3 will distinguish itself on carrier shelves. While the display is big, the device isn't. The colors are still amazing, text is crisp, and so far things look quite nice but we'll obviously need more time with the new LG G3 handset. Check out the video below for a quick glance at just how stunning the screen is.
It actually feels awesome in the hand too. While many devices like the HTC One M8 are too heavy for some, or the Galaxy Note 3 is too big, the LG G3 feels quite right. The size isn't overbearing, it's lightweight, and so far has been a joy to use. The subtle curves on back make sure you have a comfortable grip, and the scratch resistant and self-healing coating on the back is a nice touch too. One that makes it easier to grip, safe from drops, and clear from fingerprints.
One major thing that went missing from the announcement is a fingerprint scanner. Early rumors and reports suggested the LG G3 would have a fingerprint scanner under the power button on the back to compete with Samsung and Apple, but that isn't the case.
Instead LG has KnockCODE when it comes to security. Allowing users to tap anywhere (as few or many times as they'd like) on the black turned off display to instantly unlock and turn on the device. This is an advanced feature, but one that is simple. Tap the screen in any location you choose with a unique code, and the phone unlocks. This cuts the screen wake and pin (or slide to unlock) unlock method into one step, not two, giving users more time to enjoy the phone.
Just like the LG G2, the G3 employs buttons on the back rather than on the top and sides. Overall the design is much better than last years G2, not to mention it's finally flush with the device and not raised up. The buttons are more tactile and have a better feel or response, not to mention a nice groove makes finding the power or volume up/down easier. It's all about simplicity as we said, and using the buttons is extremely simple.
Overall the design is pretty elegant. The huge screen and sleek bezels should appeal to many consumers, and that new camera should make a few take notice too.
The LG G3 13 megapixel camera has an improved Optical Image Stabilization+ technology that should make taking photos a breeze. Speaking of the DSLR comment above, this phone (like many high end cameras) has an infrared laser auto-focus. A first for smartphones. This allows for an extremely fast auto-focus that's actually quicker than the blink of an eye.
Again focusing on simplicity the laser auto-focus was included, but extremely easy to use. Simply tap the screen anywhere and it will laser auto-focus to that point, and take a photo at nearly the same time. Making the photo experience easy, fast, and simple. So far it works great indoors with good lighting, but we'll need additional time with it to truly get a good feel of the new LG G3 camera. Stay tuned for camera samples.
Next up we want to talk about software. While most of the devices on hand are international units and some had test software, the LG G3 still performs great from our initial impressions. Thanks to a 2.5 GHz quad-core processor and 2GB of RAM (or 3GB depending on the device you buy) the device simply flies. Opening apps, viewing the web, and even playing games all was extremely smooth. We were concerned the 2560 x 1440 resolution display could hinder some of these situations, but it doesn't.
The LG G3 runs on the absolute latest Android 4.4.2 KitKat, but has three new additions from LG themselves. Smart Keyboard, Smart Notice, and Smart Security. The keyboard is height customizable, adapts to the users accuracy (or lack-thereof) to improve typing, and even has a few gestures to keep your hands on the keyboard, rather than moving them up to tap for editing or to choose a next-word suggestion.
Smart Notice is the virtual assistant-type software addition we've heard about in various leaks, which aims to simplify the owners life. Little notifications pop down to alert the user. Anything from weather updates (before you ask) to reminders to call someone back if you've missed a call. Life gets busy and we forget to check the weather, forget to call back friends or family, and even forget to uninstall old apps. Smart Notice handles all of this to remind us to do things, even advanced features like cleaning the smartphone or uninstalling unused apps. Surely this will all be customizable so you're not getting annoyed with popups, but the option is there if you'd like.
They've also improved the security of the device with unlock methods like KnockCode which we've seen before and mentioned above, there's a remote kill switch to completely kill the device to deter theft, not to mention remote wipe and lock features for a lost device as well. LG thought of a lot of things that some offer, and packed it all into this smartphone.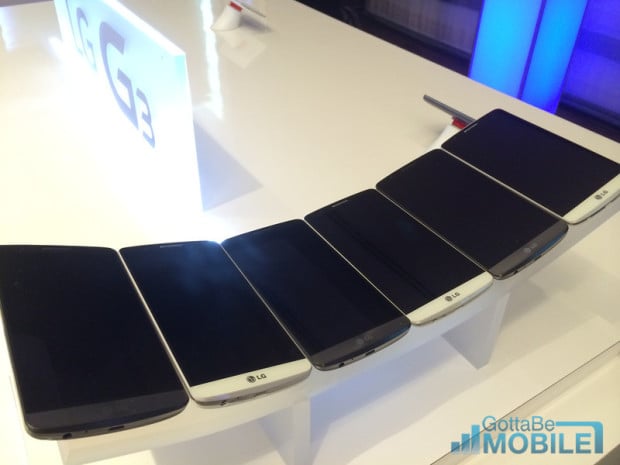 We'll need a lot more time with the software before we make any predictions, which we'll go through in our full review, but so far there's plenty that consumers and enthusiasts both will be able to enjoy.
LG G3 Specs
5.5-inch 2560 × 1440 display Quad-HD display
2.5 GHz quad-core Snapdragon processor with 2GB of RAM (3GB option in some regions)
13-megapixel camera with optical image stabilization, laser auto-focus, 2.1-megapixel front camera
16GB storage and microSD card slot with up to 128GB support (32GB model available)
Android 4.4.2
3,000 mAh battery with wireless charging
WiFi, Bluetooth, NFC, 4G LTE, FM Radio Antenna
DLNA and Miracast support
Metallic Black, Silk White, Gold Shine, Moon Violet, and Burgundy Red color options
146.3 x 74.6 x 9.1mm
We know specs aren't everything, but for those who want to know all the details the above list is what you'll be working with. There's a lot to like, and no real signs of compromise by LG.
In the end our initial impressions are quite favorable. Yes we miss the brushed aluminum from the HTC One M8, but love the feel and overall design and ergonomics of the G3. It feels like a much more premium device than the Galaxy S5, but can't compare to HTC or the iPhone 5s. That said, not only does the device have all the latest and greatest specs when it comes to mobile technology and the competition, but they've added a few curve balls to make it stand out.
LG made the device easier to use, the camera better, selfies that everyone will enjoy, and offer everything from wireless charging to removable storage all in one sleek and slim yet powerful smartphone. When you consider how sleek and low profile the LG G3 is, while cramming all these features inside, it's quite the feat. The LG G3 has a lot of promise, and we'll be looking forward to learning more details. The entire package isn't just things slapped together. Everything feels thought out and well executed. Something we haven't seen in prior devices by LG.
So far there is some general release date news, and it's available as of tomorrow in South Korea, but we'll be waiting until next month before carriers in the United States offer the LG G3. Stay tuned for more details, pictures, video, and comparisons of the new LG G3.

As an Amazon Associate I earn from qualifying purchases.