LG G3 Photos Emerge Ahead of Launch
Tomorrow the LG G3 release date will finally be revealed as the device is announced and presented live on stage. While there's likely a few surprises left, we know nearly everything already thanks to various leaks that have surfaced almost daily for the past month.
With only hours to go before the official launch and unveiling tomorrow, this afternoon and all weekend long additional photos and details continued to emerge. We've seen countless leaked photos already, but now actual retail dummy units in stores have appeared, as well as a teaser page right on the Verizon Wireless website.
Read: LG G3 Rumor Roundup: Everything You Need to Know
If there was any doubt after months of leaks regarding the LG G3, the images and links below should remove any remaining doubt, not to mention we've once again received confirmation the phone will indeed launch for Sprint in the United States. Read on for a few more details, and everything you should know about the incoming LG G3.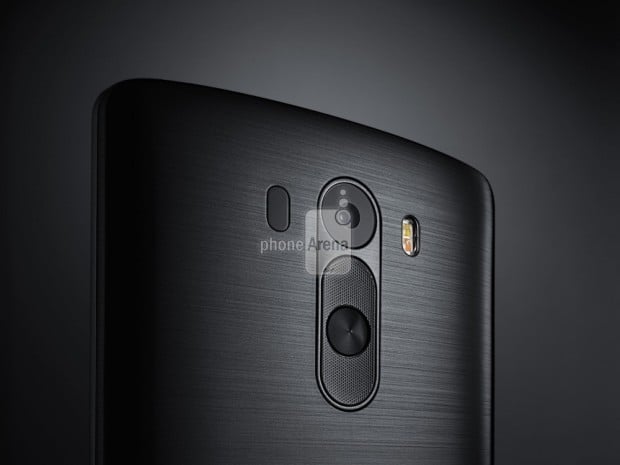 Thanks to some brand new photos courtesy of Underkg we're getting our first look at the LG G3 in retail stores. While this is only a dummy unit, the entire design, button layout, name and new lockscreen information has all been confirmed. All of which line up with previous leaks and rumors.
Essentially these photos aren't revealing anything extremely new, but are another look and additional confirmation regarding what LG will announce and reveal on stage tomorrow morning.
The three photos provided above were spotted in stores from a Korean carrier offering additional details about the LG G3. That said, we'll have to wait until tomorrow for the full details, even if the original media event details already leaked.
This month some carrier and pricing details have already emerged, but below are two brand new leaks essentially confirming two large US carriers will be offering the LG G3.
At this point it's been nearly confirmed that the LG G3 will be offered in the United States on AT&T, T-Mobile, Sprint, Verizon, and likely US Cellular, and all before the end of June. LG confirmed the device will be available globally before the end of June, but it's possible a few US carriers could take their sweet time to launch, and being delayed into July. Those details should arrive tomorrow, or in the early weeks of June.
Above, courtesy of @evleaks, is the LG G3 in Titanium for Sprint. The leakster also delivered photos of the white and gold variant for Sprint, suggesting at least three colors could be available on launch date. Interesting enough, in a move we've seen often in the mobile world, the Sprint LG G3 photos above shows "July 25th" on the screen in the clock widget. This could be a sign that Sprint owners could have another month or more of waiting than original expectations.
On the flip side, Verizon Wireless is poised to offer the LG G3, and could be one of the first carriers in the United States to supply the phone to prospective buyers. According to Droid-Life the LG G3 already has a full retail page ready and waiting to go live at verizonwireless.com, and is currently waiting at a test page for the official unveil, and then will go live for all viewers.
The smartphone will officially be announced, unveiled, and teased on stage tomorrow, and we'll have plenty of hands-on time following the event for those eager buyers wanting additional details right from the source.
With less than a day before LG makes it official, the G3 details and small leaks continue to emerge at an alarming rate. These could mean a very quick and swift release date is coming, but Sprint and US Cellular customers could be waiting longer than initial expectations. Hopefully additional launch details arrive with the announcement tomorrow.
Read: LG G3 vs Nexus 5: What Buyers Should Know
As a reminder, the LG G3 is expected to arrive with some top tier specs that are better than almost anything else currently available. Those consist of a 5.5-inch Quad-HD 2560 x 1440 resolution display but thin bezels to keep the device size quite small. A powerhouse quad-core processor with 3GB of RAM for ultimate performance, gaming, and multitasking, and a stunning 13 megapixel camera with Optical Image Stabilization + and a brand new infrared laser auto-focus technology.
The LG G3 has been redesigned around back to improve the layout and usage of the rear-mounted buttons. We're hearing along with a fingerprint scanner we should get an IP67 dust and water resistant smartphone that will be available in Black, White, Gold, and Titanium around the globe before June comes to a close. Stay tuned for all the details as they arrive tomorrow, and we'll share any additional information as it becomes available.

As an Amazon Associate I earn from qualifying purchases.