LG G3 Release Date Confirmed with U.S. Carriers MIA
The brand new LG G3 smartphone will officially be available around the globe starting tomorrow, June 27th, although buyers in the United States will sadly have to wait until a late date. With the Galaxy S5 and HTC One M8 both available for the past few months, consumers have been waiting for something else, and that is the LG G3.
This week has been a busy one for Android users, with Google's annual developer event sharing information about Android Wear connecting to our smartphones, like the LG G Watch, and they've just released the first beta of Android L, the next version of Android. Lost in all the excitement is news of the LG G3 arriving tomorrow.
Read: LG G3 Release Date Rumor Roundup
Announced back in May the LG G3 release date has been a mystery since the initial reveal, even though LG themselves promised a global launch before the end of June. That date appears to be right on target, and earlier this week LG confirmed tomorrow is the official launch date across a variety of regions around the globe. However, not a single comment mentioned carriers in the United States.
Buyers in the US were excited to see the all new LG G3 back in May, and have patiently been waiting for more details since. However, both LG and carriers have all been extremely silent regarding what we can expect. The only concrete details, if we can call them that, have arrived from famed (and usually accurate) leakster @evleaks who claims July 10th will be the day Verizon Wireless starts offering the LG G3.
This new smartphone launches around the globe tomorrow, and even though all four major US carriers confirmed they'll carry it, none are saying when. The Verizon LG G3 release date is rumored for July 17th after a week of pre-orders, but we've yet to hear from AT&T, Sprint, and T-Mobile regarding the latest and impressive flagship smartphone.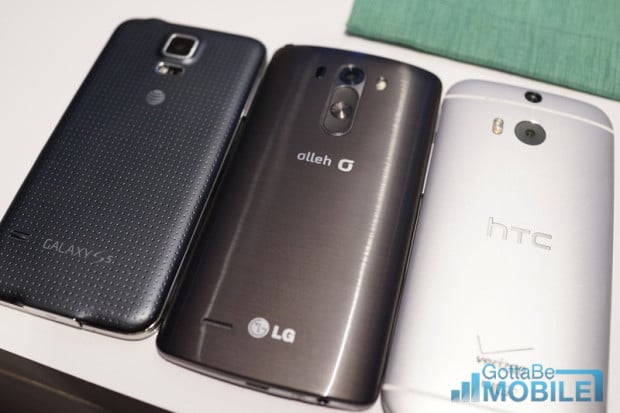 Early rumors had the UK being first with the LG G3 arriving on July 1st, but instead it appears that most regions will be able to purchase the smartphone starting tomorrow. Unlocked models should be available from Amazon.co.uk, and we could even see a few unlocked models on Amazon in the United States, just without any specific carrier blessing.
So what about other US carriers? It's hard to say. Consumers and prospective buyers have patiently waited nearly a month since the announcement date, yet no details have surfaced. AT&T, T-Mobile, Verizon, and Sprint have all been silent, even though they're offering giveaways and promotions on the smartphone.
Rumors have suggested Sprint will offer the new LG G3 on the 25th of July, and we're even hearing AT&T will make some formal announcements by the end of the week with an early July release ahead of Verizon. The previous two flagship LG devices both arrived first on AT&T, so that was expected again in 2014. That being said, all signs are pointing towards Verizon being first on the 17th.
Read: LG G3 Hands-on and Impressions
The LG G3 offers the first 2560 x 1440 Quad-HD resolution display of any device launched in the United States, and is expected to be one of the best smartphones of 2014. Offering a large 5.5-inch Quad HD screen yet slim bezels keep the device to the same size as the smaller 5.1-inch Galaxy S5.
LG packed an impressive 13 megapixel camera with optical image stabilization+ and a brand new laser auto focus (a smartphone first) inside the device, as well as a massive 3,000 mAh battery for all-day usage. Add in a sleek aluminum-looking (but still plastic) design, a powerful 2.5 GHz quad-core processor with 2/3GB of RAM and 16GB of storage, and the latest Android 4.4 KitKat, this device is poised to do well.
The promised end of June release date is being met by LG starting tomorrow, but that doesn't include the United States. Carriers should start making announcements any day or week now, and we'll be sure to update with all the details as they become available.

This article may contain affiliate links. Click here for more details.