LG G3 Release Date Details Emerge
The LG G3 release date in the United States has been a mystery after all four major carriers confirmed their plans to offer the device, yet didn't share any details on when or for how much. And while we've been following leaks and rumors for months regarding what to expect, today LG G3 release date details are finally starting to firm up.
With the Galaxy S5 and HTC One M8 both already available, consumers have been hungry for more details surrounding the highly impressive LG G3 since being announced last month, and now we have a better idea of when to expect the Verizon variant stateside.
Read: 5 Reasons to Wait for the LG G3
According to a newly leaked screenshot provided by the always helpful @evleaks the LG G3 release date in the United States is July 17th on Verizon Wireless, with pre-orders starting seven days earlier on July 10th.
Prospective buyers have been eagerly awaiting more details about the new LG G3 after all the impressive features and new 5.5-inch Quad-HD display were shown off on stage last month, but most of those questions are still left unanswered. While we now have a potential release date for Verizon, this doesn't provide any details for the other three main carriers in the United States – or the LG G3 price – which is another big question many consumers have.
Below is the leaked image provided, which appears to be cut off to protect more sensitive details or official pricing, so buyers can expect additional information to surface in the coming days. At this point it looks like a Verizon G3 release is still a little over a month away, and those with other carriers are still left awaiting addition information.
Typically Verizon asks the usual $199 with a new 2-year contract for new flagship devices, which is most likely what we can expect to be offered when the LG G3 officially gets released next month. According to the leak you'll be able to reserve your own with pre-orders starting on the 10th, and then in-store availability will expand on the 17th of July.
Read: LG G3 Hands-on & First Impressions (Video)
As a refresher, the LG G3 packs some of the most impressive features and specs we've seen in a smartphone so far in 2014. Delivering a 5.5-inch 2560 x 1440 Quad HD display, a new 2.5 GHz Snapdragon 801 quad-core processor with 2GB of RAM and 16GB of internal storage, as well as a micro-SD slot for expansion.
Of course the buttons are still on the back and have been redesigned to be more useful, comfortable, and ergonomic. Then the other highlight is the improved 13 megapixel Optical Image Stabilization + camera with an all-new laser auto focus technology usually reserved for full-scale DSLR cameras. The LG G3 has a large 3,000 mAh battery, and runs on Android 4.4.2 KitKat with a few software tweaks and smart actions provided by LG.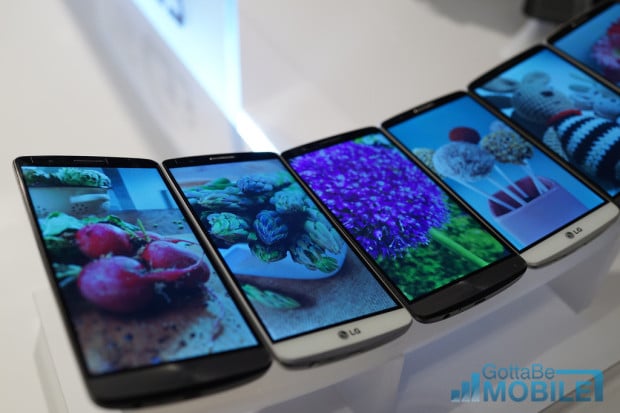 So what about other carriers in the United States? So far Verizon, AT&T, T-Mobile and Sprint have all confirmed they'll offer the device, but this is the first concrete details regarding when it could arrive. The original LG Optimus G and LG G2 both arrived first on AT&T, then other carriers, so we could expect something similar to happen this year as well. That being said, no evidence supports that thus far. A T-Mobile giveaway for the device ends at the end of June, which could be due to the device going on sale, but that's only a guess.
Back in March LG promised its new flagship smartphone would be available globally before the end of June, which was good news, but may not actually be the case. With no details from any carriers a third of the way through June, things aren't looking good unless official announcements are made this week.
Consumers looking to get their hands on the LG G3 may have to wait well into the second or third week of July before picking up this handset, and we'll update the moment we know more. A few leaks suggested July 25th for the Sprint model, but again, that is only speculation based on previous leaks.
Expect all four carriers to start making LG G3 release date announcements soon.