LG G3 Rumor Roundup: Everything You Need to Know
Thanks to various reports and leaks that have continued to arrive almost daily for the better part of a month or more, we know nearly everything about the upcoming LG G3 smartphone. However, on Tuesday LG will take the stage and finally make this rumored and hyped smartphone official.
Over the course of the past few months, and as early as last December, we've been hearing small rumors about the upcoming LG G3 flagship device to take on the Galaxy S5. These last few weeks all the rumors and leaks came into focus, and we now have an extremely clear picture of the device. Not to mention videos, photos, and press renders.
Read: LG G3 Features & Specs All But Confirmed in New Leaks
With the official reveal coming up on just a few days on May 27th, here we'll rundown everything we know so far, and everything that potential customers need to know about the LG G3. Read on for all the details.
Earlier this week our first official details started to arrive thanks to a teaser video released by LG, but today four new videos have essentially confirmed everything we already knew. While leaks can never be 100% trusted, the LG G3 was all but confirmed before today, but these videos prove what's actually coming next month.
With the Samsung Galaxy S5 and HTC One M8 both available today from carriers around the globe, prospective buyers have been waiting to see what else is on the horizon, and that is the LG G3. Below is everything we know thus far.
Design
One of the key selling points of the LG G2 last year has carried over to the G3, and is now a signature feature and design of LG's flagship smartphone. That being the buttons on the back. While this large device will mostly be made of plastic with a nice ring of aluminum on the sides for added durability, the star of the show will be the Quad HD display and the buttons on back.
LG shocked the market last year with this move, and look to do the same in 2014. For those that don't know, the power and volume buttons are all on the back rather than the sides. This actually makes for a pleasant experience as your index finger usually rests there anyways. Making turning the screen on or off or increasing the volume on a call extremely easy. Below is a look at the redesigned button layout, and the neat curves of the LG G3.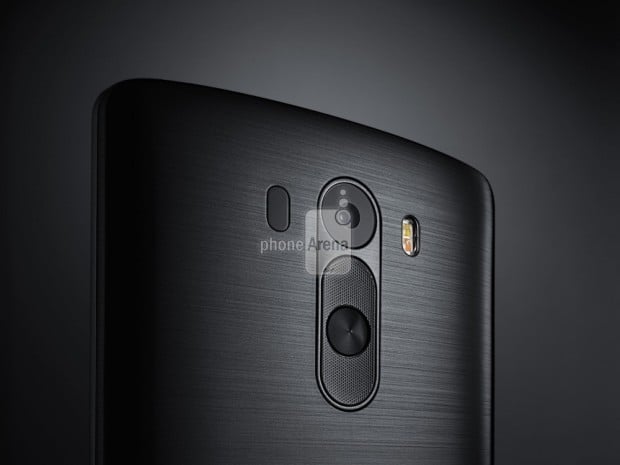 The rest of the design is geared around a few things. One being the extremely thin bezels making the LG G3 have one of the biggest displays around, yet not be too big physically. The bezels are extremely thin, and the video just released (below) by LG shows just how thin they really are. This was a huge part of the design, and the rest is around offering a removable back, expandable storage, and an improved camera experience. But more on all of that below.
https://www.youtube.com/watch?v=BDIzu2yWWLw
The LG G3 should have a stunning 5.5-inch screen, but is designed to barely be bigger than the Galaxy S5. This should help it compete against the S5, as well as the upcoming larger Galaxy Note 4 later this year.
Display
There's no questions left about the display, aside from how much the higher resolution will impact battery life. LG and various leaks have all pinned the LG G3 to having a 5.5-inch 2560 x 1440 Quad HD display. Explained as being nearly four times that of a 720p screen from previous smartphones, or also known as a 2k display.
Colors will be vivid and engaging, text will be crisp, and the G3 will be the first device available in the United States with a Quad HD screen. That said, we're hearing rumors of a new Galaxy S5, and an improved HTC One M8 Prime both having a similar option coming later this year to compete with LG.
LG has put tons of focus and effort into its displays as of late, and it's starting to pay off. The LG G Flex offers a unique curved screen which we expect to be in more phones later this year, and this 2k resolution LG G3 will likely be one of the best smartphones of 2014. That said, we'll have to see how the displays from the competition compare later this year.
Specs
Specs and quad-core processors aren't everything, but this day and age most consumers want the best of the best if they're buying a new smartphone. Especially those signing 2-year contracts or passing on the Galaxy S5 for something better. As a result, the LG G3 is positioned to be quite popular, and for those that want to know all the details and the full spec list, here's what rumors are suggesting.
LG G3 Specs
5.5-inch 2560 x 1440 Quad HD display
2.5 GHz Snapdragon 801 quad-core processor with 3GB of RAM
16/32GB storage with micro-SD slot for user expandable storage
13 Megapixel Camera with OIS+, Laser Auto Focus, 2.1 front camera
Buttons on the rear, fingerprint scanner under power button
Android 4.4.2 KitKat and LG UI Changes
Brushed Aluminum-like Plastic Design
3,000 mAh Battery with Wireless Charging
Various tips are suggesting that LG could be prepared to offer two different variants, but those could just be for other regions around the globe. The leaks suggest a 16GB model with 2GB of RAM will be available, then a second 32GB option with 3GB of RAM will be priced a bit higher, likely $49-100 more.
Read: LG G3 vs. Galaxy S5: What We Know So Far
There will be Silver, White, and Gold color options, but a few small reports tease an actual metal aluminum variant as well, which would be the more expensive 32GB LG G3 Limited Edition. All models will still have a brushed aluminum look, even though they're made from plastic, but LG could surprise us come May 27th with an aluminum flavor for those who want a premium device like the HTC One M8.
One spec of the new LG G3 that many should be excited about is the camera. For one it will be a 13 megapixel camera with an improved Optical Image Stabilzation+ technology, and LG has employed a new laser auto focus to the back, which is the mysterious sensor to the left of the camera. This should help auto focus be extremely fast and accurate, as well as improve low-light photography.
Software
Over the past few years LG has been heavily criticized for the software on its phones and tablets. Enthusiasts have said it's a Samsung TouchWiz software knock-off, and they've been slow to software updates delivered from Google in the past. However, this last year LG has improved by leaps and bounds, not to mention new photos are showing an improved LG software stack running on top of Android 4.4.2 KitKat.
The leaked software pictured below is reportedly from the LG G3. That confirms the 2560 x 1440 resolution, but also gives us a glimpse at what to expect. The interface will be more flat and simplistic, and a new virtual assistant that's contextually aware will give Google Now and Siri a run for its money.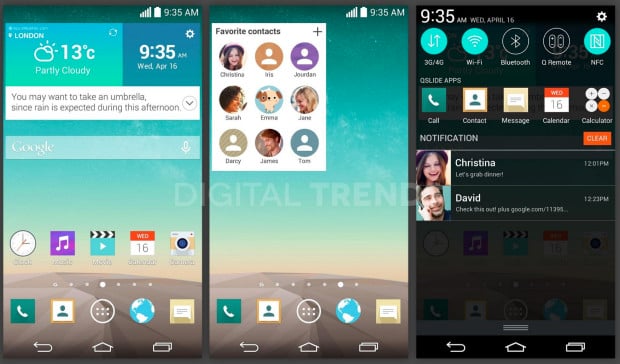 Shown on the weather widget is this new virtual assistant suggesting an umbrella before the user even asks, as it could rain, or the same applies for driving and navigation directions and delays. This would be useful for an array of applications and settings, and hopefully LG gives us a better idea of how it will work on Tuesday.
In the end the LG G3 will be on Android 4.4.2 KitKat, the latest version of Android released by Google, and should be a high-priority device by LG to get the latest and greatest as each new software update arrives. The LG G2 launched with Android 4.2 when 4.3 was already available, and became outdated 3 weeks later when Android 4.4 was announced. That won't be happening with the LG G3, although we are hearing Android 4.4.3 is coming sometime soon.
Release Date
The only other major thing buyers need to know about the LG G3 is the release date. Sadly, we don't have anything concrete to reveal just yet. Early reports have the G3 being the biggest launch in LG Mobile history, and arriving extremely soon across all major carriers. The Optimus G arrived in November of 2012, and the LG G2 hit in September of 2013.
Thankfully LG sped up the release this year to better compete with the Galaxy S5, HTC One M8, and upcoming iPhone 6, and it will be released before the end of June. LG themselves have set the LG G3 global release date for before the end of June. What this means for those in the U.S. is that most (or some) carriers will have it within the next 40 days.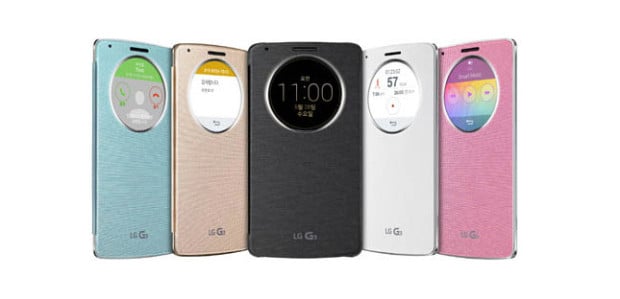 Some small chatter has suggested that LG will have partners such as AT&T and Verizon that will launch the LG G3 within the first two weeks of June, with the rest arriving before months end. However, we have no concrete details on a release date but expect all the information to be shared come the 27th once the smartphone is announced.
Carriers
As said above, the LG G3 is expected to be the biggest launch in the history of LG Mobile. We've seen leaks suggest an AT&T launch, not to mention they've been first to offer the past two flagship devices from LG, and FCC reports have confirmed Sprint and T-Mobile both. Oh, and we have a leak showing the Verizon model below, nicely stamped with the Verizon logo twice.
Last year AT&T was first to offer the LG G2, followed by an exclusive wireless charging and 32GB model for Verizon Wireless, and it eventually arrived for Sprint and T-Mobile. If all goes according to rumors and plans, the LG G3 will be available from all five major US carriers before June comes to a close. That's great news for consumers throughout the United States.
Final Thoughts
The LG G3 will have some strong competition and worthy opponents in the Galaxy S5, HTC One M8, and even the upcoming Galaxy Note 4 and iPhone 6. That all being said, it has one of the best displays we'll likely see 2014, a beautiful design with extremely sleek bezels, unique rear-facing buttons for a deign like nothing else, and new software tweaks to keep it on par with all those add-ons from Samsung.
Read: LG G3 vs Nexus 5: What Buyers Can Expect
LG is getting better and better each year, and in 2013 they were the #3 Android smartphone manufacturer based on sales and popularity. They have tons riding on the all-new LG G3, and only a few days remain before that's all fully unveiled.
If LG can manage to release all the colors at once, not spaced out like Samsung, and for a great price throughout all carriers in the United States, they'll be off to an excellent start in 2014. There's plenty to like, and we'll share everything we know and find out as it happens live on the 27th for the official announcement.

As an Amazon Associate I earn from qualifying purchases.