LG G3 Setup Guide: 5 Steps to Get Started
The LG G3 finally launched in the United States this July after months of waiting following the unveiling back in May. Available now from AT&T, T-Mobile, Sprint, and Verizon, the LG G3 is a premium flagship smartphone loaded with more features than most will ever need.
Now that the LG G3 is available in stores around the United States, more and more buyers are starting to pick up the smartphone and see what all the hype is about. If you're one of them you've probably fired it up and enjoyed that big 5.5-inch Quad-HD display, but below we have a few tips to help you get started with your new phone.
Read: 10 Best LG G3 Cases
Right out of the box the LG G3 is fast, fluid, and works wonderfully but there are always a few steps you'll want to take. In just 10 or so minutes, this guide will get your new smartphone prepared for the future with better security, backup options, improved battery life, and much much more.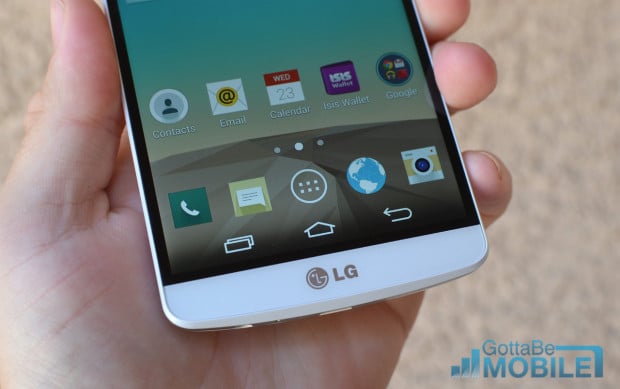 The new LG G3 runs on Android 4.4.2 KitKat, but is covered in a completely redesigned and much improved interface from LG. Similar to Samsung's TouchWiz interface or HTC Sense, the LG Optimus UI delivers improvements to Android without making things more difficult, cluttered, or slowing your device down.
Surely you've been toying with the impressive camera or buttons on the back, not to mention watching some videos on the big HD display, but you'll want to also take notice the steps below to ensure your phone will be running great for years to come, or be protected in case of loss or theft.
Better Security
An option that's been available on Android smartphones for years that many users don't employ, is a passcode or pattern on the lockscreen. With smartphones having so much information, banking accounts, and email access these days, security is extremely important and your device needs to be secured.
If you just got the LG G3 and are going through the initial setup, it will let you use their version called KnockCODE. Which lets you tap any four areas of the display as a secret, hidden pin. This works quiet well, but the usual pin and pattern security options on Android are also available. It takes about 30 seconds to set up a passcode or pattern lock, and your device will be protected from prying eyes or in case of loss and theft.
Read: How to Take a Screenshot on the LG G3
The LG G3 offers KnockCODE out of the box, otherwise head into settings and do it yourself. Pull down the notification bar and go to settings > lockscreen > and select screen lock. From here simply choose your method of choice.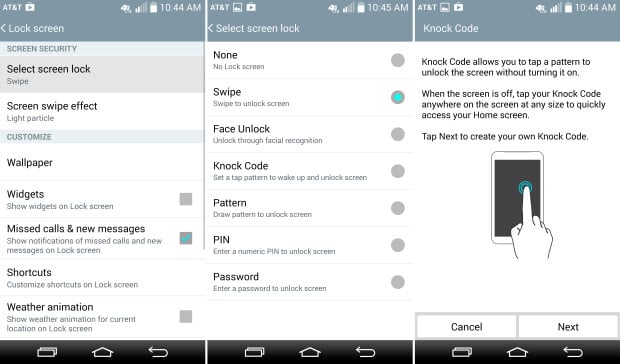 We recommend users enable at least one layer of security, as you never know where your smartphone could end up if lost or stolen. You wouldn't want precious data or pictures getting into the wrong hands.
Backup & Restore
While we won't get into transferring from an old device to your new LG G3, we will explain a few simple steps you'll want to take to keep your new phone backed up and ready to go. Google's backup options will be brought up during setup, which we'd recommend most users agree to, but you can always control more backup & sync options in settings later.
Settings > Backup & reset > Back up my data
Using the same steps as mentioned above you'll want to head into settings and scroll down to backup & reset. Here is where you can turn on/off Google's backup solution. It isn't an all-in-one solution, but will backup (and restore on a new device) your WiFi passwords, app data (and game saves) wallpapers, and other settings. This is extremely convenient.
Users can also check or uncheck the restore option where Google will automatically restore any available settings or data from an app being reinstalled. This will restore your information if you lose your G3 and have to get a new one, or restore any previously backed up data from your prior smartphone to the new G3.
Read: How to Automatically Backup Photos on Android
LG also has their own backup service if you'd like to try their option as well.
Android Device Manager
Google offers a pretty good Device Manager and locator service of its own called the Android Device Manager. This is similar to FindMyiPhone, and works wonders. There's almost no setup once you download the app from the Google Play Store, then just let Android's device manager find your lost phone if you ever need to.
This is essential in case you ever lose your LG G3. You can access the ADM from another Android device, your tablet, or a PC to find a lost or stolen device, then track it down and recover that expensive $599 smartphone.
The Android Device Manager has other useful features too. You can lock your G3, wipe out a smartphone to erase data in case of theft, or even make your phone ring at max volume if it's lost somewhere in your house, all using the Android Device Manager site from a PC.
This is one of those small steps that many users overlook, but if you ever need it, you'll be glad you took the 2-3 minutes to make sure it was ready to go.
Set Mobile Data Limits
Another thing many owners never do, but will save you money, is set mobile data limits. Whether you have a 2GB data plan with AT&T or Verizon, or are on a family plan with T-Mobile sharing data across multiple devices, it's always smart to set limits. This way users can't go over, and end up with a huge smartphone bill at the end of the month. We've all been there, and it's extremely frustrating.
Settings > Data Manager > and set to the amount of data your carrier plan offers.
Here you can set an outright data limit, or also a warning to let you know you're getting close, and to slow things down a bit.
This will ensure that once you reach your data limit (or even close) you'll be notified not to keep streaming 1080p YouTube clips or watching Netflix, as you may incur charges. This would be a good time to switch to the WiFi at home to save data, and not get overage charges.
Read: How to Use the LG G3 as a Remote Control
Improve Battery Life
One of the biggest impacts to battery life besides the display and having too many apps syncing 24/7, is Google location services. Whether your phone is always tracking you location to deliver weather updates, or you use Google Now and Google Maps for directions or navigation, this is a big drain on battery life. In Android 4.4 KitKat Google added a new location option which allows for more control here, and the battery saving option is your best route.
Settings > Location > Mode > Battery Saving
Battery saving mode turns off GPS, so turn by turn navigation may not be as accurate or need to be re-enabled, but for those who rarely use navigation, Battery saving mode is your best bet. This uses WiFi and your cellular network for location services, rather than the phone draining your battery with GPS.
Users can also head into settings > display > and lower the brightness to 30% or so, rather than automatic, which can also improve battery life and extend the phone usage into the next day without a charge. The LG G3 has a large 3,000 mAh battery under the hood, but there's always a way to get a few more hours of usage out of any smartphone.
Final Steps
Of course you'll want to sign into your Google account and get all your contacts, information, and apps, but there are tons of other options you may want to consider. Google Now is an excellent option worth enabling. As it gives you information you may need, before you ask, as well as driving directions, hands-free voice controls, and much more. Google Now can be activated by sliding up from the bottom of the display.
Smart Notice is another feature courtesy of LG. This tries to be similar to Google Now, and will popup below the weather widget with notifications. Reminders about missed calls, shortcuts to save unknown numbers to your contacts, or to remind you to bring an umbrella if the G3 notices rain in the forecast based on your direction. It's pretty nifty, so make sure you check it out and keep it enabled.
Read: 51 LG G3 Tips, Tricks, & Hidden Features
Here we only go over a few important steps you'll want to do when you first get the LG G3. After you've enjoyed it for a few days, are comfortable, and want to see everything else this flagship powerhouse smartphone can do, hit the link above for 51 tips and tricks to get the most of your new smartphone.

As an Amazon Associate I earn from qualifying purchases.