LG G3 Update Arrives in the US, Android 4.4.4 KitKat MIA
Owners of the LG G3 have patiently been waiting for an update to Android 4.4.4 KitKat, but sadly it has yet to arrive. This week tons of smartphones received updates to the latest and greatest version of Android, including Android 4.4.4 KitKat for the Galaxy S5, Note 3, and many other handsets. Even HTC is busy pushing out Android 4.4.3 KitKat to the HTC One and HTC One M8.
Google had a very busy month of June in which they delivered three versions of Android. An update from 4.4.2 to 4.4.3 KitKat, then quickly followed that with a security patch and solved a few problems by releasing Android 4.4.4 KitKat a week or two later. Then to cap it all off unveiled Android 4.5 (or 5.0) which is being called the L Release for now.
Read: LG G3 vs iPhone 6: What Buyers Need to Know
When the LG G3 launched running Android 4.4.2 KitKat, over a month after Google released both Android 4.4.3 and 4.4.4 KitKat, owners instantly started to wonder when the latest version of Google's OS would arrive. Sadly the update we're hearing that has started rolling out this afternoon is not that.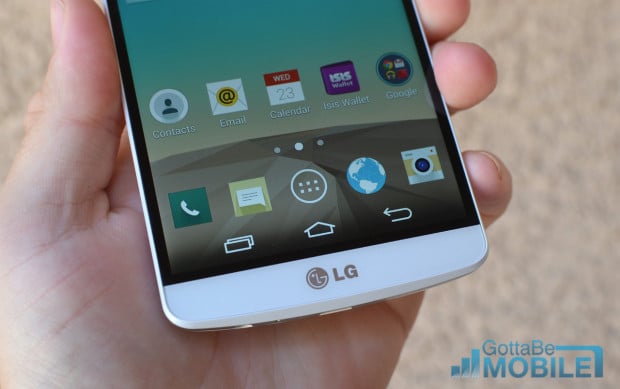 This week we learned that T-Mobile started a major update push that delivered small software upgrades to the LG G3, HTC One M8, Galaxy S5, Galaxy S4, and even last years HTC One, but they were all very minor and didn't have too many changes.
One of the smartphones to receive an update was the LG G3, shown here in the T-Mobile support pages. The changelog doesn't reveal anything aside from WiFi calling, which is a part of T-Mobile's new push to allow free WiFi calling anywhere and everywhere, and that includes free WiFi calls and texts while flying throughout the United States.
The changelog reveals no other details, and even says "NA" under the improvements area. Meaning that this update likely won't be solving any of the many bugs that currently plague LG G3 owners.
Read: 5 LG G3 Problems & Potential Fixes
It's worth noting that while the T-Mobile LG G3 update isn't Android 4.4.3 or Android 4.4.4 KitKat, it still comes in at a large 150MB in size. Usually we'd expect some significant changes with a release that big, but so far we've yet to hear any details suggesting anything major is on board.
In the past LG hasn't been the best when it comes to software updates, and it looks like that hasn't changed quite yet. The LG G3 is arguably the company's best smartphone ever released, has gained tons of attention from the media and buyers, but is still on an old version of Android 4.4.2 KitKat.
As a comparison we have HTC, Motorola, Samsung, and even Sony all delivering Android 4.4.3 or 4.4.4 KitKat to an array of devices right now, while LG is still stuck on Android 4.4.2 KitKat with the LG G3, and even last years LG G2.
The update to Android 4.4.2 KitKat for the LG G2 from last year didn't go very smooth, and caused a massive list of problems that plagued owners for months until another update arrived. It's possible that LG is taking its time on the LG G3 Android 4.4.4 KitKat update to make sure they get it right, but we've yet to hear any details at this point.
For now those with a T-Mobile LG G3 can head into settings > about phone > check for updates and get the latest and greatest software for your smartphone, just don't expect any significant changes or bug fixes.
All said and done we're hearing auto-brightness has been improved, the lockscreen camera shortcut is different, and a few sources suggest improved performance and battery life. We'll have to test this out ourselves, and we'll update the moment we know about a potential Android 4.4.4 KitKat update for the LG G3.

This article may contain affiliate links. Click here for more details.