LG G3 vs Galaxy Note 4: What Buyers Can Expect
With the Samsung Galaxy Note 4 release approaching, set to be announced early next month on September 3rd, consumers are starting to weight their options when it comes to buying a big-screen smartphone. Over these past months the reports and rumors have continued to arrive about the upcoming Samsung Galaxy Note 4. A device which is expected to replace the current Galaxy Note 3 while taking on both the LG G3 and upcoming iPhone 6.
With Samsung's Galaxy S5 and the HTC One M8 already available around the globe and from all major carriers in the United States, consumers have either picked up their device of choice or are waiting for something else. The Galaxy Note 4 is on a lot of users radar, but they may want to look at the LG G3 instead.
Read: LG G3 vs Galaxy S5: What Buyers Need to Know
Looking at what's currently available to Android users and potential buyers, the two biggest smartphones as 2014 continues are the Galaxy Note 4 and the impressive LG G3 that was announced back in May. Here we'll be taking a look at what they both have to offer, what's different, and everything we know so far about the upcoming Galaxy Note 4 before it gets announced next month.
On September 3rd Samsung is expected to announce the all-new Galaxy Note 4, the successor to the company's large Galaxy Note 3 from 2013. Rumors have been running wild regarding what to expect, and at this point most of the important details are pretty clear. And while we could see a few different versions released, the main global device is what will be important.
Rumor has it the new Samsung Galaxy Note 4 will finally have a new design unlike previous years, and offer up aluminum around the sides, and a different design approach that Samsung will focus on moving forward. This should be a big change for Note fans, for better or for worse, and we have all the details below.
Display
The screen size and quality is a huge factor many buyers take into consideration, and that will be especially true with the Note 4 or LG G3. The LG G3 is the first smartphone to arrive in the U.S. with a 2560 x 1440 Quad HD display (some call it a 2k display) and it looks gorgeous.
That being said, the new Galaxy Note 4 is heavily rumored to be sporting a similar 5.7-inch Quad-HD display, but using Samsung's impressive AMOLED technology. The 5.5-inch size on the LG G3 isn't too bad, and slim bezels keep the device rather sleek. However Samsung's been known for having bigger bezels.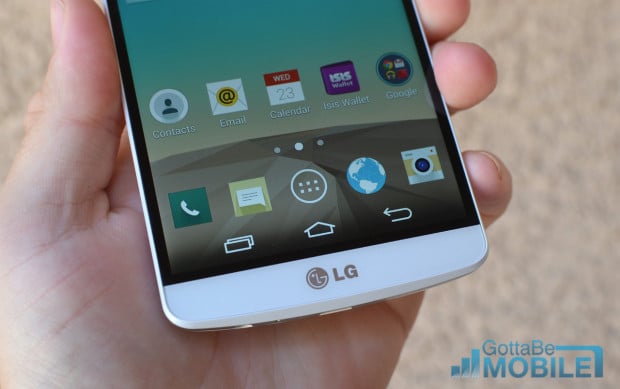 Some rumors are even suggesting the Samsung Galaxy Note 4 will actually launch with two different versions. One mainstream option for all markets, and a second device with a curved AMOLED display similar to the Samsung Galaxy Round from last year. This hasn't been confirmed, but we know Samsung's been working extremely hard on its bendable or curved display technologies.
This could be a major deciding factor for many that want something new and different if they already own the LG G2 or the Galaxy Note 3. At the same time, the LG G3 is no slouch either, and offers plenty to buyers right now.
Release Date
Before we get into the specs and a few of the design choices you'll be seeing from Samsung and LG, the most important thing is a release date. Those able to wait may want to see what Samsung has planned, but if you need a phone right now the LG G3 is available around the globe. It launched in the US back in July, and has been extremely popular.
So what about the Note 4? The announcement will take place on the 3rd, but with the LG G3 already available and the iPhone 6 quickly approaching, rumors are pointing to a very swift release and rollout of the Note 4 across the US and around the globe. We're hearing as soon as September 15th, but that's yet to be remotely confirmed. Last year the Note 3 was announced on the 4th, and released on the 25th of the same month.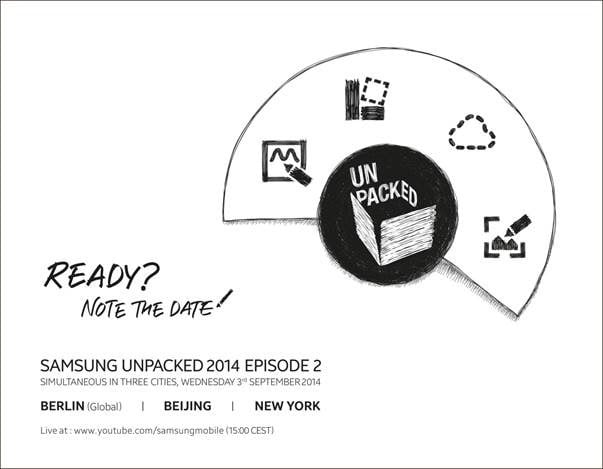 We could see a similar release date for the Note 4, or something quicker to battle the competition. At the same time, a new design could cause a few challenges along the way, pushing the release into October. We'll know soon enough, and will share all the details live from the Galaxy Note 4 launch event.
Design
The design will be important, mainly because just like the Samsung Galaxy Alpha, the new Galaxy Note 4 will finally be made of a durable metal frame. Rumors and leaks suggest metal and plastic both, so it isn't quite an HTC One device, but surely headed in the right direction.
The Galaxy Note 4 should have metal curving subtly around the edges of the display and wrapping around the entire device. This has been spotted in an array of leaks, but again, we'll have to wait until they actually announce it. Samsung confirmed "new design materials" would be on phones later this year, and metal is the likely choice.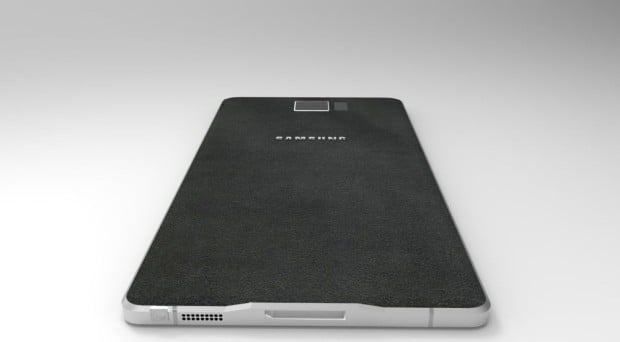 At the same time, many buyers love the lightweight and durable plastics used years prior, and that could be something that sways potential buyers. A big 5.7-inch device with metal could be heavy, and this is where the all-plastic LG G3 comes in. LG offers an brushed aluminum look to the G3, but it's made of plastic. It still looks and feels great, so it's a tough choice, one that each user will have to weigh.
Read: LG G3 Review
Those who've used a Note device in the past already know what to expect. The device will be nearly the same but with a new metal band around the frame, bottom facing speakers, and a new textured back not unlike the Note 3. The LG G3 though, has all the buttons, camera, sensors, and everything else around back.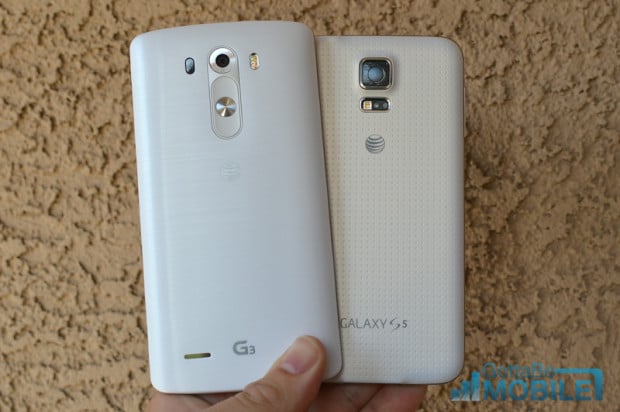 It's all about keeping the device sleek, bezels small, and things simple. Samsung may be trying too hard with the Note 4, or it may finally strike the perfect balance of size, design, and build materials.
Specs
While specs aren't everything, this is an important factor that many consider before buying a smartphone. However, these days most are so similar it's more the software that separates each device. That being said, below are the hard numbers regarding what prospective buyers can expect from the incoming Note 4, as well as the readily available LG G3.
Note 4 Specs (Rumored)
5.7-inch Quad-HD Display
Qualcomm Snapdragon 805 Quad-core with 3GB of RAM (or Samsung Exynos 8-core)
16 / 32/ 64GB storage with micro-SD support
16 Megapixel OIS camera, 2.1 front shooter
Android 4.4.3 or 4.4.4 KitKat
Fingerprint, heart rate, and UV sensor or scanners
NFC
3,500 mAh battery
S-Pen Stylus
LG G3 Specs
5.5-inch 2560 × 1440 Quad-HD display
2.5 GHz Quad-core Snapdragon 801 with 3GB of RAM
13 Megapixel camera with OIS+, laser auto-focus, 2.1-megapixel front camera
32GB storage and microSD card slot with up to 128GB support
Android 4.4.2 KitKat
3,000 mAh battery with wireless charging
WiFi, Bluetooth, NFC, 4G LTE, FM Radio, IR Remote
DLNA and Miracast support
Metallic Black, Silk White, Gold Shine, Moon Violet, and Burgundy Red color options
146.3 x 74.6 x 9.1mm
There's no question about it, both of these are extremely impressive devices, and will likely remain the top devices throughout 2014 and into 2015 as manufacturers start preparing new devices for the next release cycle.
Samsung's Galaxy Note 4 may have a few areas that it overshines the LG G3, mainly because it was released later in the year. The new Snapdragon 805 could offer better image quality and features, not to mention the 16MP OIS camera vs LG's 13, but we'll have to wait and see. Both devices are large, powerful, and built to impress.
Final Thoughts
At the end of the day this will be a tough choice for consumers. Samsung's tried and true Galaxy Note fans will instantly jump on the Note 4, but the LG G3 is seriously worth considering.
Calling any device "better" than another always comes with challenges considering each buyer has different needs, wants, budgets, and preferences. Which is why we simply lay out the details here, and let you decide for yourself. That being said, each device has a few features that make it shine over the other. LG has that laser auto-focus camera, Samsung has an aluminum design and a stylus. There's a lot to consider.
Again, we don't have all the answers, nor know what every user needs, but detailed above are all the important things buyers may want to consider, or need to know before making a purchase decision once the Galaxy Note 4 is officially released.

This article may contain affiliate links. Click here for more details.