Is the LG G3 Better than the Galaxy S5?
Lately all the attention has been on the Samsung Galaxy S5 or the aluminum HTC One M8, but the brand new just announced LG G3 has many consumers excited, and with good reason.
Over the course of the past few weeks we've received question after question when it comes to the G3. While we didn't know everything before, all the details are now finally official. That said, we've continued to get asked if the LG G3 will be better than the Galaxy S5, and which one consumers should buy.
Read: 5 Reasons to Wait for the LG G3
When it comes to which smartphone is actually "better" between the Samsung Galaxy S5 or the newly announced LG G3 there's a lot of things that come into play. User preference, software or hardware needs, carriers and even pricing. While we don't have all the answers, nor know what every user needs or wants, below are a five or so key features or differences that separate the two and may help consumers make the right choice.
Choosing the right smartphone is a tough task. Especially when the options readily available are as excellent as they are right now in the Android ecosystem. That being said, one of the most popular options is obviously the Galaxy S5, but the LG G3 is aiming to dethrone Samsung with their G3.
Early on reports and rumors all suggested the LG G3 would be taking direct aim at the Galaxy S5, and now that it's here, we're not so sure. Clearly LG is aiming for the top spot, but they'll have to go through Samsung, HTC and Motorola to get there. There's plenty of awesome features with both phones, but since the G3 is the newest device lets run through what all they have to offer, with a focus on the G3.
Display
The most important aspect (arguably) of any smartphone these days is the display. Yes the Android version and processor under the hood matter, but the display is what you're looking at most of the time. This is one area where Samsung has traditionally been excellent with its AMOLED displays, but the LG G3 takes the cake here. Samsung's Galaxy S5 has a stunning 5.1-inch 1080p HD display, but it's simply no match for the LG G3.
The LG G3 offers a 5.5-inch Quad HD (2K) display coming in with a 2560 x 1440 resolution. At the same time they've managed to offer some of the thinnest and sleekest bezels to date. This means that while the screen is much bigger than the Galaxy S5, the device isn't. At the same time nearly 77% of the front of the LG G3 is display, with the remaining percentage being bezel and plastic above and below for the logo, speaker grill, and sensors. All that space makes the screen seem smaller. With the LG G3 the images and video just pop, and it's really no contest.
Samsung's Galaxy S5 has bigger bezels than the Galaxy S4, and was a step backwards in favor of a waterproof smartphone, but LG stole the show here in 2014 and likely won't have competition til next year. Below is a quick video comparing the display sizes of the G3 and Galaxy S5 with the HTC One M8 and iPhone 5s.
The LG G3 is the first smartphone in the United States to offer a 2560 x 1440 Quad-HD display, but others outside of the US have such a feature. We've been hearing both Samsung and HTC have phones similar to the S5 and HTC One M8 coming later this year with improved features and a quad HD display to compete with LG, so we'll have to wait and see.
Many were concerned about the resolution impacting battery life, and that remains to be seen, but LG claims there won't be an issue and users can enjoy the bright, crisp, and colorful screen for hours and hours.
In the end the LG G3 wins here, handily, and nothing will compare for the foreseeable future. The screen is just amazing.
Software
Both the Samsung Galaxy S5 and new LG G3 run the latest Android 4.4.2 KitKat, but they each look very different from another. We have custom software over stock Android with both devices, and in the past LG has been criticized for looking too similar to Samsung's offering. With the LG G3 though, that won't be an issue, as it has an identity of its own.
LG opted for soft neutral colors, flattened user interface elements, and a refined and simple experience to round out the LG G3. While Samsung's software is awesome and has tons of benefits, many see all the "S-Apps" as gimmicks that aren't too useful and most end up turned off. That said, there's plenty to love from both devices.
The LG G3 runs on the absolute latest Android 4.4.2 KitKat, but has three new additions from LG themselves. Smart Keyboard, Smart Notice, and Smart Security. The keyboard is height customizable, adapts to the users accuracy (or lack-thereof) to improve typing, and even has a few gestures to keep your hands on the keyboard, rather than moving them up to tap for editing or to choose a next-word suggestion.
Smart Notice is the virtual assistant-type software addition we've heard about in various leaks, which aims to simplify the owners life. Little notifications pop down to alert the user. We were expecting more, but it still sounds useful. Anything from weather updates to reminders to call someone back if you've missed a call. Smart Notice handles all of this to remind us to do things, even advanced features like cleaning the smartphone or uninstalling unused apps. Surely this will all be customizable so you're not getting annoyed with popups, but the option is there if you'd like. LG also improved the security of the device with unlock methods like KnockCode which we've seen before, there's a remote kill switch to completely kill the device to deter theft, not to mention remote wipe and lock features for a lost device as well.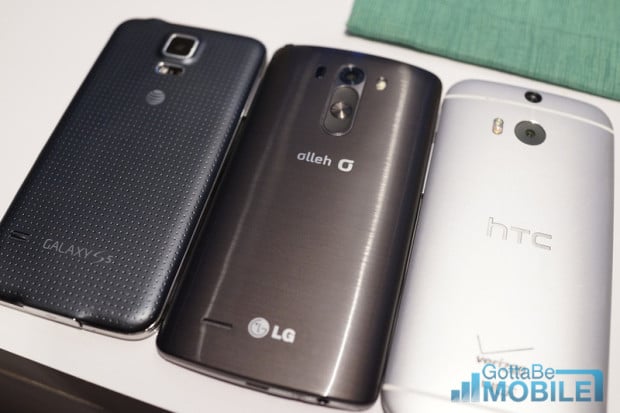 Samsung has a lot of similar options, and we'll need more time with the LG G3 before we can say for sure, but they both seem like great choices. In the end the new LG G3 software ran rather smooth and was extremely impressive. We found no lag, and using dual-screen mode to watch YouTube while browsing the web was as fluid as can be. Expect good things from the LG G3 software, and hopefully LG can keep it updated with the latest releases from Google.
Specs
This year the LG G3 arrived earlier than expected to battle the competition. As a result the hardware is about the same under the hood, rather than LG having the latest and greatest technology near the end of the year. And while specs aren't everything, here's a general rundown of what to expect.
LG G3 Specs
5.5-inch 2560 × 1440 display Quad-HD display
2.5 GHz Quad-core Snapdragon processor with 2/3GB of RAM
13-megapixel camera with OIS+, laser auto-focus, 2.1-megapixel front camera
16GB storage and microSD card slot with up to 128GB support (32GB model available)
Android 4.4.2
3,000 mAh battery with wireless charging
WiFi, Bluetooth, NFC, 4G LTE, FM Radio Antenna
DLNA and Miracast support
Metallic Black, Silk White, Gold Shine, Moon Violet, and Burgundy Red color options
146.3 x 74.6 x 9.1mm
Galaxy S5 Specs
5.1-inch 1920 x 1080p HD AMOLED display
2.5 GHz Quad-core Snapdragon 801 with 2GB of RAM
16GB internal storage (Micro-SD expansion)
16 Megapixel camera and 2MP front shooter
Android 4.4.2 KitKat with a new TouchWiz
USB 3.0, infrared port for remote
IP67 dust and water resistant
Fingerprint and heart rate sensors
2.800 mAh battery
Many rumors suggested the LG G3 would have a fingerprint scanner, offer water resistant claims like Samsung, or even be aluminum like the HTC One M8, but none of those came true. That being said, it still has an excellent design, the best display of any smartphone in the United States, and a brand new camera, which brings us to our next topic.
Camera
Samsung's Galaxy S5 is touted as having one of the best cameras on any smartphone, not to mention one of the fastest auto-focus sensors in the mobile market. However, LG may have blast through their Galaxy because the G3 is packing some special things. Samsung's 16 megapixel camera is impressive, and the LG G3 is only 13 megapixels, but MP's aren't everything.
LG has Optical Image Stabilization + technology to improve performance, especially during one-handed use. Samsung has a wanna-be camera stabilization setting, one which we'd actually suggest you turn OFF for best results. While we can't compare without having both, the LG G2 was excellent, and if the new features improve the G3 at all it should theoretically have the better camera.
This year LG integrated a DSLR-like laser auto-focus technology (a first for smartphones) and promises a 0.02 second focus that's faster than the speed of light, or faster than the blink of an eye. If you push the screen it instantly focuses, and then snaps a photo. No push to focus, waiting for it to focus, and tapping the shutter button like you do with Samsung. It's all one simple, smooth, and fluid motion from LG.
Samsung's been dealing with a few camera issues, freezes on Verizon units and other things, but in general the vast majority of owners love the camera experience. Again we can't give one the advantage this early, but based on the video above, specs, and our initial impressions the Galaxy S5 could be in trouble.
Above is another quick video showing off some awesome post-photo editing and focus features of the LG G3. This is popular with the HTC One M8 and that second camera, some Nokia devices, and is a half-baked feature of the new Google Camera. However, it's extremely impressive as you can see above with the G3, and should be something many camera enthusiasts look forward to.
Price
Full pricing details have yet to officially surface, but a few contests provided by T-Mobile suggests a $649 retail price for the LG G3. Of course this is just a suggested retail value for the G3, which they're giving away, but could be hinting towards the price.
For those worried about spending too much, the LG G3 will likely be $199 with a new 2-year contract for most carriers, which is the same price as the Galaxy S5. Verizon offers the Galaxy S5 for $599 contract free, while others like T-Mobile are charging the same $649 as mentioned above for the G3, so the price of these phones will likely be about the same.
Read: LG G2 vs LG G3: 5 Things Buyers Can Expect
Of course we can expect carriers to offer zero-down payment options like Verizon Edge, AT&T Next, and T-Mobile's contract free plans, and we'll have more details on those in the coming weeks as carrier pricing, release dates, and availability are announced.
Release Date
As mentioned above, we don't really have any new details regarding the LG G3 and a release date. Last month LG promised a global release date before the end of June, and today's announcement suggested a launch in 170 markets. We've heard the second week of June for the release date on multiple occasions, but outside of the US (in South Korea) the LG G3 will be available starting tomorrow.
The T-Mobile G3 giveaway mentioned above ends on June 29th, which could hint at a 29th release date on T-Mobile, which could carry over to other carriers. Last year the G2 originally arrived on AT&T and Verizon, and eventually T-Mobile and Sprint. We've seen leaks suggest a late July arrival for Sprint, and possibly a release next week for Verizon.
All said and done we have no solid details on an LG G3 release date in the United States, but carriers should announce more details and pricing in the coming days or weeks. Here's what they've announced so far.
Final Thoughts
At this point it's entirely too early to tell if the Samsung Galaxy S5 is best, or if the LG G3 is better than the Galaxy S5. So far our initial impressions of the hardware and design leave us enjoying the G3 more, the camera may be better, and they both have nearly identical specs under the hood and run the latest Android 4.4.2 KitKat.
There are a lot of similarities between both devices, and both have unique features. The G3 has that laser auto focus camera, but Samsung has a fingerprint sensor and heart rate monitor, not to mention is fully dust and water resistant. The LG G3 supports wireless charging, while Samsung makes you pay extra for that additional option.
Both the LG G3 and the Samsung Galaxy S5 are arguably the best smartphones on the planet, especially when it comes to Android devices, but we'll need more time with the LG G3 to say for sure. By all accounts it looks better on paper, and the screen is much better than any phone available today, so take everything above into account before making a decision.
The G3 should be in carrier stores soon and trying them both out in person may be your best bet, but hopefully the details above help prospective buyers make the right choice for their needs.

As an Amazon Associate I earn from qualifying purchases.