LG G3 vs HTC One M8: 5 Key Differences
After months of waiting the LG G3 was officially announced yesterday to plenty of excitement. LG hosted multiple events in the United States to highlight and showcase its brand new smartphone that should be coming to multiple carriers next month.
Following months of leaks and leaks all the details were finally revealed, with little surprises, and now that we've spent some time with the LG G3 in our hands-on coverage, we feel a few comparisons are in order. We've been getting constant questions about what device is best this summer, and will do our best to detail a few important differences each have.
Read: 5 Reasons to Wait for the LG G3
With the Galaxy S5 readily available and the HTC One M8 offering a beautiful aluminum design the choices for a new smartphone are tough this summer. Prospective buyers trying to make up their minds will want to read on to see how the G3 and HTC One M8 differ.
After spending time with the all-new LG G3 at the press event yesterday, we have a better idea of the device as a whole. While leaks and rumors revealed the specs and design, getting the flagship smartphone in our hands and on video comparing them to the competition was truly needed. Especially when you may be considering a device that's 5.5-inches in size like the LG G3.
Yesterday we detailed a few thoughts on how the G3 compares to the Galaxy S5, but below is all about the HTC One M8. Arguably one of the best build and better looking smartphones around, the HTC One M8 has a lot to offer, but can it compete with the G3? Here's our initial thoughts so far.
Design
There is no debating the design of the HTC One M8 is top notch. The company used a brushed aluminum unibody shell to design a sleek and fashionable smartphone with subtle curves and front facing speakers. The M8 is skinny and long to accommodate a 5-inch screen, but both top and bottom mounted front speakers. So while the design is gorgeous, the features make this 5-inch 1080p smartphone as long as the LG G3. Being nearly the same length you'd think the screen was the same, but it isn't. The G3 is 5.5-inch with a brand new 2560 x 1440 Quad HD display the HTC One M8 can't match, but more on that below.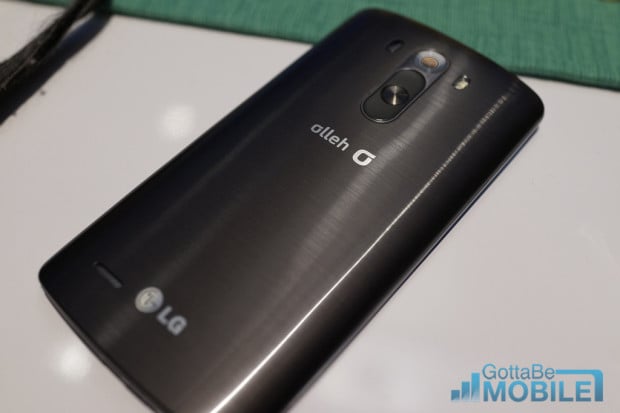 When it comes to overall design we're actually rather impressed with the LG G3. Yes it's made of lightweight plastic similar to some Samsung devices, but there's something about the G3 that just feels right in the hand. No Android smartphone can compare to the design and build quality of the HTC One M8 (in our opinion) but the G3 is pretty close. It feels better than the Galaxy S5, and the "metallic-skin" brushed aluminum looking design to the plastic housing is quite appealing to the eye.
The HTC One M8 design is focused around the dual camera on the back and the front facing speakers, while LG has a different approach. They want all screen, and simplicity. The front is 77% screen, and that 5.5-inch display pops. The rear houses the new and improved 13 megapixel camera and rear-facing buttons for controls. They each have pros and cons, but in the end you'll probably need to use them each yourself.
Read: LG G3 Release Date Breakdown
Personally the HTC One M8 just feels too long. Aluminum, speaker, bezel, buttons, and then the screen while trying to operate the device. The G2 you have a tiny bezel and instantly are interacting with that big display, and it makes the experience seamless and more simple.
Display
One of the key selling points of both of these devices is the display. That being said, there's an obvious winner here and that is LG. The LG G3 has the highest resolution display of any smartphone available in the United States. 1080p is a thing of the past (possibly) and the G3 sports a 5.5-inch 2560 x 1440 Quad HD display. Essentially four times that of a 720p screen, or what many are simply just calling a 2k display.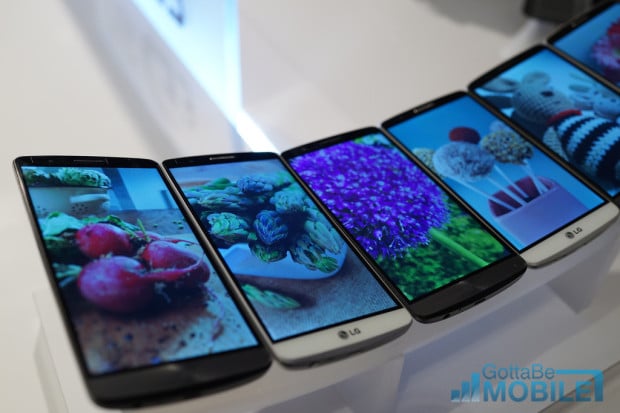 Add in the design focusing around extremely tiny bezels and looking at the phone it's nearly all screen in the front. Compare that to the HTC One M8 and you're seeing aluminum, glass, logos, huge bezels of black around the screen and more. Yes the speakers are exceptional, but the G3 just feels more natural to use. You're getting nothing but that display beaming back at you delivering content. It's rather nice from our few minutes with it.
All that being said, we still don't truly know how 2560 x 1440 resolutions will play out. It could impact battery life to a degree, although LG claims it won't. Some apps and games won't support the resolution, but should still look excellent on 1080p. We could see lag in some high-end mobile games, but again, that's doubtful. So far we aren't hearing any ill-effects, but will have to wait for it to fully be available around the globe to know for sure.
In the end the G3 handily beats the HTC One M8 in the screen department regarding size, resolution, and crispness. Oh, and the colors and viewing angles are pretty good too.
Specs
Hardware specs aren't everything, especially to average users. Most consumers just want a smartphone that runs smooth, plays any app or game they'd like, and will operate and function for years to come. Both of these phones will do exactly that. The G3 arrived earlier than previous G devices to compete with Samsung and HTC, and as a result they have nearly identical specs. For those who want a full numbers and spec sheet rundown, here you go:
LG G3 Specs
5.5-inch 2560 × 1440 display Quad-HD display
2.5 GHz Quad-core Snapdragon processor with 2/3GB of RAM
13-megapixel camera with OIS+, laser auto-focus, 2.1-megapixel front camera
16GB storage and microSD card slot with up to 128GB support (32GB model available)
Android 4.4.2
3,000 mAh battery with wireless charging
WiFi, Bluetooth, NFC, 4G LTE, FM Radio Antenna
DLNA and Miracast support
Metallic Black, Silk White, Gold Shine, Moon Violet, and Burgundy Red color options
146.3 x 74.6 x 9.1mm
HTC One M8 Specs
5-inch 1920 x 1080p HD display
2.3 GHz Quad-core Snapdragon 801 with 2GB RAM
32GB internal storage (Micro-SD expansion support)
4 Ultrapixel camera (new second Duo Camera) and 5MP front, dual flash
Android 4.4.2 KitKat with Sense 6
Front facing speakers, infrared port for remote
Aluminum unibody design
2,600 mAh battery
146.4 x 70.6 x 9.4 mm
The few specs worth noticing aside from the bigger display are important. The processor is slightly faster, the G3 has a 3GB RAM option, and the camera is much higher in resolution. The LG G3 has a larger battery that supports wireless charging, it's thinner yet slightly wider, but overall these are pretty comparable devices in terms of raw performance.
Camera
Another key difference between these phones is the camera. HTC hade a huge splash and continues to talk up the "Duo Camera" on the HTC One M8. There's a 4 Ultrapixel camera with bigger pixels, and an additional camera on back to capture depth of field. This allows for post processing to change focus after the photo, add 3D effects, and other neat things. It works great in daily use, and is rather impressive.
That being said, the LG G3 does something extremely similar, all software sided, without the need of a second camera. As a result it has a stunning 13 megapixel lens with Optical Image Stabilization+ for better shots in general, especially in low light, and the higher pixel count will come in handy. 4 Ultrapixels are enough for Facebook photos, but anything bigger you'll notice HTC photos not being as clear or crisp. They simply aren't big enough. Speaking of the post processing editing and focus features, watch LG's G3 do an excellent job of this with one lens, not two.
Samsung's Galaxy S5 tries to do something similar and the new Google Camera app from the Play Store does as well, but it appears the G3 may be one of the best options for post photo editing and focusing. The HTC One M8 does a great job too, but here we're seeing it without the compromise of the second camera.
The last and most important aspect of the camera is the all-new LG laser auto-focus sensor on back. This enables AF faster than the speed of light, faster than the blink of an eye, and should help users never miss an important or perfect shot for a photo. LG made the camera simple to use too. One tap of the display will focus on that point, then snap a photo once focused. All fast, easy, and simple. It should make for a great overall camera experience.
We'll need to fully review the LG G3 to decide just how good the camera is, but if it's close to being as solid as the G2, with these benefits mentioned above, it could be the best mobile camera of 2014.
Software
When it comes to software there's a major difference between both of these phones. While we have Android 4.4.2 KitKat on board, both companies use their own custom software to change things. LG has a brand new interface that's redesigned around simplicity, and HTC Has Sense UI 6.0 with the M8. If you've ever owned an HTC device you'll know what to expect, and it has a lot to offer. That said, the G3 is more simple, clean, elegant, and customizable.
HTC Sense UI has blinkfeed which is an awesome news and social aggregator delivering content to your screen. HTC Zoe makes camera and video highlights come to life, and tons of new little gestures to make the device easier to use and unlock. In fact, the new tap to wake features of the HTC One M8 they stole right from the LG G2. KnockOn to unlock the phone debuted with LG and those rear buttons, and it's slowly becoming a feature of other phones.
Above is a quick look at some new keyboard features available on the LG G3 aimed at improving the typing experience. LG is focusing on making things simple, safe, and secure with the G3. They've added KnockCODE security to the lockscreen, a remote kill switch to deter theft, and tons of other additional security features to the otherwise stock Android 4.4.2 KitKat experience.
While LG's software looks different than stock Android, it isn't skinned or changed nearly as much as the HTC One M8. Both have customizations over Android 4.4.2 KitKat, but it'll feel more stock Android from LG. In the end software is something each user will need to decide on for themselves, though.
Release Date
Above are a few of the important differences and full details of both the HTC One M8 and the new LG G3, so now you're probably wondering when the latter will be available. The HTC One M8 has been available for nearly two months from all major US carriers, and we're expecting more details from carriers for the G3 in the coming days.
Yesterday AT&T, Sprint, T-Mobile and Verizon all essentially confirmed they'll offer the all-new LG G3, but we have no details on a release date. LG promised before the end of June, but that's yet to be officially confirmed. T-Mobile has a giveaway that ends on the 29th, which could be the US release date, but again we're not sure.
We've seen early leaks suggest a launch within the first two weeks of June, but until carriers or LG share additional details and information these are only rumors.
Either way the wait shouldn't be longer than a month or so, but we're hoping for a concrete release date within the next two weeks. The LG G3 is reportedly available today in South Korea, for $50 or so less than the Galaxy S5, so stay tuned for more details as they arrive.
Those considering the HTC One M8 or even the Galaxy S5 may want to wait for more details and initial reviews of the G3 before making a move. The wait to purchase one is almost over, and it is poised to be one of the better devices of 2014.

As an Amazon Associate I earn from qualifying purchases.