LG G3 vs HTC One M8: What Buyers Need to Know
There are a lot of excellent options this year when it comes to choosing a new smartphone, especially now that most the major manufacturers have unveiled their flagship devices for 2014. With the HTC One M8 and LG G3 both available from all US carriers, as well as around the globe, consumers have a tough decision to make when buying a new gadget.
Both the Galaxy S5 and HTC One M8 were released in April here in the United States, and now they face some stiff competition from the LG G3, and upcoming Moto smartphones. If you're considering one of those, below we'll compare them both.
Read: 5 Reasons to Wait for the LG G3
Here we take a look at how the new flagship LG G3 compares to the all aluminum and stunning HTC One M8, a device many consider the best Android smartphone. We'll go over what they both have to offer, how they differ, and explain everything buyers will need to know ahead of making a purchase this summer.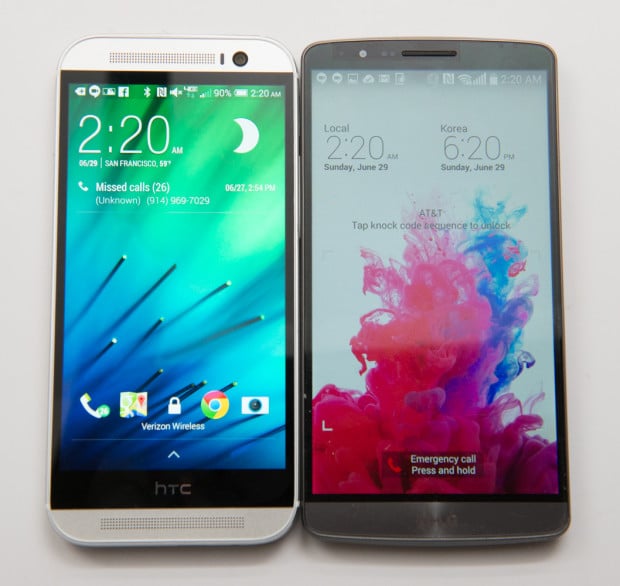 It's hard to say which device is actually "better" between the LG G3 or the HTC One M8 simply because there are a lot of things that come into play. Each user has different needs, wants, budgets, and preferences. While we don't have all the answers, nor know what every user needs, below are a few key features or differences that separate the two and may help consumers make the right choice.
Two devices are coming later this fall, likely around October. Those being the Galaxy Note 4 and the new iPhone 6. However, if you need a smartphone now and don't want to wait another 2+ months, the LG G3 and HTC One M8 are along the elite you should be considered, and here's why.
Design
LG and HTC couldn't be any different when it comes to the design approach. LG has something that works great with the same overall look and feel as the previous generation, which is buttons being on the back for a sleek design, and lightweight (yet durable) cheap plastic for its smartphone build materials. They've used plastic for years, although the LG G3 actually looks like it's made from aluminum. It has a brushed aluminum look to the plastic housing.
Read: HTC One M8 Review
HTC on the other hand, has continued to experiment and evolve its design into now what we know as the HTC One brand. The HTC One and in 2013, the HTC One M8, are made of a durable and beautiful brushed aluminum unibody shell. It's like the MacBook Pro of smartphones.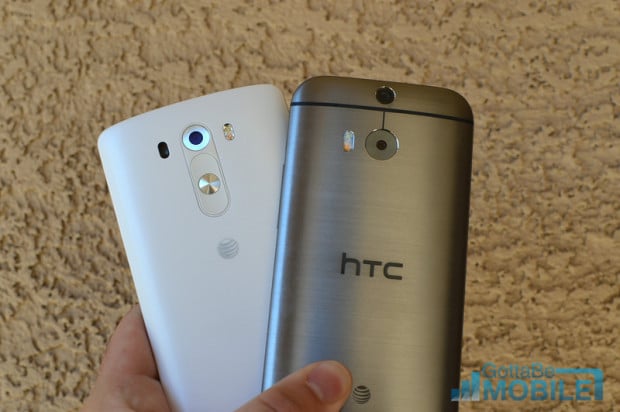 No one will argue which looks better. The HTC One M8 has brushed aluminum in a few different colors, the best speakers of any smartphone, ones that happen to be front facing (and we're not sure why others haven't offered the same) and overall just feel like a premium device. That comes at a cost, as they're pretty expensive and quite heavy. Thus prone to more damage from drops.
At the same time, the LG G3 is one of the better looking plastic smartphones around, and looks much more stylish than the Galaxy S5. Looks aren't everything, but it plays a role in many users purchase decision.
Read: LG G3 Review
While we're huge fans of the HTC One M8 and it received an Editors' Choice award, the LG G3 did too. The LG G3 is slightly wider, extremely lightweight, and nearly the same height yet has a much bigger and better overall display. The entire design of the G3 was to offer a sleek device that isn't too large, yet pack a massive and beautiful screen inside, and LG succeeded.
Display
Speaking of screens, these two devices have excellent displays but there's one major difference. The LG G3 has a beautiful 5.5-inch 2560 x 1440 Quad-HD display. Compared to a 5-inch 1080p screen from the HTC One M8. Considering these phones are nearly the same size but one has a much bigger screen is quite a feat, and impressive to say the least.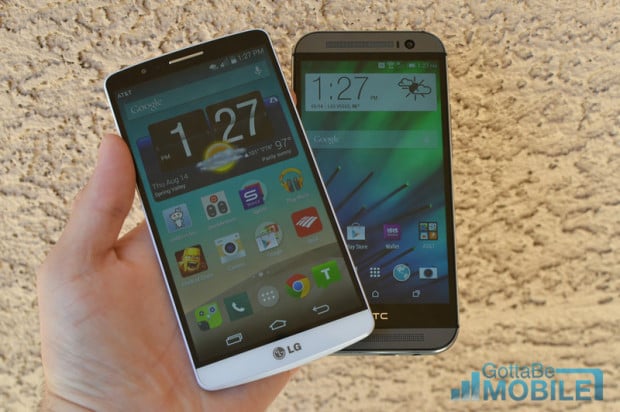 LG has slim bezels around its Quad-HD display, and this makes the device quite small even though the screen is massive. Nearing "phablet" land. However, it isn't all good. The 5-inch LCD3 screen on the HTC One M8 appears to have better brightness, slightly better colors, and the viewing angles appear to be superior, but only by a hair.
Either device will make users extremely happy, but we wish the LG G3 display had slightly better viewing angles and colors to match the HTC One M8 or Galaxy S5. Some users with brightness at 100% have reported the G3 dims and gets warm, but we've yet to experience such a problem. My phone's usually sitting around 25-40% screen brightness though, so take that report as you wish.
There's no clear winner here. If you want a huge screen to view content, watch videos, play games, and just enjoy to look at the LG G3 is probably a better choice. When the devices are the same size it's hard to argue, but the choice is yours.
Specs
While specs aren't as important as having a device that's fast, fluid, and will work for years to come, it's still something many consider while making a purchase. Below are the hard numbers for those interested, but it all boils down to these devices being nearly the same under the hood with a few small changes. That, and software will play the biggest role in how each device performs.
LG G3 Specs
5.5-inch 2560 × 1440 display Quad-HD display
2.5 GHz Quad-core Snapdragon processor with 3GB of RAM
32GB internal storage (Micro-SD expansion)
13-megapixel camera with OIS+, laser auto-focus, 2.1-megapixel front camera
Android 4.4.2 KitKat
WiFi, Bluetooth, NFC, 4G LTE, FM Radio Antenna, and Infrared laser for remote
DLNA and Miracast support
3,000 mAh removable battery with wireless charging
HTC One M8 Specs
5.0-inch 1920 x 1080p HD display
2.3 GHz Quad-core Snapdragon 801 with 2GB of RAM
16/32GB internal storage (Micro-SD expansion)
4 UltraPixel "Duo Camera" with 5 megapixel "Selfie" front facing camera
Android 4.4.2 KitKat
WiFi, Bluetooth, NFC, 4G LTE, FM Radio Antenna, and Infrared laser for remote
Brushed Aluminum design
Front-facing Speakers
2,600 mAh battery
As you can see from the breakdown above, these devices are extremely similar under all that plastic and aluminum. Essentially buyers main concerns should be on the screen size, aluminum design, battery life, or simply which manufacturer has the best software. And those are in no particular order. Any one of those may be the deciding factor for you.
Software
The biggest difference between these two phones aside from the screen and build materials is the software. While we have Android 4.4.2 (or 4.4.3) KitKat on both, they're extremely different. Each manufacturer skins Android after Google releases it, and HTC is known for being the heaviest when it comes to custom skins. HTC Sense 6.0 is much better than previous versions, but it could still be better. Many love it, but I've personally never been a fan.
That being said, LG is pretty wild and different too. This year they completely revamped their skin and it's something I could actually use on a daily basis, and find quite pleasing. Everything is very clean, minimal, and easy to understand. Sometimes I feel Sense is trying too hard, and needs to be more simple.
At the same time, each option has features to make them stand out. HTC copied the LG G2 from last year with the KnockON feature, allowing users to simply double-tap the screen while it's off to instantly turn it on. It sounds silly, but it's one of my favorite features aside from Google Now. They both have on and off screen gestures, and multiple little improvements.
HTC Blinkfeed curates news from any and all sources you pick and takes over one of your homescreens to deliver you content, which is nice, but many also disable this. The LG G3 has a size customizable keyboard, and you can even multi-task and use that massive 5.5-inch screen to have two apps open at the same time. This is something HTC can't offer.
The new changes delivered with the LG G3 are pretty impressive, although they appear to be following very quickly in Samsung's footsteps with many of them. However, we like what they're offering, and think many consumers will too. Both are worthy of your dollar, and heading into a nearby retail store to try them both out might help prospective buyers make up their minds.
Price
One other major thing many buyers think about while weighing their options is the price of a smartphone. And while both of these are $199 with a new 2-year contract (except Verizon has them for $99) from all US carriers, they each have slightly different prices for those buying off contract. The LG G3 is cheaper than the HTC One M8 from most carriers, and nearly $100 less from AT&T.
Verizon has both for $599 outright, while T-Mobile and Sprint are offering them for around the $600-$649 mark. That being said, all carriers now also offer payment plans. Letting you get the phone for free and make $25-27 payments monthly until paid in full, rather than signing a contract and paying $199 for the phone.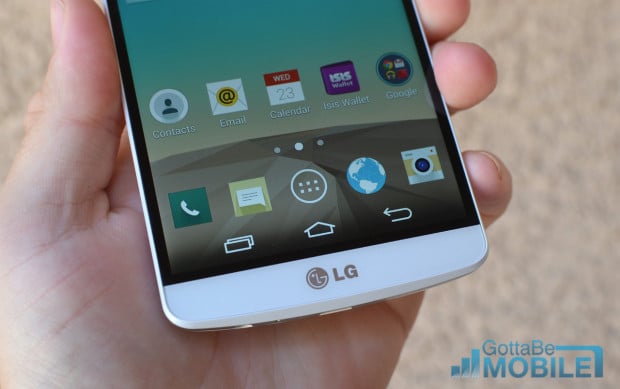 The new LG G3 is one of my favorite phones so far of 2014, but we'll have to see what other options arrive from Samsung and Motorola. When it comes to a premium device that feels like you're getting your moneys worth, the HTC One M8 is by far the most premium handset. All said and done, they're extremely similar regarding software and internals, and it's the outer appearance, price, and size that you'll want to think about.
Again, head into a store and check them both out, then make sure you've thought over everything we detailed above before making a choice.

This article may contain affiliate links. Click here for more details.