LG G3 vs. LG G2: 5 Things Buyers Can Expect
The LG G3 release date is quickly approaching, and consumers are looking forward to finding out more details regarding the smartphone and if it's worth waiting for. With the Samsung Galaxy S5 and HTC One M8 both up for sale throughout the United States, most of the attention has turned to what's next from LG.
The rumors have continued to arrive at an alarming rate over the past two months regarding the LG G3, but a few of the most important details were revealed this week from none other than LG themselves. We're talking about both the announcement date where we'll learn all about it, and the release date.
Read: LG G3: 6 Things We Know So Far
With the LG G3 quickly approaching and poised for a summer launch sometime in mid June, consumers will be looking at all the options available, or possibly even eying a discounted device like the LG G2 from last year. While we don't have all the G3 details quite yet, here we take a look at how the new flagship for 2014 stacks up against last year's best.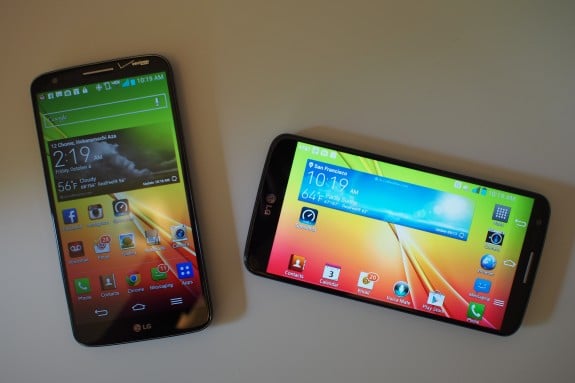 The LG G2 arrived in late 2013 well after the competition from HTC, Samsung, and even Motorola had released their devices for the year. Coming to the market in September it was late to the party, but came with a radical new design featuring buttons on the back, and some high end hardware better than anything else available.
At the current rate we're all expecting something similar to happen in 2014 with the LG G3, and some rumors even claimed it would arrive in August with the latest and greatest new mobile technology. However, all those have been put to rest and the LG G3 will most likely be announced on May 27th in New York and London, and LG themselves have already confirmed it will be released around the globe before the end of June.
With an announcement and release date both already in the books and coming soon, here we'll take a look at how it will stack up against the competition, and its sibling released last year.
Design
When the LG G2 arrived it shocked many consumers with a completely new approach to buttons on a smartphone. Rather than having side-mounted power and volume controls everything was moved to the back. LG claimed the device was so thin this was needed, but in reality it was just a design choice. A small hump shown below was the dedicated power and wake button, which also had a nice glow when you received a notification or email, and below and above were the volume buttons.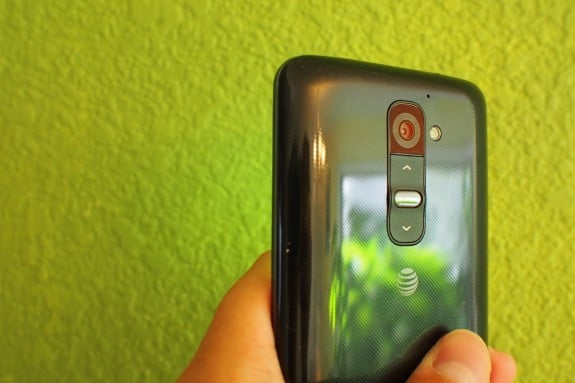 These were neatly placed right where most smartphone users place an index finger while using a device. It was a daring move, and one that many were worried about, but after using the device for a few days consumers quickly got use to the move, and many now prefer it. I for one loved the idea, not to mention putting these on the back made LG software come up with some innovative ways to easily turn on the display, but more about KnockON below.
The LG G2 still employed a plastic design like previous LG released, but the large 5.2-inch HD display was wrapped around some of the thinnest bezels of any smartphone in 2013. This made the screen large, but the device overall physical size rather small. It was a nice touch, and LG will be building off of that move with the LG G3. Early leaks suggest it will have an even smaller bezel and simply be more "screen" than any phone to date.
Read: Galaxy S5 vs LG G3: 5 Things You Should Know
Based off of all the rumors and leaks the LG G3 will have a brand new 5.5-inch display but the bezels will be so small it will be roughly the same size as the G2, or possibly even physically smaller, and more thin. Sounds nice right? The image below is a recent leak showing the newly redesigned rear-facing buttons, but the aluminum power button could also house a fingerprint scanner.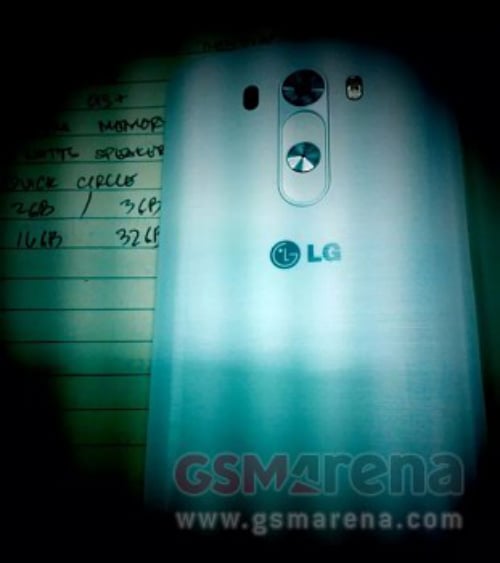 Again these are all rumors for now, but more than enough leaks and evidence supports the fingerprint scanner, 5.5-inch QHD display, and thin bezels. We've heard the device will be all aluminum like the HTC One M8 but the leak above doesn't support that, and no other LG devices in the past have been aluminum. They're aiming for Samsung here.
Display
We can't talk about the design or the G3 without mentioning the display. LG is aiming to offer the best display of any smartphone released in the US, and will likely be the first manufacturer to offer a "Quad-HD" 2560 x 1440 resolution smartphone stateside. A few others outside of the US have something similar, but none are on track to arrive in the US.
The 2560 x 1440 5.5-inch screen is rumored to be stunning, crisp, and looks to outpace the Galaxy S5 in every way. Initial rumors suggested Samsung would offer QHD, or a 2k display, but they failed to deliver.
The image shown above is a leaked photo of a sister product for the LG G3 outside of the US, but most rumors are speculating that something similar, at least according to the front, will be employed on the LG G3. The screen will be huge, bezels will be minimal, and a newly designed software interface on Android 4.4.2 KitKat will be included.
We can't say much about the display until it's unveiled, but several screenshots have leaked confirming the 2560 x 1440 QHD display. How this will affect battery life remains to be seen.
Software & Specs
One thing many prospective buyers will want to consider is the software, and more importantly, the specs that will be included. The LG G2 is an extremely efficient and powerful quad-core smartphone with some of the latest specs around. However, LG always one-ups that each year, and the LG G3 is slated to be one of the most powerful smartphones of the year.
Without getting too technical, below is a quick rundown of the specs for the LG G2, and what rumors are claiming we'll see on the LG G3.
LG G2 Specs
5.2-inch 1920 x 1080p HD display
2.3 GHz Snapdragon 800 Quad-core with 2GB of RAM
16/32GB storage (no micro-SD support)
3,000 mAh battery
Android 4.4.2 KitKat (after update)
13 Megapixel OIS camera with 2.1 front camera
Stereo Speakers
IR Blaster Remote
Buttons on back
LG G3 Specs (Rumored)
5.5-inch 2560 x 1440 Quad-HD display
2.5 GHz Snapdragon 801 (or 805) with 2 and 3GB RAM
16/32GB storage (Micro-SD included this year)
3,300 mAh battery
Android 4.4.2 KitKat (new interface changes)
16-20 Megapixel OIS camera with 2.1 front shooter
Fingerprint Sensor
Stereo Speakers
IR Blaster Remote
Improved Buttons on the back
We've heard a few small rumors of the LG G3 having the same IP67 dust and water "resistant" certification as the Galaxy S5, but that's yet to be confirmed. There's also a few small rumors about an aluminum design or front facing speakers, but those seem unlikely at this point.
Overall the bigger display will be a welcomed edition if the physical device size doesn't suffer, and the fastest quad-core processor should keep apps, games, movies and web browsing fast and fluid for years to come.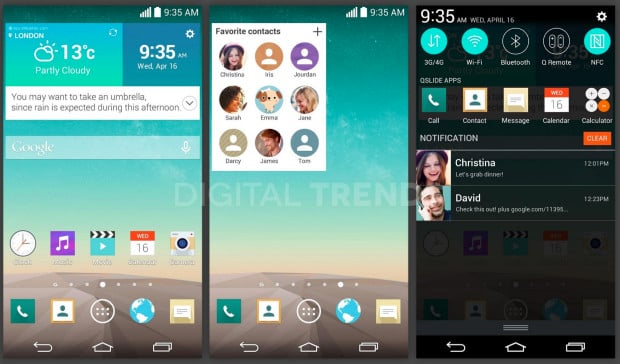 Lastly the image above, revealed by DigitalTrends, shows a brand new software interface over the top of Android 4.4.2 KitKat. The hardware will be getting a major boost to improve performance, but so will the software. We're seeing a newly redesigned interface with a more flat look, simplified icons, and rounding everything out similar to the Galaxy S5.
These early leaks suggest a virtual assistant (like the take an umbrella popup on the left of the image above) will give visual and even audible notification for weather, alerts, traffic and more with a new system in place from LG, not to mention all the companies neat Knock features. KnockON debuted with the LG G2 which allowed a double tap to turn on or off the display, since the buttons were on the back.
It seemed like a gimmick at first, but quickly became one of my favorite but most simple features. The same option is now available by 3rd party apps, and the new HTC One M8 adopted a similar method to turn on the screen with ease. We're expecting plenty of neat software tricks from the LG G3, and only have a few more weeks until we know all the details.
Carriers
The LG G2 first launched on AT&T in the United States, and Verizon quickly offered their own version with a different design to the rear buttons, wireless charging, and 32GB of storage. The phone eventually arrived on Sprint and T-Mobile, and around the globe.
So what can prospective buyers expect from the LG G3? LG has confirmed it will be the biggest launch in history for LG Mobile. Arriving on AT&T, T-Mobile, Sprint, Verizon, and US Cellular, and possibly more shortly thereafter, and be the biggest global smartphone release ever by LG. They have high hopes for the new smartphone, and it sounds like all carriers will probably be on board.
Release Date
The final specs and actual exact release date are the only two mysteries that remain. We've been hearing rumors of a  "summer release" for months, and LG confirmed that earlier this week. The LG G3 will launch in the United States across all carriers mentioned above before the end of Q2 2014. That means it will be available in stores before the end of June.
May 27th is the announcement date, and we're expecting 2-3 weeks to pass and a mid to late June release date around the globe. AT&T could be up first, as they traditionally are with LG devices, but the company has a great partnership with Verizon Wireless as well. One report suggests a global release on all carriers in the same fashion as the Galaxy S5, and HTC One M8.
When the LG G3 does arrive it'll likely be $199 with a new 2-year contract, but that means the LG G2 will see a price drop even further than it already has. Meaning users will have to decide if the extra cash is worth it or not for the LG G3. Hopefully the details above will help buyers decide.

This article may contain affiliate links. Click here for more details.