LG G3 vs LG G2: What Buyers Can Expect
When it comes to choosing a smartphone the choice can be quite hard with so many features and different options, but for those on the lookout for something new this summer the LG G3 was just announced to get your attention.
While the Samsung Galaxy S5 and HTC One M8 are both already available and selling quite well, especially the Galaxy S5, many users may have passed them up in favor of waiting for the LG G3 or more details on the upcoming iPhone 6. There's tons of options available, from the G2 last year, to the latest and greatest in 2014.
Read: Is the LG G3 Better Than the Galaxy S5
Whether you're using the LG G2 from last year and are considering making a switch to the G3, or even on an older device and debating buying a brand new phone, here's what buyers can expect and need to know about both phones. The LG G2 is still a quality smartphone, but for a few more dollars the latest and greatest could be just what prospective buyers are looking for. Read on for all the details.
Last year the LG G2 surprised many by offering an all around excellent smartphone that rivaled the Samsung Galaxy S4. The company took a daring approach by putting all the buttons on back in an nontraditional way, but it's been quite popular with consumers.
Rather than fumbling with a device to reach the top for a power/wake button, all the buttons were moved to the back where most smartphone users calmly rest their index finger during use. This allowed for a smoother and simple overall smartphone design, as well as extremely thin bezels around the screen. Meaning you'll be enjoying a large display without a bezel around it taking up space and hindering the experience.
This was actually a pretty impressive move and the LG G2 has some of the smallest bezels around its 5.2-inch screen of any smartphone. But just like most things, a new and better option has now been announced. Insert the LG G3 that was fully announced, revealed, and caught on video this week. Below is everything you need to know about the new LG G3, and how it compares to the G2 of 2013.
Design
As we briefly mentioned above, everything about the design on both these handsets are aimed at two things. Those being the buttons on the back, and having a huge bright HD display front and center for users. The LG G3 has an even bigger 5.5-inch display coming in with a huge 2560 x 1440 resolution, kept the bezels small to keep the experience focused on that crisp Quad-HD display, and redesigned the buttons on back for an improved experience. Below is the original G2, and the new and improved G3.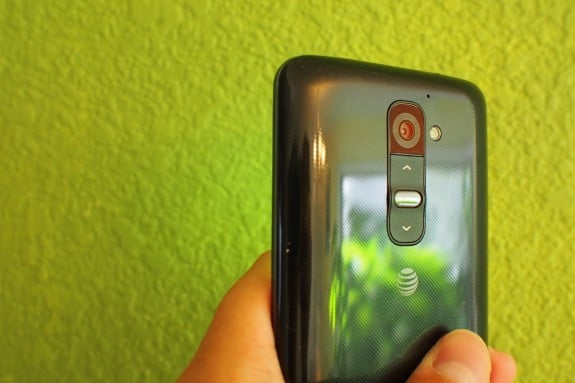 As you can see above the LG G2 has a rather unique design. The rear mounted buttons weren't flush and had quite the hump, which was a complaint of many. That aside it had a great 13 megapixel camera, single LED flash, and tons of other impressive design cues. However, it felt very cheap and plastic. Below is the new G3, and you'll instantly notice the differences.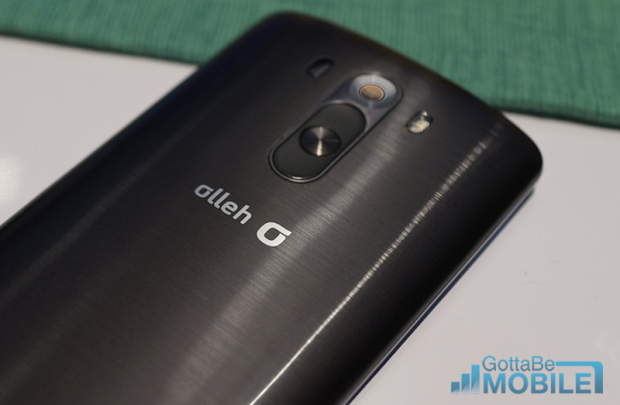 The G3 has a flush design for a more ergonomic grip, a brushed aluminum look and feel (even though it's plastic) and even a slight groove for a users finger to easily locate and turn the volume up/down, or to wake the device. It's a subtle change, but one that certainly feels better from our limited hands-on time with the device.
Overall the LG G3 feels better than its predecessor in every way. It's more durable, comfortable, and has a more premium feel than the Galaxy S5, but can't quite compete with the all aluminum HTC One M8 or iPhone 5s. It's one of the best Android smartphones of 2014.
Display
One of the key and headline features of the new LG G3 is the display, and it's one of those features prospective buyers will need to consider before making a choice. The 1080p HD screen in the G2 (or Galaxy S5 for that matter) still look excellent and are extremely crisp and sharp, but LG took things up a notch and the G3 is the first smartphone in the United States with a 2560 x 1440 quad-hd display. Offering the highest pixel density around. One LG claims truly makes pictures, video, apps, games and more come to life like never before.
As you can see from the image above, the device has a large 5.5-inch display but you'd never notice by looking at it or holding it in your hand. Thanks to locating the buttons to the back LG was allowed to have nearly zero bezel around the screen for an exceptional design. Our initial hands-on time with the G3 left us extremely impressed, even though we'll need more time with it.
The LG G2 still has a great screen, and if discounted by carriers should keep consumers happy for years to come, but 2K displays are the future of mobile. LG touts the screen as a stunning improvement that doesn't hinder battery life, but we'll need to spend more time with it to decide if pushing more pixels causes a drop in battery life for users.
Software
The LG G2 was recently updated to Android 4.4.2 KitKat, but still won't look anything like the LG G3 for the foreseeable future. LG has announced and designed an all-new and highly improved interface for the G3. It still runs Android 4.4.2 KitKat, Google's latest mobile OS release, but looks a bit different. Everything is geared to be simple, easy, and clean.
Below is a quick video showing how Android 4.4.2 KitKat looks and runs on the LG G2, and below it is our quick hands-on with the G3, and some of its new software features.
Many of the changes to Android 4.4.2 KitKat on the LG G3 were aimed at simplicity in mind. From a more secure lockscreen with KnockCODE, a kill switch to deter theft, and even an option to hide personal files and pictures right on the device from prying eyes. LG has a lot of small changes, but again, we've only had a few minutes with it and will go in depth during a full review.
LG's tweaked the keyboard to be much improved as well. Making sure typists are more accurate, no matter if the screen is too big for their hands or not. Check it out in action.
When it comes to software we're not exactly sure what LG has planned, but it's likely the LG G2 can expect an update to be in-line with the new LG G3 sometime this summer. Both are on the latest version of Android, but look vastly different. Thankfully the quad-core processor keeps them both running smooth, and they'll both perform excellent for years to come.
Specs
Speaking of specs, the LG G3 isn't a huge jump in technology and specs, but it's not what's under the hood that's important. It's the buttons on back, and the camera, which is something we'll talk about more below. That being said, those who want to know the detailed breakdown on the specs, here it is:
LG G3 Specs
5.5-inch 2560 × 1440 display Quad-HD display
2.5 GHz Quad-core Snapdragon processor with 2/3GB of RAM
13-megapixel camera with OIS+, laser auto-focus, 2.1-megapixel front camera
16GB storage and microSD card slot with up to 128GB support (32GB model available)
Android 4.4.2
3,000 mAh battery with wireless charging
WiFi, Bluetooth, NFC, 4G LTE, FM Radio, IR Remote
DLNA and Miracast support
Metallic Black, Silk White, Gold Shine, Moon Violet, and Burgundy Red color options
146.3 x 74.6 x 9.1mm
LG G2 Specs
5.2-inch 1920 x 1080p HD display
2.3 GHz Snapdragon 800 Quad-core with 2GB of RAM
16/32GB storage (no micro-SD support)
3,000 mAh battery
Android 4.4.2 KitKat (after update)
13 Megapixel OIS camera with 2.1 front camera
Stereo Speakers
IR Blaster Remote
Buttons on back
The key differences here are the bigger 2560 x 1440 Quad HD display, the improved camera, micro-SD card support, and the redesigned buttons on the back. One major selling point is the camera, and that brings us to our next topic.
Camera
The LG G2 last year had one of the best cameras on a mobile device. Delivering one of the first Android phones with Optical Image Stabilization on its 13 megapixel camera. However, the new G3 has two major changes going for it. Well, three. For one it features an improved Optical Image Stabilization+ technology, as well as a laser auto focus. The Laser Auto Focus was a major surprise, and is something only high-end DSLR cameras usually have, and is another first for smartphones.
Third is a new bokeh or blurring effect similar to the all-new HTC One M8 where the user can blur images, and change focus points after they take a photo. Meaning if you don't get it right in the first shot, after the photo you can tweak and improve the image. Here's a quick look at this new feature on the LG G3.
The laser auto focus promises to deliver some of the best and fastest focus of any smartphone, and having an OIS+ 13 megapixel camera should really improve the photography experience on the G3. Users who grab last year's flagship won't be let down, but just know the G3 could have the best mobile camera of 2014.
Release Date & Price
Consumers trying to decide on buying the Galaxy S5, the new LG G3, or opting for an older device like the G2 will likely have the price tag in mind. The LG G3 still isn't available in the United States, nor do we have a release date. That being said, it'll almost 100% be priced at $199 with a new 2-year contract, just like almost any other smartphone as of late.
We could see a $249 2-year contract asking price, but that's doubtful. The LG G2 however, can be found for as low as $49 with the same 2-year contractual agreement, so that's where the hard choice comes into play. At the same time most carriers now offer payment plans where you'll be able to get the G3 for round $25-27 per month, as a monthly payment in addition to your cell bill.
The LG G2 is available now from T-Mobile, Sprint, Verizon, and AT&T, and we're expecting all four to carry and deliver the new LG G3 before the end of June as well. Although some rumors have the Sprint G3 coming in July. Meaning the wait should be long, and prospective buyers should be able to head into a nearby store and try it themselves if the details above weren't enough to help you decide.
We'll be sure to review the all-new LG G3 as soon as possible and share even more thoughts and details for those interested.