LG G3 vs Moto X+1: What Buyers Can Expect
With the Moto X+1 release date in sight, smartphone buyers and those looking to upgrade are likely starting to compare what's next from Motorola to everything else available today. One of those is the popular new LG G3, the company's impressive flagship smartphone that launched back in July.
Here we'll take a look at what the new LG G3 has to offer over its competition, and how it will stack up against the customizable Moto X+1 when it gets released later next month. They have a lot of differences, ones buyers will need to know about.
Read: Moto X+1 Release Date & Rumor Breakdown
Thanks to excellent hardware and a stunning display the all-new LG G3 has been an extremely popular device. So popular in fact, many have chose it over the Galaxy S5 which was released way back in April. There are a lot of choices these days, and picking what's best for you can be a challenge. Current LG G2 or Moto X owners may be looking to get the next best thing, or jump to something different so here's what you'll need to know about both, and what to expect from the new Moto X+1.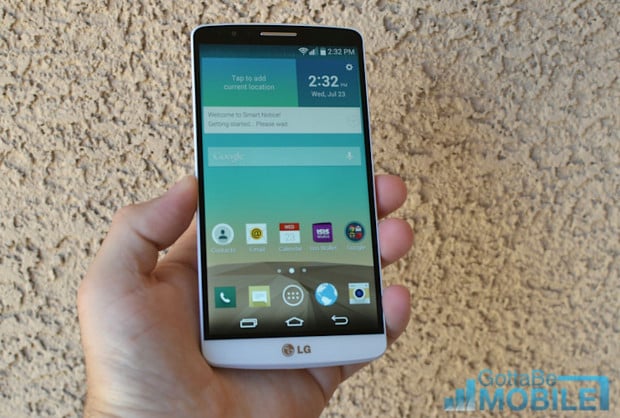 The Moto X+1 is expected to replace the current and somewhat popular Moto X that launched back in 2013. Motorola shocked the mobile world and buyers when they announced the fully customizable smartphone, and it was a big gamble. The Moto X had users choosing from 18 different colors, accent colors, engravings, and eventually even backs made of real wood like Bamboo or Walnut.
It was a great approach, and a nice touch, but the overall specs of the device were somewhat underwhelming and didn't stack up well against the Galaxy S4 or LG G2. This year though, Motorola aims to offer something more in-line with the competition, while hopefully still undercutting them on cost. The LG G3 is a powerhouse device with top-tier specs across the board though, so it's an uphill battle.
Release Date
First things first is the release date, since the LG G3 is already available, buyers will want to know if they should snag it now or wait to see what the Moto X+1 offers. Reports last week "confirmed from Motorola sources" that the global rollout for the new Moto X+1 will begin on September 10th. This doesn't mean that's when all carriers in the United States will offer the phone, as AT&T had a short exclusive last year, but it's likely the phone will be available on all major carriers before the end of the month. Other reports suggest the Verizon Moto X+1 won't arrive until September 25th.
Motorola will announce the phone at the beginning of the month at an event in Chicago September 4th, and we'll likely learn the full details regarding the launch date at that time. Currently the LG G3 is available for $99 with a new 2-year contract from Verizon, or $199 from all other major carriers, not to mention some regional carriers also have the phone available.
LG G3 commercials continue to flood the TV, and it's gaining steam, so Motorola needs to have something coming soon if they want to steal some sales from LG, Samsung, and even HTC.
Design
The design of both of these phones will be completely different. Just like the LG G2, the new G3 has all the buttons on the back, in order to keep the sides clean enough to offer a nearly bezel-free device. Despite having a large 5.5-inch screen, the phone isn't much bigger than most 5.0-inch devices like the Galaxy S5. Meaning that the LG G3 will only be slightly larger than the Moto X+1, but will have a much bigger screen.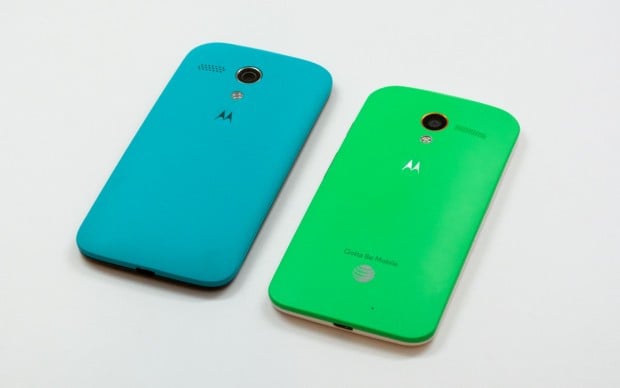 Motorola's design is all about customization, as well as front facing speakers. Adopting the popular design from HTC, the new Moto X+1 will have dual-front facing speakers. Something all manufacturers should offer but don't. Add in all the customization from last year, and more, and it will be a unique device to each owner if they take that route.
LG though, only has a black, white, and gold color option for the LG G3. They're both made of plastic, but the G3 has an aluminum look and feel to the plastic housing. Latest leaks do however suggest the new Moto X+1 will have a metal ring on the outer edges for improved durability.
In terms of design from a buyers perspective, it's hard to say. Everyone is different, and you'll need to decide if the sleek design of the G3 is what you want, or the customization and front facing speakers on the Moto X+1 is more your style.
Display & Specs
Another key aspect of both of these phones for prospective buyers is the display size, and the overall specs each phone has to offer. The LG G3 is the clear winner in the screen category, and most likely in raw specs too. Even if numbers aren't everything.
The LG G3 has a large 5.5-inch 2560 x 1440 Quad-HD display, the first of its kind in the United States. The Moto X+1 though, won't be a small-screened device like last year, and rumors suggest a large 5.2-inch 1080p HD panel is on board. It isn't quad-hd, but should still look excellent. If you don't want a huge phone, the LG G3 may be pushing your limits, but it's a lot smaller and easier to hold than one might think. Here's the cold hard numbers, for those interested.
Moto X+1 Specs (Rumored)

5.2-inch 1920 x 1080p Full HD Display
2.5 GHz Snapdragon 800 quad-core with 2GB of RAM
16/32GB storage with micro-SD expansion included
Android 4.4.4 KitKat
12 Megapixel rear and 2.1 front cameras
Dual front-facing speakers (aimed at the HTC One M8)
2,900 mAh battery
Tons of customization options
LG G3 Specs
5.5-inch 2560 x 1440 Quad-HD Display
2.5 GHz Snapdragon 801 with 3GB of RAM
32GB storage with micro-SD expansion included
Android 4.4.2 KitKat (for now)
13 Megapixel camera with Optical Image stabilization and a laser auto-focus
2.1 front camera
3,000 mAh battery (removable)
Buttons on the back
They aren't neck and neck, but are a lot closer than you'd think. Yes the Moto X+1 reportedly has the same processor used in last years LG G2, Galaxy S4, HTC One and others, but it's still a highly impressive and powerful chipset that should keep a smartphone running buttery smooth for years to come.
Read: Moto X Review
Last year the Moto X was a dual-core phone, but had 8 processors to handle always-listening mode for hands-free voice controls, and much much more. We're expecting the same again in 2014 with the X+1, so the quad-core details aren't all that important. What is important, is how Motorola will use those to their advantage, unlike LG.
Software
The Moto X had some of the best software in all of 2013. Delivering a nearly stock version of Android 4.3 Jelly Bean, and was the first smartphone that wasn't a Nexus to receive the update to Android 4.4 KitKat when it was released in November. Motorola has a stock Android experience as Google designs it, only they've added a few useful features, rather than gimmicky software like we've seen from Samsung or LG.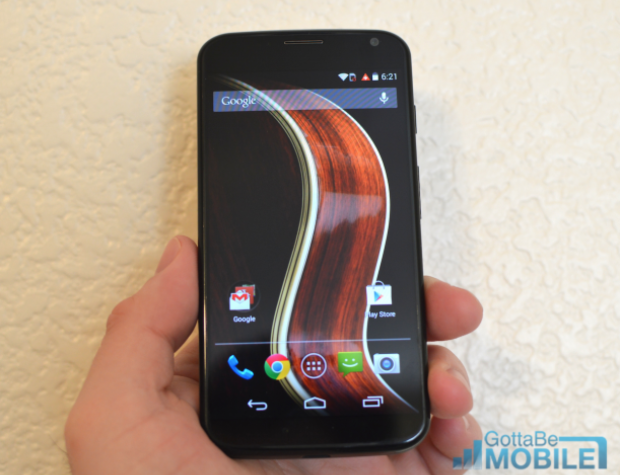 Both the LG G3 and Moto X+1 run Android 4.4 KitKat, but the X+1 will have the latest Android 4.4.4, while the LG G3 is still currently lagging behind on a few maintenance and security updates to Android 4.4.3 or Android 4.4.4 KitKat.
The difference won't be what version they're running, but what they do with it. The Moto X always-listening and hands-free modes were some of our favorite, not to mention the active display that would lightly illuminate to show the user important notifications. LG doesn't offer that, but they do have an array of customization. Things like KnockON, dual-window mode, smart notice, and one-handed operation modes if that 5.5-inch screen is too big.
You'll probably want to get your hands on both devices before you decide, as this one will be a toss up. Lastly, it's worth mentioning that LG has a major skin that changes the look and feel of Android. It's their best yet, but will make updates slow. Motorola is known for quick updates as of late, and users can expect it to receive Android 4.5or 5.0 (Android L release) before the LG G3.
Price
When it comes to price there are a lot of options, and tons of choices to consider. Meaning this is a hard thing to discuss considering each user has different needs, wants, budgets, or may even be tied into a contract. These days most US carriers also offer payment plans, which helps up front, but will still see you spending more on the LG G3.
Currently the LG G3 is available for $599-$649 outright from all major US carriers. However, you can get it for $199 with a new 2-year contract ($99 through Verizon) or a monthly payment plan consisting of monthly payments around $27. It's a decent deal, but the Moto X+1 will be cheaper.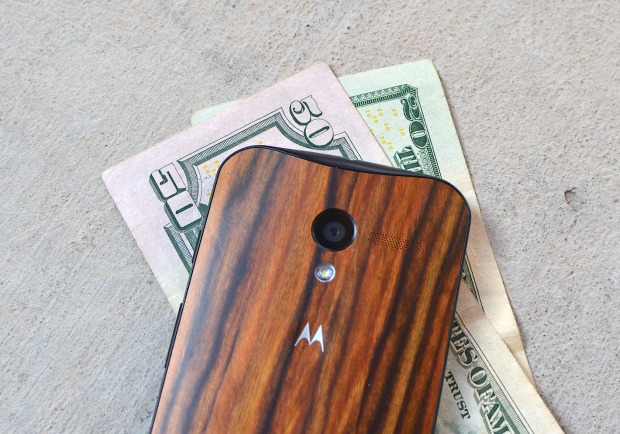 The Moto X launched at a high price, but has been $399 contract free, and $49 on contract from most carriers for months and months. In fact, the Moto X was on sale for most of August costing just $299. Making it a little more than most phones on contract, but that was an outright, contract-free price.
The new Moto X+1 pricing hasn't been revealed, but rumors suggest it may match and replace the current Moto X at $399 when it gets announced and released next month.
There has been speculation that they'll offer a one-day sale for $199 on the new Moto X+1, but that's unlikely. The wood and leather backs will likely remain a $25 charge. All that being said, most of the details regarding the price are from unreliable sources or random leaks from UK retailers, so we'll have to wait until September 4th to know for sure.
Final Thoughts
The LG G3 is already what many consider one of the best smartphones of 2014, but the Moto X+1 is shaping up to be a great alternative to the LG G3, or even the Galaxy S5. If expensive phones that all look the same aren't your thing, consider waiting until the September 4th unveil of the new Moto X+1 (or Moto X2) to see what is has to offer before making a smartphone purchase as this summer comes to an end.
Both phones will likely be excellent no matter which route you choose. So again, we'd recommend trying them both out in-store once the Moto X+1 becomes available later next month.

This article may contain affiliate links. Click here for more details.