LG G3 vs Nexus 5: 7 Things Buyers Need to Know
Now that the new LG G3 smartphone is finally official, with all the details being revealed this week, consumers are starting to realize they have plenty of options in 2014 when it comes to choosing a flagship smartphone.
Between the Samsung Galaxy S5, HTC One M8, and even the impressive Nexus 5 from last year, which was also made by LG, all are viable options and alternatives to the new LG G3 when it comes to Android smartphones. With all of those available but the G3, below we'll rundown a few things that separates them from each other.
Read: Is the LG G3 Better than the Galaxy S5?
With so many choices available including cheap but excellent options like the Nexus 5 consumers are wondering if getting the LG G3 is worth it. While we'll need to fully review it for a final opinion, now that we know plenty about it, below is our thoughts on how the LG G3 compares to the LG-made Google Nexus 5 smartphone.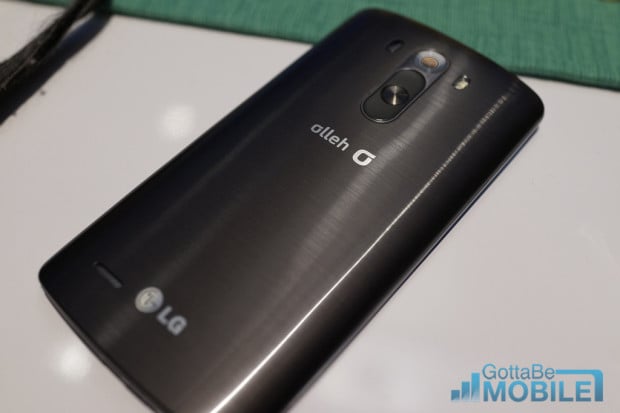 We knew nearly everything about the LG G3 before it was announced yesterday thanks to a slew of leaks, so prospective buyers should already know some of the pros and cons, and how it stacks up against the competition. For those who don't, here's we'll explain five or so important things and differences you'll want to know.
Last year Google announced the LG-made Nexus 5 at the end of October, with a release in November around most of the globe. The phone was instantly popular running the latest Android 4.4 KitKat operating system, and having tons of the features we enjoyed from the LG G2. These devices are actually quite similar in a few ways, but the new LG G3 is certainly the better device, but that comes with a premium price tag.
Design
The biggest difference between these two phones aside from the price and software is the design. Google's Nexus 5 was aimed at being exactly the same as the Nexus 7 in terms of look and feel, and that's what we got. The device comes in at 5-inches and has a nice matte black soft-touch design around back with bold NEXUS lettering.
The Nexus 5 is popular for a reason. It runs great, looks great, and is priced right. That being said, the LG G3 has a lot of the same going for it. The bezels are even smaller around the display, and that screen is quite a bit bigger without the size of the phone being much larger. LG added a 5.5-inch screen to the G3, and replaced those bold Nexus letters on back with buttons. Just like the G2, the LG G3 has the power and volume buttons located on the back nicely where most users rest the index finger. This is a huge design decision, and one that many actually seem to like.
Google's Nexus 5 has a great design as well, in a very plain and simplistic way, but so does the G3 from the front. Both devices are almost all screen with minimal bezel, and you'll notice that right away while using them. Personally the back of the G3 looks a bit "busy" but we'll let that slide because everything on back serves a major purpose.
Read: Nexus 5 Review: One Month with Google's Flagship
Display
The display is the key difference between these phones that could have customers choosing one or the other, especially if price isn't a concern. The LG G3 has a brand new first of its kind (in the US) 5.5-inch 2560 x 1440 Quad HD display. Essentially a 2k screen. Compare that to the smaller and more pedestrian 5-inch 1080p screen on the Nexus 5, and you'll now see why it's a big deal. The screen is bigger but barely makes the phone bigger, so you'll have a similar experience in the hand.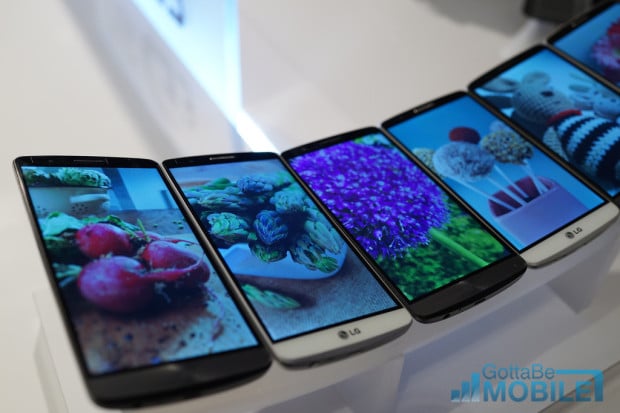 The LG G3 is the first phone in the United States with such a high resolution, but we're hearing both Samsung and HTC have more phones coming out later this year or summer to try and offer something similar. For once the competition is chasing LG, something we're sure they're happy about.
The Nexus 5 is a budget phone, and as a result the 5-inch LCD display is a bit washed out. The colors aren't extremely vivid and that's one small downside to the device. With the G3 however, it's just the opposite. The 2560 x 1440 5.5-inch IPS panel is gorgeous. Colors pop, blacks are dark and crisp, and images are extremely vibrant. There's simply no comparison here that makes sense. The G3 is just the better display. The only issue is that high resolution could make batter life suffer, but LG claims it won't.
Software
Before we get into specs or the camera the other major difference potential buyers should know about is the software. These phones are both made by LG and run Google's Android OS, but they'll feel nothing similar regarding software. While LG's skin over Android 4.4.2 KitKat is lighter than most, everything looks different. Most of the design and feel of everything is the same, but it all looks much different thanks to a custom UI skin over the top.
Read: Android 4.4 KitKat: What's New in Simple Terms
The Nexus 5 runs stock Android 4.4.2 KitKat, and will likely be the first smartphone to receive Android updates for the foreseeable future. LG on the other hand, usually takes a few months to deliver software to new devices. This means that those wanting the latest software may want to choose the Nexus 5, even if LG's been rather fast to updates in the past.
LG has a lot of custom features for tapping the display for secret codes to unlock the device called KnockCODE, and other unique features that Google doesn't, but overall you'll enjoy a solid and smooth Android 4.4.2 KitKat experience with both devices.
Camera
The camera is another area that you'll want to focus on if that's important. While the Nexus 5 has an 8 megapixel camera that claims to have LG's Optical Image Stabilization, it isn't the best. However, the new LG G3 has a 13 megapixel camera with an improved Optical Image Stabilization + technology, and a first-time smartphone feature with its new laser auto focus. Something we usually see in DSLR cameras.
The LG G3 will likely have one of the best cameras of any smartphone released inside of 2014, and this is another area the Nexus 5 simply can't match it. The Nexus 5 camera is good enough for average photos and Facebook shares, but anyone looking for better mobile photography will want to turn to the LG G3.
Above is a demo from the LG G3 launch event showing a nice feature they didn't even talk about. The G3 can focus on certain aspects of a photo after it's been taken, just like the HTC One M8. This is a new popular feature on Android smartphones, and works great with the LG implementation.
We'll need more time with the LG G3 camera and its features to truly get a feel for it, but the few minutes during the event yesterday left us very excited about its features and the possibilities.
Specs
Specs aren't everything but they're an important part of the research and purchase decision. The LG G3 is a top-tier device, but so is the Nexus 5. Both phones are actually more similar than many think when it comes to specs, but just know both will perform excellent for years to come with their loaded spec sheets below.
LG G3 Specs
5.5-inch 2560 × 1440 display Quad-HD display
2.5 GHz Quad-core Snapdragon processor with 2/3GB of RAM
13-megapixel camera with OIS+, laser auto-focus, 2.1-megapixel front camera
16GB storage and microSD card slot with up to 128GB support (32GB model available)
Android 4.4.2
3,000 mAh battery with wireless charging
WiFi, Bluetooth, NFC, 4G LTE, FM Radio Antenna
DLNA and Miracast support
Metallic Black, Silk White, Gold Shine, Moon Violet, and Burgundy Red color options
146.3 x 74.6 x 9.1mm
Nexus 5 Specs
5-inch 1920 x 1080p HD display
2.3 GHz Snapdragon 800 quad-core with 2GB of RAM
16/32GB storage (no micro-SD slot)
8 megapixel OIS camera, 1.3 MP front
Ceramic power and volume buttons
Android 4.4.2 KitKat, stock from Google
Soft-touch Matte Plastic Design
2,300 mAh Battery with Wireless Charging
The specs are only a small part of the battle. A lot of how devices perform are related directly to the software. Obviously Google's Nexus 5 runs great, but the LG G3 was blazing fast and smooth no matter what we tried yesterday. Quad-core processors and 3GB of RAM mean smooth performance and multi-tasking with the best of them. You can't go wrong with either of these phones.
Price
There's one thing we simply can't ignore when comparing any smartphone to the Nexus 5, and that's the price. The Nexus 5 is $349 brand new, or $399 for the 32GB variant. While we don't know the price of the LG G3 quite yet, it's reasonable to think it will retail for $599 or more, just like every other flagship smartphone. Nothing can compete with the Nexus 5 in terms of price.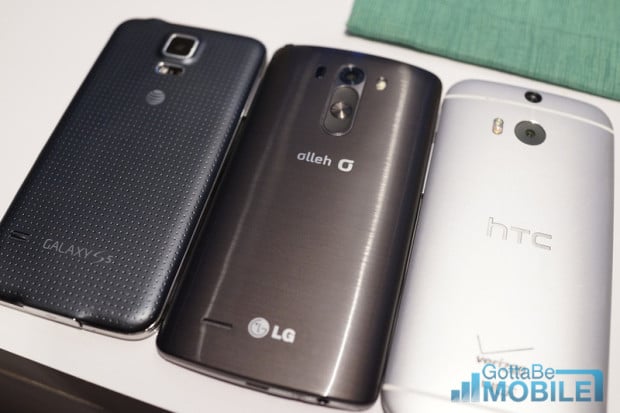 The LG G3 should be $199 with a new 2-year contract from carriers, and likely over $599 outright contract free. Compare that to the $349 price of the Nexus 5 and this is a tough choice. Both phones are excellent, but those who don't need a huge screen or top end camera may want to look at the Nexus 5 first.
Both phones have pros and cons, just like anything, but if price is important the Nexus 5 is a great option.
Release Date
The Nexus 5 is readily available today for the awesome prices mentioned above, while the LG G3 isn't quite available yet. LG confirmed a release before the end of June, but no US carriers have confirmed the same details. Which means things are still somewhat in the air.
That being said, the LG G3 is expected to arrive on AT&T, T-Mobile, Verizon, and Sprint in at least two or three color options within the next month or so. Some T-Mobile contests have many believing a June 29th release date is in store for all carriers, but we'll have to wait and see.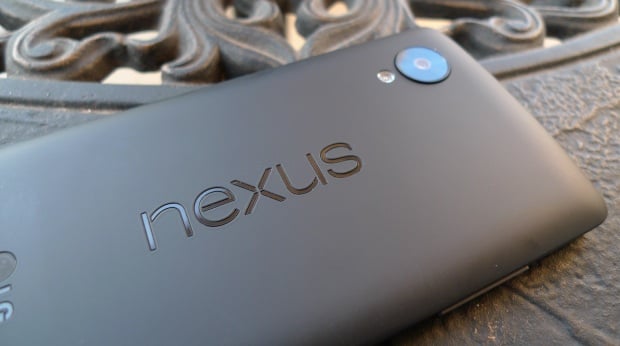 In the end both of these phones are excellent, but the LG G3 will likely be the better choice in the long run. However, if price is a factor or top-tier specs aren't the most important thing to a certain consumer, feel free to consider the excellent Nexus 5 even this late in its life-cycle.