LG G3 vs. Nexus 5: What Buyers Can Expect
When it comes to choosing a smartphone there are plenty of choices readily available in 2014. From the Samsung Galaxy S5 to the new HTC One M8, or even top-tier smartphones from late last year like the Nexus 5.
With all of the phones mentioned above available and in stores today, consumers are looking forward to what else is coming, and if it's worth waiting for or deciding on an excellent option like the budget friendly Nexus 5. One device many have on the radar is the LG G3, which will be announced and revealed early next week.
Read: 5 Reasons to Wait for the LG G3
Those looking to buy a new smartphone may be considering multiple different options, and here we'll compare the latest from Google, which was actually built by LG, to what we expect will arrive next month in the LG G3. The Samsung Galaxy S5 is already selling like hot cakes, but LG is hot on their trail with the LG G3, and it will be giving many smartphones a run for their money.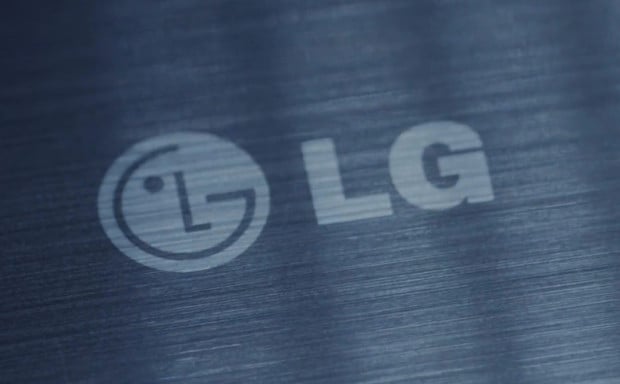 From the various leaks that have arrived nearly every few days regarding the LG G3, it's safe to say that LG went all out with this smartphone. The company is taking direct aim at the Samsung Galaxy S5, while also hoping to steal some sales from the Galaxy Note 4 by offering a rather large 5.5-inch screen inside of the all new LG G3.
While that will be the main battle for Samsung and LG in 2014, here we're taking a look at how LG's latest stacks up against their own flagship built and sold last year by Google as the Nexus 5.
Design
One of the biggest changes to overall smartphone designs over the past few years arrived in 2013 with the LG G2, when LG put all the buttons on the back of the device rather than the sides. Again with the LG G3, this unique approach will be one of the main design aspects the separates the LG G3 from the competition. At first many were concerned, but it's proven to be an excellent choice that buyers enjoy. The index finger nicely and comfortably sits right where buttons are located, and makes for an easy handling experience.
Rear buttons aside, the LG G3 and Nexus 5 are quite different, even though they're both made by LG. The Nexus 5 as expected, offers a 5-inch 1080p HD display, and comes with a pretty neat design. Google opted for a soft touch matte black design, bottom mounted speakers, and the usual button layout with some ceramic buttons for a premium feel. The worst part of the design was the raised 8 megapixel camera hump on the back.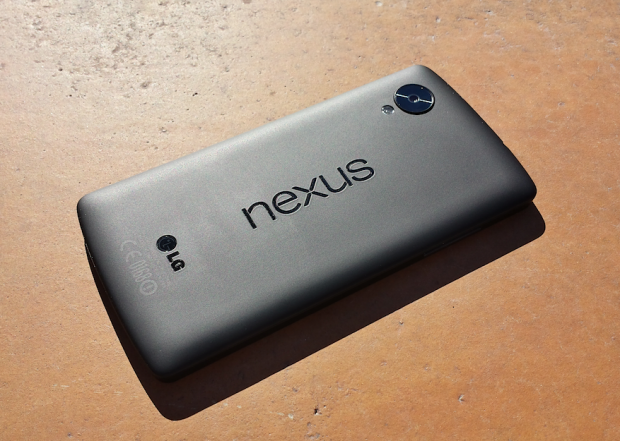 The LG G3 however, will come with a large 5.5-inch screen but with small bezels to keep the overall device size down. Rather than a fingerprint and dust magnet soft-touch matte back like the Nexus, the G3 has a ring of aluminum around the sides with a hard plastic shell on back. The LG G3 comes with a brushed aluminum looking design, but it's plastic. The buttons on back are indented and we're hearing the aluminum power button will house a fingerprint scanner, but we'll have to wait and see once it's announced. Both feature on-screen buttons only, so there's no home button or hardware keys like something from Samsung.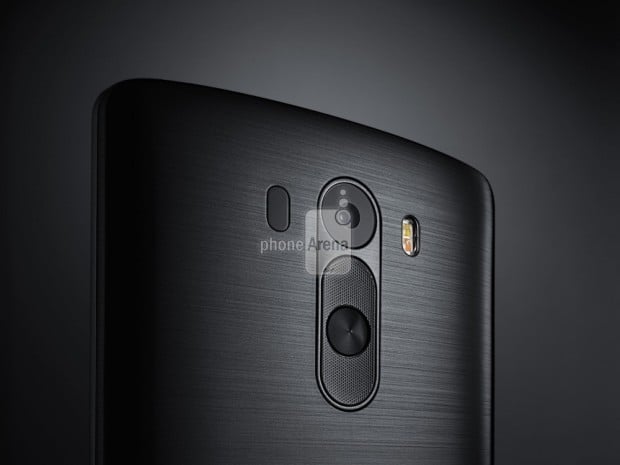 Read: Nexus 5 Review: One Month With Google's Flagship
Software
One key difference between both of these devices that consumers and potential buyers will need to consider aside from the price, is the software. The LG Nexus 5 is a stock Android device controlled by Google themselves. The Nexus 5 runs the absolute latest Android 4.4.2 KitKat, and will be amongst the first devices to receive Android 4.4.3, and whatever comes next. Whether that be Android 4.5 or 5.0 Licorice, or whatever Google calls it.
The LG G3 will hit the market running Android 4.4.2 KitKat, which is the latest version of Google's mobile OS released thus far. That being said, just like most others LG will heavily skin, tweak, and customize the overall look and feel of Android. LG's software stack hasn't been our favorite in recent years, and still considered a Samsung knock-off by many. However, in 2014 the LG G3 and other LG devices will have a brand new software interface that looks different from previous years. LG's done a lot to differentiate its software from the competition, and below is a look at a few leaked screenshots of the interface.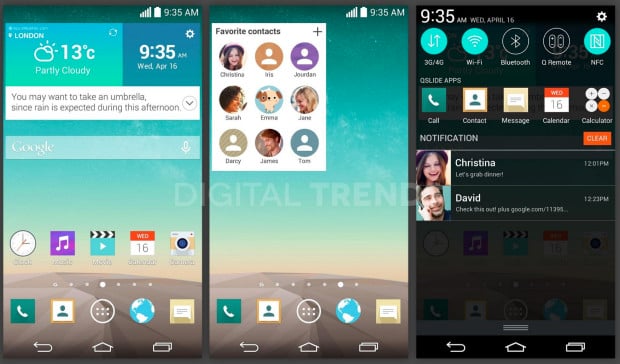 The LG G3 is rumored to have a new virtual assistant and contextually-aware engine running, and like shown above the weather widget will give instructions or suggestions before asked by the operator. Things like weather suggestions, driving directions, and other things. We'll know more when LG announces everything on stage, but this new software is looking quite nice.
That said, LG has traditionally been slower than Samsung and HTC to updates, and don't have the best track record. The LG G2 was quickly updated to KitKat, and LG is certainly on the right track. They'll need to be quick with updates to the G3 to keep buyers happy. We know the Nexus 5 will get updates first, so LG needs to continue to improve in the update department.
Specs
Thus far we have a pretty good idea of what to expect once the LG G3 is announced next week, but there's still a chance some of the specs could be wrong from various leaks and rumors. At the same time, based on technology available and some pretty reliable leaks, below is what will most likely arrive in the LG G3, and below is the Nexus 5 list as well.
Specs aren't everything, and both of these devices run extremely powerful quad-core Snapdragon processors. Both will perform nearly the same for years to come, but for those interested, here's the full rundown.
LG G3 Specs
5.5-inch 2560 x 1440 Quad HD display
2.5 GHz Snapdragon 801 quad-core processor with 3GB of RAM
16/32GB storage with micro-SD slot for user expandable storage
13 Megapixel Camera with OIS+, Laser Auto Focus, 2.1 front camera
Buttons on the rear, fingerprint scanner under power button
Android 4.4.2 KitKat and LG UI Changes
Brushed Aluminum-like Plastic Design
3,000 mAh Battery with Wireless Charging
Nexus 5 Specs
5-inch 1920 x 1080p HD display
2.3 GHz Snapdragon 800 quad-core with 2GB of RAM
16/32GB storage (no micro-SD slot)
8 megapixel OIS camera, 1.3 MP front
Ceramic power and Volume Buttons
Android 4.4.2 KitKat, stock from Google
Soft-touch Matte Plastic Design
2,300 mAh Battery with Wireless Charging
Of course specs aren't everything and different apps, software changes, or tweaks can effect performance. That being said, both of these phones are powerful, efficient, and run awesome hardware. The LG G3 is obviously the better choice, but buyers will need to decide if the faster processor, expandable storage, and better camera are worth the higher price. And that, brings us to our next point.
Price
One major factor almost any buyer takes into consideration is the price of any particular purchase. This is one area that the Nexus 5 simply can't be beat by most smartphones, and is why it continues to be a device on our Top 5 Smartphone roundups month after month.
The Nexus 5 is just $349 for the 16GB model, and that's without any contract from a carrier. Buyers can get it contract-free, outright for just $349. Compare that to the likely $199 price with a 2-year contract, or $549-$649 outright price of the LG G3, and there's a big difference. Users can almost buy two of the Nexus 5 for one LG G3, but we can't say for sure until pricing is revealed next week.
All said and done, the Nexus 5 for $349 or $399 is still one of the best options available, and will continue to be for a long time. We may not ever see a Nexus 6, but the Nexus 5 is still a great choice. Those wanting the latest and greatest will need to pay the difference for the LG G3.
Release Date
Google's Nexus 5 has been available for over 6 months, and continues to be a popular smartphone. While it is suffering as of late from the Galaxy S5 and HTC One M8, the low price mentioned above will keep it relevant for the foreseeable future. For those considering the LG G3, we have a feeling it will be available within the next 2-3 weeks. Many rumors suggest the second week of June across all five major US carriers, but that's yet to be confirmed.
Read: LG G3 vs LG G2: 5 Things to Expect
All we know for sure as of now, is that LG confirmed last month that its LG G3 will be available around the globe and in stores before the end of June. Which means within the next month or so.
Carriers
One major issue for prospective buyers when it comes to the Nexus 5 is carrier support. The device is sold on the Google Play Store with SIM card options for T-Mobile or AT&T, and work wonderfully with both. The Sprint option in stores is only the 16GB variant, and there's reports of many users having issues activating the 32GB on Sprint as they don't have that device in the system.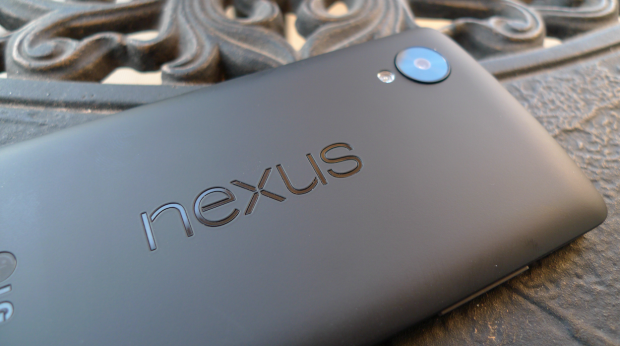 Verizon folks can't use the Nexus 5, as the smartphone doesn't support the network bands used by the biggest wireless carrier in the United States. This has been an ongoing issue, and won't be changing.
For those on Verizon the choice is clear, which is to wait another 3-4 weeks and get the LG G3 when it is released. The smartphone has been rumored to arrive on AT&T and T-Mobile first, followed by Verizon and Sprint, and then US Cellular all within 2-3 weeks of the announcement next week. Hopefully an official release date gets revealed soon enough, otherwise buyers may opt for the Galaxy S5 instead.