LG G3 Water Test Video Shows Hidden Feature
The all-new LG G3 release date finally arrived this past week with both AT&T and Sprint offering the smartphone to consumers, and deals have already started to surface too. Now that users are buying the device, we're starting to learn about a few more features LG hasn't been highlighting. Like the LG G3 being water-resistant.
Devices like the Samsung Galaxy S5 and some Sony smartphones tout and highlight their IP67 certification for dust and water-resistant capabilities, but not all phones are built to handle those types of elements and situations.
Read: LG G3 vs Galaxy Note 4: Early Look at the Competition
Early LG G3 rumors back in April suggested it would take on the Galaxy S5 directly by also having an IP67 water-resistant certification, but that doesn't seem to be the case. LG doesn't mention it anywhere, nor does the LG G3 have a protective seal on the battery door or charging port cover like Samsung's Galaxy S5. So how does it do under water? Read on to find out.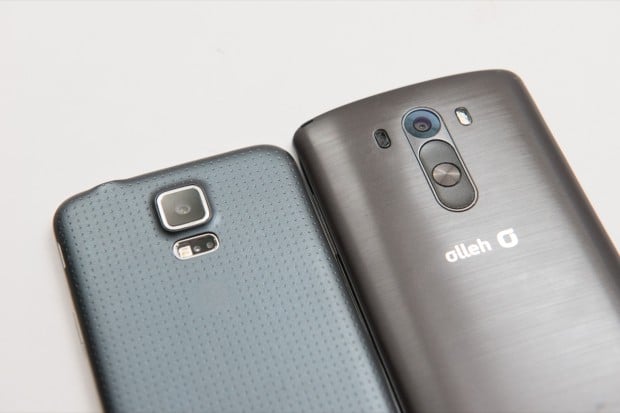 This week the LG G3 finally arrived for buyers in the United States. After over a month of silence from LG and carriers after it was announced in May, it officially hit store shelves today. June 11th is the official launch date in the United States with both AT&T and Sprint offering the handset in stores as we speak.
T-Mobile will have the LG G3 starting July 16th, and Verizon confirmed to us yesterday that they'll have the new G3 on store shelves starting next week on July 17th. This means that by the end of next week all four major US carriers will have the impressive new LG G3 available for all.
Read: LG G3 Review
So what makes the LG G3 so impressive and such a highly anticipated device that many think will take over the Galaxy S5 in 2014? Lots of things. For one it features the first 2560 x 1440 Quad-HD display (2k screen) on a smartphone in the United States. Yet they managed to pack that stunning display into a sleek package with bezels so slim it's no bigger than the Galaxy S5 or other 5-inch smartphones, even though the G3 has a large 5.5-inch IPS display.
Add in a world-class 13 megapixel camera with optical image stabilization and a first of its kind laser auto-focus, a feature usually reserved for high end DSLR cameras, and it has a lot going for it. The LG G3 runs the latest Android 4.4 KitKat, is powered by a blazing fast 2.5 GHz Quad-core processor with 3GB of RAM, 16GB of storage, and has a micro-SD slot for user expandable storage.
That all sounds great, but what happens if you drop your LG G3 in water? The Galaxy S5 was designed with this in mind and is fully water-resistant. There's a seal on the battery door, a flap covering the charging port (which gets annoying) and the entire device was built to be pretty durable. Many devices today have a water repellant coating on the internals for accidents or condensation, but it appears that the LG G3 handles water pretty good too.
The image above (and video below) provided by ITechWorld shows the LG G3 being completely submerged in water for over 2 hours with no ill-effects. In fact, he claims the device works perfectly fine after being put in water for 2 hours, then dropped in a sink multiple times over and over again just to be safe. You can see it all in the video, and the Youtube comments confirm the device didn't suffer any major consequences.
In fact, according to this user the LG G3 works perfectly fine after over 2 hours in water. The battery had some water under the back, which you'll want to remove, but he claims the G3 handles the elements just fine. Camera, NFC, speakers and more all work perfectly fine.
In no way are we saying you should try this at home. Even those with a Galaxy S5 probably shouldn't test the water-resistant capability just because it's better to be safe than sorry. That being said, it appears as if the LG G3 has one more hidden feature to add to the long list of impressive specs and options it can deliver to smartphone buyers this summer.
LG in no way claims the LG G3 is water-resistant, and didn't go through the same lengths as Samsung with the G3's design to handle water, but from what we're seeing today it should be able to handle an accident and come out just fine.

As an Amazon Associate I earn from qualifying purchases.